Class of 2015‑2016
Class of 2015-2016
Travis Aten
Graduate Project Research: The application of the ecosystem approach and future directions for the international management of migratory sharks in the Northwest Atlantic                                             

Travis is a recent graduate from St. Thomas University with a double major in Anthropology and Political Science with a special interest surrounding international relations. Travis intends to use and expand his knowledge of international politics and procedures to assist in the effort of protecting and maintaining marine environments.
Hailing from a dairy farm on Prince Edward Island, Travis became very interested in the natural world at a young age. Growing up on an island gave Travis an appreciation of marine ecosystems, which led to his love for the environment. Recently, Travis had the opportunity to attend Harvard's National Model United Nations where individuals from across the globe discussed ways the world can create a healthy environment. As a delegate on the World Health Organization, he highlighted the need for creating policies to protect marine ecosystems.
Throughout Travis' education he has been able to use his background in anthropology and political science to provide new insights regarding how marine ecosystems can be protected at an international level. Travis would like the opportunity to work at the international level to help protect marine ecosystems.
Meghan Borland
Graduate Project Research: A tale of two standards: A case study of the Fair Trade certified Maluku handline yellowfin tuna (Thunnus albacares) fishery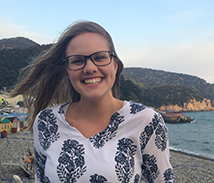 Meghan graduated from Queen's University with a Bachelor of Science (Honours) in Biology. During her undergraduate degree, Meghan's fascination for the ocean led her to complete a marine conservation field course in Hong Kong and Taiwan. Realizing her interest for aquatic ecosystems, Meghan sought opportunities to conduct research in Southern Ontario. Upon receiving a research fellowship, Meghan conducted limnological research at the Queen's University Biological Station. This data became the foundation for her honours thesis that investigated local and regional factors that determine zooplankton community composition.
Following her post-secondary degree, Meghan worked at the International Institute for Sustainable Development (IISD) Experimental Lakes Area. This experience confirmed her desire to pursue a Masters in Marine Management. Through the integrated approach of the Marine Affairs Program, Meghan strives to combine her passion for both biology and helping others. She will investigate how community-based management can be used in developing countries to ensure the preservation of marine resources.
Krista Bouwman
Graduate Project Research: An analysis of Scotia-Fundy vessel users and what this means for the North Atlantic right whales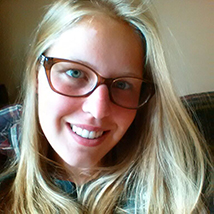 Krista Bouwman is entering the MMM program with an Honours Specialization Degree in Biology from Nipissing University. Since she was a young girl she has felt a passion for animals and the environment especially in a marine setting. Krista is from a small town in central Ontario and though circumstance has not allowed her to have marine related experiences, she has partaken in many activities that helped her gain knowledge of wildlife and conservation. As a university student she volunteered for a month at Kadoorie Farm and Botanic Gardens in Hong Kong; an experience that taught her the logistics and politics of caring for illegally trafficked animals as well as local fauna. Within the realm of Marine Affairs, she is specifically interested in the effects of anthropogenic noise on cetaceans. As she embarks on her Masters, she will be open to new knowledge and experiences which will inevitably increase her span of interests. She looks forward to the challenges the MMM program will present to her, as well as the connections she will make with her fellow classmates and teachers.
Lauren Dehens
Graduate Project Research: What counts in making MPAs count: The role of legitimacy as a contributor to perceived MPA success in Canada.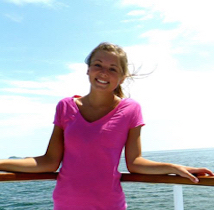 Lauren Dehens graduated from Western University with a Bachelor of Science (Honors) in Biology. Her adoration for whales and dolphins from a young age encouraged her to study marine biology. During her undergraduate degree, Lauren completed marine mammal research at the Huntsman Marine Science Center in St. Andrews, NB, and coral reef research in the Caribbean Sea, off the coast of Belize, Central America. Lauren also travelled to Southern California to attend a conference on cetacean research, conservation, and education.
Lauren is primarily concerned with the issues of biodiversity loss, threatened/endangered species, and habitat degradation of the marine environment. She is interested in restoring, protecting and preserving marine species and habitats through the use of Marine Protected Areas.
Through the Marine Affairs Program, Lauren intends to compliment her biology background with an understanding of the laws, policies and management strategies related to protecting our precious marine ecosystems. 
Alba Garcia Rodriguez
Graduate Project Research: Queen conch in the Grenadines islands: A preliminary assessment on its abundance and current management needs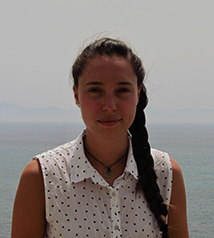 Alba is originally from the south of Spain, where she acquired a BSc in Biology in 2013. She grew up in close contact with the ocean and after completing her BSc she has focused on marine conservation. For the last two years, she has worked for an ocean conservation organization, and will now continue pursuing her career by conducting the Master of Marine Management at Dalhousie. Her goal is to learn how to develop strategies to continue preserving the ocean and its wildlife, in combination with the sustainable use of its resources. She is especially interested in the social and ecological aspects of marine management, and plans to work in that field to make positive contributions to marine conservation and coastal community development.
Jordan Gardiner
Graduate Project Research: Small and Mighty: Why forage fisheries management could benefit from an ecosystem based framework. A case study of the Southwest Nova Scotia/Bay of Fundy Atlantic herring stock component.


Jordan Gardiner, originally from Ontario, is a recent graduate from Dalhousie University where she obtained a BSc combined honours degree in Marine Biology and Environment Sustainability. Her passion for the sea has drawn her to the MMM program. Through her undergraduate degree, she became interested in the issues of the conservation of the marine environment. During the past two summers, Jordan has spent her time working on a whale watching boat out of Brier Island Nova Scotia. Through her time in this small fishing village, her passion for public outreach increased as well as her appreciation for the culture surrounding fishing. During her time in the MMM program, she hopes to be able to combine her love of teaching people about the marine world and her fascination of fisheries.
Kayla Glynn
Graduate Research Project: Assessing and Valuing Damage to the Marine Environment in Accordance with the Polluter Pays Principle for the Practical Purpose of Compensation after Ship-Sourced Oil Spills.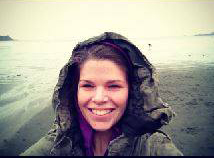 Kayla attended the University of Victoria and graduated with an Honours Bachelor of Arts in 2013. She majored in Geography with a concentration in Coastal Studies. Kayla's honours thesis investigated the perspectives of British Columbia's Coastal Communities on Enbridge's proposed Northern Gateway Pipeline using the National Energy Board's public hearing transcripts. By completing this research she learned what motivates coastal communities to support or oppose a development proponent. Today, Kayla continues to discover what drives people to care for their coastlines.
Kayla is interested in finding a balance between marine resource development and marine conservation. Through the Marine Affairs Program, Kayla hopes to gain a better grasp on marine policy and environmental management strategies in order to help promote environmentally sustainable marine development projects. She decided to pursue a Master's of Marine Management because she believes that an interdisciplinary approach is necessary to mitigate the challenges faced by today's oceans.
Roxanne Graham
Graduate Project Research: A Comparison of Eight Country Plans for the Invasive Indo-Pacific Lionfish in the Wider Caribbean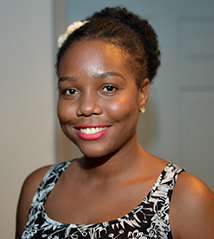 Roxanne E. Graham is Grenadian and is the 2015 awardee of the Scholarship from the Queen Elizabeth II Diamond Jubilee Scholarship Program. She enters the MMM Program with experience in environmental and development consulting, and a strong land and coastal-based conservation background. After graduating from the St. George's University in 2013, with her Bachelor's Degree in Biology Wildlife and Conservation, Roxanne volunteered in a number of outreach programs and research activities with various NGO's and environmental projects until she was able to secure a position of Project Assistant at Roberts Caribbean Ltd.- Environmental and Development Consulting division in January 2014.
During her undergraduate studies and more recently her role at Roberts Caribbean Ltd., she was able to develop her understanding further of the grave impacts of human activities on the island's marine ecosystem. After participating in many consultations and talking to marine resource stakeholders locally and regionally, she realized the significance of ecosystem interconnectivity and clearly saw how our actions on land can directly impact the ecosystem health of our marine environment. Thus, these experiences led to her pursuing the Master's program in Marine Management.
Augusta Lipscombe
Graduate Project Research: Assessing the current and future risk of ballast-sourced species invasions in Canada's eastern Arctic under a climate change scenario.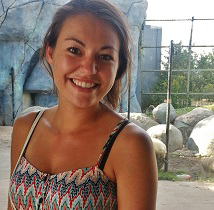 Augusta attended the University of Guelph where she received a Bachelor of Science with a major in Marine and Freshwater Biology and a minor in Geography.  During her time at Guelph, Augusta explored many facets of scientific research through both lab and fieldwork. She participated in a field course at the Huntsman Marine Science Center in St. Andrews, NB, and held research assistant positions in both a greenhouse and marine lab.  She worked closely with a species of marine snail, and was responsible for spearheading an on-going project examining the life-history differences between ecotypes of the same species.  Augusta's science background in addition to her passion for marine biology and conservation has motivated her to pursue a future in marine management.
Augusta's interests involve maintaining ecosystem health and mitigating damages in impacted marine environments, as well as exploring sustainable development alternatives.  Augusta is looking forward to participating in the MMM program and helping restore our waterbodies. 
Teresa MacDonald
Graduate Project Research: Using Adaptive and Fisheries Management to Increase MPA Success: A Case Study of the Gilbert Bay MPA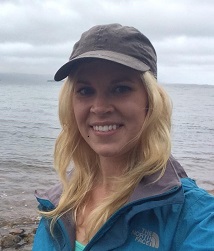 Teresa MacDonald grew up in Fort McMurray, Alberta but has called Nova Scotia home for the past few years. She graduated from ST.FX with a Bachelor of Arts in Political Science in 2011. She is a recent graduate of Dalhousie's Faculty of Agriculture with a Bachelor of Science majoring in Animal Science. Her interest in marine management was sparked while working on a striped bass project, collecting data from the Shubenacadie River. This summer she has continued to expand her knowledge while working as a Lobster Technician for the Lobster Fishing Area 27 Management Board.  
Teresa is pursuing the Master of Marine Management degree in order to further develop her skills and knowledge in the integration of hands-on data collection and the resulting policy surrounding marine issues. She is interested in marine law and policy and the protection of marine mammals and seabirds. She would like to focus on the development of policy for marine protected areas.
Emiley MacKinnon
Graduate Research Project: A critical assessment and gap analysis of existing recovery strategies for the Atlantic Leatherback Sea Turtle (Dermochelys coriacea)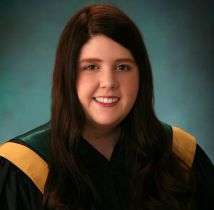 Emiley graduated from the University of Prince Edward Island in 2015 with a B.Sc. in Honours Biology. Emiley has always been fascinated with the ocean and marine environment and pursued this passion by taking several marine biology classes at UPEI. Her honours thesis focused on measuring the effects of the invasive European green crab on eelgrass wasting disease with an inclusion cage experiment on a PEI coastline. During her undergrad, she also interned at the Little Shem Oyster Farm in Little Shemogue, NB, where she had the chance to work in and learn about oyster hatcheries.
Emiley is now pursuing her Masters of Marine Management at Dalhousie University. Her main interests are in marine coastal habitats, marine protected areas and invasive species. Throughout her time in the MMM program, she hopes to merge her biology background with experience and knowledge of the political and social side of marine management issues.
Laura Miller
Graduate Project Research: The fair way or the Chiloé? Exploring the role of certification in the governance of labour in aquaculture in Chiloé, Chile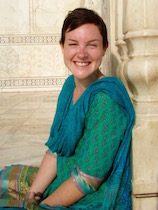 Laura saw her love for our oceans grow into a passionate sense of responsibility while volunteering at a sea turtle conservation project in Costa Rica shortly after completing her bachelor's at the Faculty of Environmental Studies at York University. After witnessing the immense challenges inherent in the development of strong, culturally relevant sustainability plans for coastal communities, she went on to work in a small fishing village in Cambodia. She became a PADI certified diver and provided support on research dives aimed at stabilizing the sea horse population in the Koh Rong Marine Reserve.  The following year she excitedly travelled to Madagascar where her work focused on community development. While home in Toronto in between travels, Laura had the privilege of doing contract work with WWF Canada, rounding out her field experience and enriching her perspective. She looks forward to further expanding this perspective through her studies in the MMM program.
Kendra Moore
Graduate Project Research: Evidence-informed conservation policies: Mitigating vessel noise within gray whale (Eschrichtius robustus) foraging habitat in British Columbia, Canada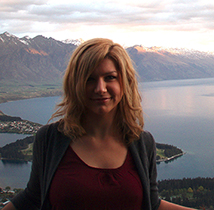 Kendra's fascination of marine ecology led her to study marine biology at the University of Victoria, where she graduated with a Bachelor of Science with a double major in marine biology and environmental studies. During her undergraduate degree, she completed a directed studies project on the effects of summer temperature and food ration on juvenile Chinook salmon energetics. This project sparked her interest in fisheries and ecosystem management. Kendra was able to pursue this interest further as a research assistant for Dr. John Volpe in his seafood ecology research at the University of Victoria.  In this position, she assisted in the research for a meta-analysis of the environmental impact of finfish aquaculture.
Kendra pursued the Master of Marine Management program due to its interdisciplinary approach of marine environmental management. During her tenure, she aims to develop her knowledge of marine policy and fisheries management to support sustainable marine ecosystems.
Monica Reed
Graduate Project Research: Towards adaptive management of mooring systems to reduce the threats of yachting tourism in marine protected areas.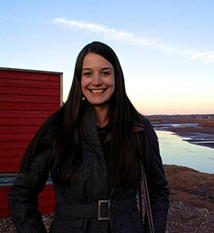 Monica graduated from Acadia University in 2014 with a BSc (Honours) in environmental science. Her program included three work terms in which she assisted with research on fungal endophytes (Acadia Biology Dept.), organic orchard floor management (Atlantic Food and Horticulture Research Centre) and potential biological impacts of tidal energy development in the Bay of Fundy (Acadia Centre for Estuarine Research). Her honours thesis contributed to the assessment of marine mammal presence near the FORCE tidal energy site by monitoring harbour porpoise using hydrophone technologies.
After graduating, Monica interned with a marine conservation group off the coast of Cambodia. To support the creation of a marine protected area, Monica was involved in writing reports on marine health, facilitating reef surveys and conducting interviews in fishing communities. Monica then returned to Canada for a summer term with the Nature Conservancy of Canada. In her position as Manitoba conservation science intern, she gained experience in a variety of areas such as species at risk monitoring, hydrological mapping and wetland assessments.
Monica is keen to begin the Marine Affairs Program, which will allow her to explore her interests in integrated coastal management. Her research will focus on the development of participatory conservation strategies aimed at achieving long-term monitoring of Nova Scotia's seagrass ecosystems. Ideally, multi-sector involvement combined with landscape-scale data will result in scientifically informed and socially supported coastal management actions.
Catherine Schram
Graduate Project Research: Spatial Protection for Porbeagle Sharks, Lamna nasus, in the Northwest Atlantic: The Road to Recovery?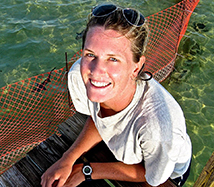 A native of Halifax, Catherine graduated from Dalhousie in 2011 with a Bachelor of Science in Biology and International Development Studies. Her Honours thesis compared Marine Protected Areas in Canada, Australia, and Norway, and explored measures for evaluating effectiveness and success in protecting the health and resources of a marine area.
Since graduation Catherine has volunteered overseas at a sea turtle conservation project in Ostional, Costa Rica, as well as interning at the Bimini Biological Field Station in Bimini, Bahamas assisting in a study on social behaviour of juvenile lemon and nurse sharks. Most recently, she has done volunteer work for the Ocean Tracking Network in Halifax compiling a database of animal care laws around the world.
Catherine's main interests lie in marine conservation and hopes that her tenure in the Marine Management program will give her the skills necessary to effectively manage Marine Protected Areas in the future.
Laurie Starr
Graduate Project Research: Blowing it out of the water: How breaking down illegal, unreported, and unregulated (IUU) fishing can contribute to its effective management in Indonesia using an area based approach.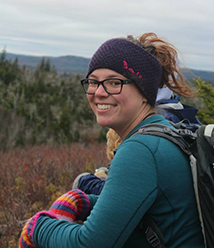 Laurie Starr is a graduate of University of King's College and Dalhousie University where, following the Foundation Year Programme, she majored in Marine Biology with Honours. Through the Dalhousie Co-op program, she worked at Parks Canada. Assignments included participating in the invasive European green crab study where she implemented outreach initiatives targeted for fishermen and the general public and contributing to the field team. Laurie has also worked in the Iverson Lab as a fatty acid analysis technician.
Laurie has extensive field and lab experience from various work and school opportunities where she developed strong communication skills, acquired through outreach initiatives and presentations. By integrating these skills, she intends to connect people to the science behind fisheries management, marine conservation, and coastal resource management. In her spare time, Laurie volunteers for the Canadian Sea Turtle Network, has achieved a Level 1 scientific diver certification, tours with the Halifax Women's Ultimate Frisbee Team, rock climbs, plays cello, and enjoys all other outdoor activities.
Jenny Weitzman
Graduate Project Research: Assessing the potential of ecolabels to improve social acceptance within Nova Scotia's finfish aquaculture industry: A stakeholder approach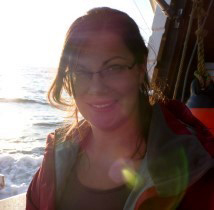 Jenny recently graduated from Dalhousie, where she majored in Marine Biology and Oceanography. Throughout her undergraduate degree, Jenny learned about the issues facing marine ecosystems and the difficulties of incorporating sustainable scientific-driven recommendations into policy making and implementation. Jenny became interested in the relationship between management, science, and the public sector, and how this relationship can foster effective, sustainable management solutions.
Through the Marine Affairs program, Jenny hopes to gain a better understanding of the social and economic aspects of management, and link her scientific background with effective environmental management strategies. Jenny's interests are focused primarily towards fisheries management and impact assessment. Jenny is a scuba diver and an avid seafood lover. Jenny's aim is to pursue a career that will help sustainably manage marine ecosystems so that she and others can continue to enjoy them for generations to come.
Peter Wessels
Graduate Project Research: Enhancing Small-Scale Fishing Communities Through the Advancement of Women's Participation in the Sustainable Livelihoods Framework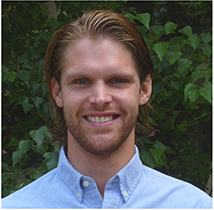 Peter graduated from Humboldt State University in Northern California in 2012 with a B.A. in International Studies. Prior to graduating Peter spent a significant amount of time working and traveling abroad, specifically in developing parts of the world, where he soon recognized his aspiration to continue working in these areas of the world promoting environmental sustainability. However it was not until he began his service in the U.S. Peace Corps in West Africa, working in rural, coastal, communities, coupled with his lifelong love of the sea, that it became clear that working in coastal environments was his primary interest.
Ultimately Peter hopes to further advance his understanding of how to develop sustainable marine environments, concentrating on fisheries management in particular. He will apply this knowledge and skill set to developing parts of the world to promote healthy, sustainable, marine habitats, where government oversight and social awareness is inadequate.