MMM students
Class of 2022-2023
Grace Akinrinola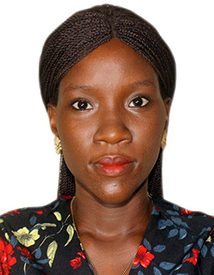 Grace completed her M.Sc. in Marine Pollution and Management and B.Sc. (Hons.) in Marine Biology from the University of Lagos, Nigeria. She is passionate about the well-being of the environment, particularly the marine environment. She is a lover of new places with over 7 years of experience in environmental impact assessment, implementation of ecosystem-based approach programs, and strategic marine-related research, in addition to her 6 months undergraduate internship with Nigerian Maritime Administration and Safety Agency (NIMASA). Throughout her applied marine biology work, she continued to witness and develop an interest in the human dimensions of resource use, particularly aspects related to conflict and justice.
She is excited to start the Master of Marine Management (MMM) program to expand her knowledge of marine management through its interdisciplinary approach. Specifically, Grace's research is on a Two-Eyed Seeing Evaluation of the DFO (Maritimes Region) Ecosystem-Based Management Framework Applied to Treaty Fisheries Implementation.

Kevin Allan
Kevin grew up in a small, rural town in Southern Ontario. While far from the ocean, Kevin's interest in the marine environment was sparked by his parents. As avid divers, Kevin grew up with dive logs, reference guides, and stories. Kevin earned his open water SCUBA diving certification and furthered his interest in marine biology through a trip to the Galápagos Islands. Kevin is also passionate about politics and government. Kevin recently graduated from Dalhousie University with a Bachelor of Science, majoring in Marine Biology. Kevin also completed an Undergraduate Certificate in Aquaculture and the Environment.
The MMM program is a unique mix of Kevin's interests in the ocean and policy. Kevin is interested in learning about improving sustainability in the fishing and aquaculture industries. Kevin is particularly interested in how we can lessen the effects of these industries on non-target species such as whales, sharks, and sea turtles.  
Katrina Côté-King
Katrina grew up in Montreal and has always been an avid environmental advocate and animal lover. She recently graduated from the University of Prince Edward Island (UPEI) with a BSc, majoring in Biology. During her time at UPEI, Katrina focused primarily on climate conservation and animal sciences, all the while working on research in the Coastal Ecology Department. Studying on the island allowed her to discover her passion for oceanography, thereby driving her interest in further pursuing a career centered around the marine environment.
With her interest in animal protection policies, Katrina is looking to gain a wider understanding of potential solutions to mitigate environmental threats impacting an array of marine species. She hopes to learn about Indigenous and government policy, further evaluate Marine Protected Areas, and explore conservation solutions in marine ecosystems. Katrina is looking forward to beginning the MMM program and connecting with like-minded peers for collaborative efforts in marine sciences.  
Brianna Crosby
Brianna was born and raised in Nova Scotia where she developed a deep love for the ocean, spending much of her childhood roaming around beaches looking for shells and sea life. Recently, she graduated from Mount Allison University with a BSc (Honours) in Biology. In her third year, she worked on a project that investigated how biodiversity and algal communities changed with elevation on a rocky intertidal shore and it was here where she discovered her passion for coastal marine ecology.
Brianna is particularly interested in the conservation of native species and the management of invasive species along the coasts of Atlantic Canada. She is looking forward to learning how to effectively develop management policies that integrate citizen science as she believes that community involvement can be instrumental in conservation and management efforts. She is very excited to be joining and learning from the Marine Management community this fall.
Benjamin Fillier
Ben completed his undergraduate at Dalhousie in Political Science with an honour's thesis on Canadian Arctic Policy. Ben's connection to marine environments has been present throughout his education. Mixing his focus on environmental sustainability, logistics, and wanting to be a part of the ongoing efforts of scientists aiming to make sustainable change, Ben hopes to make steady progress towards his goals in the program by combining his focus on environmental sustainability, logistics, and wanting to be a part of the ongoing efforts of scientists aiming to make sustainable change.
Ben is interested in exploring risk management systems for shipping in the Arctic, alongside other special ocean areas. As shipping becomes more prevalent in a world with increasing demands, the current logistics of shipping needs to become more inclined towards sustainable processes, to prevent issues such as coastal erosion, and ocean degradation. Ben hopes to further his understanding on what it takes to adorn sustainable infrastructure in today's times, through the use of scientific and engineering focused analysis to create effective solutions. 
Alexandra Freidman
Alexandra was born and raised in Montreal. Although she was far from the ocean, she developed a passion for marine wildlife and the outdoors. This led her to complete a BSc with a major in Biology and a minor in Field Studies at McGill University. During her field courses, she learned about different perspective surrounding conservation issues in countries like Canada, Barbados and Panama. This sparked an interest in diversifying her knowledge from a biology background towards an interdisciplinary perspective.
After graduating, she gained experience in marine mammal conservation through her job with Cetus Research and Conservation Society, a non-profit organization which focuses on reducing the physical and acoustic disturbances of vessels on marine mammals in British Columbia. This hands-on conservation job made her realize that more change needs to happen to conserve cetaceans.
As such the MMM program is an ideal fit for Alexandra. She aims to continue her career in marine conservation and gain more skills in interdisciplinary work by combining policy, science and community-based work to conserve marine ecosystems.
Julie Gaal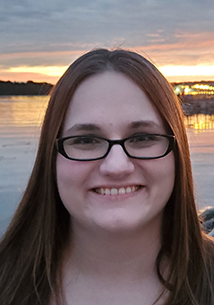 Julie was born and raised in Southern Ontario and attended the University of Guelph, majoring in Marine and Freshwater Biology. While completing her degree, Julie was fortunate enough to take a field course in St. Andrews, New Brunswick, examining the Passamaquoddy Bay region and further developed her marine research skills. After graduating in 2016, she entered the workforce and began a job in a research facility. Julie worked for five years before deciding she wanted to return to her passion and pursue higher education in the marine field. This led her to the Master of Marine Management program.
Julie is most passionate about shark ecology and conservation. She hopes to use the knowledge and skills she gains through the MMM program to begin a career in shark research and conservation, assessing and refining policies targeted towards the protection of these species.

Aimee Hopton
Aimee is from Mississauga, Ontario where she grew up spending most weekends sailing on Lake Ontario with her family. As a result, this exposure to aquatic environments f has enticed Aimee to delve deeper into the world of marine conservation. More specifically, Aimee hopes to evaluate the relationship between humans and marine environments, so that solutions can be developed in a manner that does not favour one above the other. This way of thinking was brought on during Aimee's undergraduate career, where she considered and further analyzed the connection between the natural world and humans through an interdisciplinary approach.
While studying at Queens University for her undergraduate degree in Geography Aimee also had the opportunity to work within the Queens Sustainability Office. It is there where Aimee was able to apply her passion for the environment within the lenses of policy making and systems change. Throughout Aimee's final year at Queen's, she led the Queen's Conference on Ocean Sustainability (QCOS), with a special focus on Indigenous ways of knowing, being and doing. While held in a virtual setting, the conference brought together both students and professionals from across Canada to participate in an educational yet exciting learning experience that brought awareness to the risks facing our marine ecosystems.
Given Aimee's knowledge of urban planning and policymaking, she hopes to combine this with her passion for marine sustainability to positively contribute to the future health of our ecosystems. As Aimee enters the MMM program she will utilize her interdisciplinary way of thinking toward understanding anthropogenic effects on marine ecosystems, and how both reactive and preventative measures can bolster environmental resiliency for current and future generations
Jumanah Khan
Jumanah has always been curious and motivated to understand the natural environment and its biological functions. Her experiences have led her to developing partnerships within local communities and building capacity to inspire positive environmental change. She holds an Honours B.Sc. in Biology and Environmental Science, and a Master's in Environmental Sustainability from Western University.
Jumanah recently applied her knowledge to passionately lead the ALUS Elgin program, a non-profit organisation located in the Great Lakes region. Leveraging support from governmental and private donors, Jumanah coordinated the establishment of over 400 acres of ecological restoration projects.
Now, after working to apply freshwater coastal management plans on a local-level, she hopes to follow a dream and expand her experience into marine ecosystems. During her career at Dalhousie's MMM program, she is determined to seek out new ways to collaborate with Indigenous Peoples and coastal communities through integrated co-management techniques.
Abigael Kim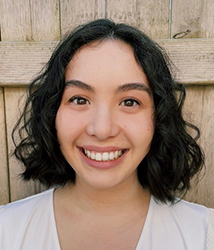 Abigael is a graduate of the University of Guelph's Environmental Resource Management program, holding an honours BSc degree. Her love of the ocean comes from her experiences exploring the rugged coasts and rich marine culture of Kinvara, Ireland, of which inspired her undergraduate thesis investigating the human dimensions of large-scale marine protected area management. Whilst working in Indigenous consultation at the Ontario Ministry of Mines, Abigael discovered a passion for working with communities that lack the capacity to engage in the natural resource management process.
Ultimately, to build community capacity and promote socio-ecological sustainability, Abigael's research involves isolating critical characteristics of community-based conservation projects that lead to optimal outcomes for both ocean and community. As a Sobey Fund for Oceans Scholarship recipient, Abigael looks forward to utilising the MMM program's interdisciplinary curriculum to translate her desire to help communities reach their full potential into work that keeps our oceans healthy and our communities prosperous.
Claire Kleinknecht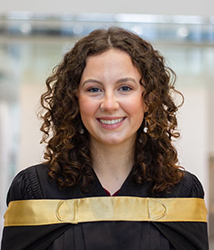 Claire grew up in Halifax, NS, where she fostered curiosity for marine life by exploring the Maritime coastline from a young age. Years of sailing in St. Margarets Bay has enhanced her understanding and interest of all things ocean. Naturally, her interests went from on the water to in the water with years of hobby diving in the Caribbean. This highlighted the rapid degradation of marine environments in the face of climate change and has led her to pursue her passions into marine conservation.
She graduated from Mount Allison University with a BSC (Honours) in Biology, focusing on courses in marine biology, conservation, and science communication. Her honours research focused on predatory evasion behaviour of larval fish. While conducting her research, she gained practical experience working with live fish in a recirculation aquatic lab and field experience working with highly endangered Short-nose sturgeon.
Within the MMM program, Claire is keen to learn an interdisciplinary approach to habitat restoration and the re-wilding of coastal ecosystems.
Quinna Laver
Quinna is a graduate from the University of Victoria with a BA in Sociology and Environmental Studies. Throughout her degree she participated in field schools in traditional ecological management and ethnoecology. Additionally, she worked as a research assistant in the area of human dimensions of climate change.
Since graduating in 2019, Quinna has worked at the Gulf Islands National Park Reserve in the Salish Sea. Her work includes operating vessels, supervising teams based on three islands, and empowering sustainable visitor experiences. Moreover, Quinna has helped to guide interdisciplinary collaborative work with Indigenous Partners and delivered public education as part of her role.
Quinna is looking forward to learning from her colleagues, community, and the more than human world. During her time in the MMM program, she is hoping to expand upon her knowledge of marine protected area policy, get her boots muddy in estuaries, and gain experience with shoreline management.
Lyle Porter
Lyle has developed interests in ecology and ecosystem function through a biology undergraduate degree at Queen's University. Although the academic applications of ecosystem structure/function have been reinforced through study, he seeks to apply his biological background towards its uses in industry and the private sector. Specifically, quantifying the underlying mechanisms of natural systems, using both physical and biological markers, seems appealing. Lyle hopes to use a numerical understanding of ecosystem processes to inform policy and spatial management strategies both nationally and through international engagement. The MMM program at Dalhousie provides the interdisciplinary perspectives of both academia and industry, as well as the needed professional experience to gain traction in this exciting and emergent field. 
Joy Rivers
Joy graduated from the University of New Brunswick in 2021 with a BSc (honours) in Marine Biology, She grew up going to a family cottage in on a lake where she spent her summers falling in love with everything in the water. By grade 11 her passion for all things aquatic extended to marine biology after a trip to St. Andrews NB. By the end of her undergraduate degree she developed a strong interest in fisheries management and policy work involving marine management, This passion has led her to the MMM program which she is very excited to start.
Megan Shin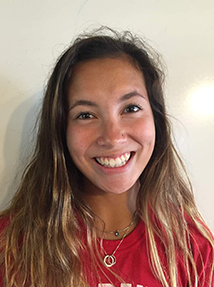 Megan attended Dalhousie University for her undergrad, where she completed a major in marine biology with co-op and a minor in statistics, with first class honours. Her areas of interest include habitat characterization, fisheries management and biostatistics.
Megan studied biological oceanography and benthic ecogeochemistry at Sorbonne University, where she completed a research project that detailed macronutrient levels within the Lacaze-Duthiers canyon. For her honours thesis, she created a statistical model to estimate the global population of sperm whales with Dr. Hal Whitehead. Their results have been featured as keynote presentations at the 2021 Cameron Conference, and the 2022 Cachalote Consortium.
Megan is excited to attend Dalhousie again to study marine management and fill the gaps in her knowledge of global and ocean policy. She hopes to employ her knowledge of statistics to guide and aid in protected area establishment.
Kayla Silver
Growing up in Corner Brook Newfoundland, Kayla developed a love for the ocean at a young age. A recent graduate from Dalhousie University, where she received her Bachelors of Science in Biology and Psychology(double major), she got her first taste of marine biology when she worked as a FSWEP student with Fisheries and Oceans Canada and has never looked back. Her passion for the ocean led her to continue working with Fisheries and Oceans Canada after graduation, where she worked on the Maritime ecosystem research vessel surveys to help determine population trends in groundfish.
Kayla is excited to begin her studies in the MMM program. She hopes that through this program she can gain a better understanding of marine policies and further refine her knowledge in fisheries management. Her interests lie in stock assessments and figuring out possible solutions that may help generate commercial quotas that are both economically feasible and sustainable for aquatic populations.
Reid Sutherland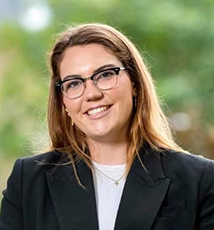 From a young age, Reid has always loved to spend her time on, in, and near the ocean. Whether it's swimming and surfing or tagging sharks and conducting transect surveys, her fascination with the waves and all that lies beneath them is lifelong. After having completed her Bachelor of Science in Biology with concentrations in Marine Biology, Aquatic Biology, and Wildlife, Ecology, and Conservation as well as a Bachelor of Arts in English, Reid looks forward to undertaking a Master of Marine Management at Dalhousie in the Fall.
With a particular interest in elasmobranch ecology and physiology, Reid looks most forward to getting more involved with research-informed conservation efforts and policy management. Moreover, she hopes to continue her involvement with Marine Search and Rescue through the Canadian Coast Guard and get out on the water with the Dalhousie Sailing Team.
Taylor Watts
Before moving from a small rural town in Ontario to Nova Scotia to attend University, Taylor was fortunate enough to receive an opportunity to live in the Gulf of Thailand where she worked as a conservation diver for a small island community; this experience is what solidified Taylor's love for the ocean and marine conservation.
Taylor is a recent graduate from Dalhousie University where she completed a Bachelor of Science with Honours in Marine Biology. As part of her degree, she had the opportunity to study the effects of oil spills on phytoplankton community structure at the Bedford Institute of Oceanography, and she studied ecosystem impacts on Eelgrass as part of her Honour's thesis. 
Taylor is excited to be joining the MMM program to be able to develop the interdisciplinary skills and tools she will need to pursue her passions in marine conservation and fisheries management as it pertains to conservation
Adam Williamson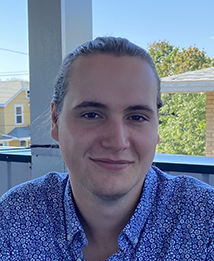 Adam holds an undergraduate degree in environmental science from Carleton University in Ottawa, Ontario. Far from the ocean, he focused on freshwater ecology and conservation, earning him a number of valuable professional and academic experiences. During his undergrad, he spent a summer working for Carleton's Fish Ecology and Conservation Physiology Laboratory doing fieldwork for a variety of studies and projects. For his undergraduate thesis, Adam analyzed the freshwater phytoplankton biodiversity of the Trent-Severn waterway in eastern Ontario. He classified thousands of microscopic particle images, categorizing them into relevant genera and correlating their abundance with several physical and chemical water variables. Adam remains fascinated by aquatic research and problem solving and is ready to gain a wider breadth of experience by focusing on the marine environment. He hopes to explore marine ecosystem restoration in Atlantic Canada with a focus on interdisciplinary approaches to project planning, execution and post-restoration management.

Therese Wilson
Therese obtained a BSc in Ocean Sciences with a minor in biology from Dalhousie University, where she also received the 2022 University Medal in Ocean Sciences. Her honors research focused on evaluating the environmental impact of marine aquaculture in a naturally anoxic environment. She gained valuable experience in fieldwork, laboratory work, and data management during her honors program. After graduating, Therese went on to work for the Centre for Marine Applied Research, where she aided in conducting a climate change vulnerability assessment of the Nova Scotia lobster industry.
In addition to aquaculture, Therese is passionate about holistic approaches to marine management. Having a strong belief that many great papers and scientific understandings are lost due to language and knowledge barriers, she is also keenly interested in bridging gaps in the science-policy interface. Her passion for these topics has led her to the MMM program, where she is eager to learn from peers and instructors.