Class of 2014‑2015
Class of 2014-2015
Elizabeth Baker
Graduate Project Research - Influential of Ignored? The Role of Fishermen in Management of the Nova Scotia Lobster Industry

Elizabeth is a recent graduate of Dalhousie's Faculty of Agriculture with a Bachelor of Science majoring in Aquaculture and Animal Science. She grew up in Jeddore, a small fishing community on the Eastern Shore of Nova Scotia. Living in this area sparked her interest in the fishing industry before becoming more involved through summers working as a Fisheries Technician for the Fisherman and Scientists Research Society. It is here where she worked on projects such as lobster moult and quality, lobster node, size at maturity and lobster recruitment, as well as V-notching for the Eastern Shore Fisherman's Protective Association. She continued to pursue her interest in the lobster industry by performing bacterial surveys of American lobster (Homarus americanus) haemolymph in Eastern Nova Scotia in her final undergraduate year.
Elizabeth is now pursuing her Masters of Marine Management at Dalhousie University. She intends to apply and expand her knowledge in aquaculture as well as fisheries in order to study local industry and how the two interact.
Alexandra Chadid
Graduate Project Research - Coastal Vulnerability for Ship-Source Oil Spill Preparedness and Response Planning in Halifax Harbour, Nova Scotia 

Alexandra Chadid is an officer of the Colombian Navy who completed her undergraduate studies in Nautical Sciences and Physical oceanography. Her main work has focused on anti-terrorism operations performed at sea and on the rivers of Colombia over the past 12 years. She has experience in navigation of several types of interoceanic and oceanographic cruise ships, and has worked on a research study about estuarine areas in Colombia.
While sailing in the ocean as a field oceanographer, Alexandra has recognized the need to further improve her knowledge about the ocean as a source of resources and to learn skills that she could apply to many situations in her home country. She is currently pursuing a Master of Marine Management with a Scholarship from Colfuturo, a Colombian organization that endorses the training of the best Colombian professionals, supported by the Colombian Navy. Alexandra plans to apply all the knowledge and skills learned during her Master's to improve many areas in Colombia.
Elizabeth Edmondson
Graduate Project Research - Advancing an Integrated Management approach to Ship Strikes with Baleen whales on Canada's Pacific Coast

Elizabeth Edmondson joins the Masters in Marine Management program with a legal background. She graduated with honours from the University of Guelph in Psychology and Criminal Justice and Public Policy. Over the course of her studies, she worked as a legal assistant in a plaintiff personal injury firm fuelling her interest in the law. Elizabeth went on to obtain her Juris Doctor from the University of Ottawa in 2013. She articled at a prominent Toronto firm and was called to the Ontario bar in June 2014.
Elizabeth has developed an interest in sustainable development and environmental policy, particularly within marine ecosystems. Elizabeth decided to pursue a Masters in Marine Management to compliment her legal background and gain an interdisciplinary perspective on the issues surrounding marine management. Elizabeth would like to focus on governance and policy developments surrounding the sustainability and preservation of coastal and marine environments.
Wenhui Gao
Graduate Project Research - Sediment Quality Analysis and Related Management Approaches in Halifax Harbour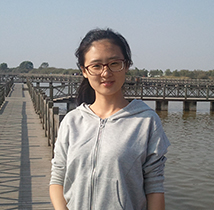 In September 2010 Wenhui entered Shandong University. Shandong is one of the top universities in China for the study of marine science and Wenhui graduated with a Bachelor of Science degree in Biology Science and Technology in 2014.
During her studies, Wenhui had the opportunity to become a member of a research team researching the "Effect of in Vitro Application of Betaine on the Activity of Immune Enzymes in the Coelomic fluid of sea cucumbers (Apostichopus japonicas)" with her professors.
Wenhui has great interest in the interactions between human activities and the marine environment with a particular interest in environmental protection. She intends to study marine ecology, toxicology, marine management and related policies.
She is optimistic, rigorous, perseverant and cooperative. And she loves outdoor sports, reading and cooking at her spare time
Adrian Gerhartz
Graduate Project Research - Systematic Marine Conservation Planning in the Scotian Shelf Bioregion

Adrian Gerhartz comes from Havana, Cuba. He graduated from the University of Havana in 2011 with a Bachelor of Science in Geography. After finishing his undergraduate level Adrian joined the Centre for Marine Research of the UofH to work as a researcher. During his stay at CIM Adrian was immediately involved in the marine turtle conservation program and as part of this he spent time in the field for monitoring marine turtles nesting and analyzing coastal dynamic. He also carried out a research using satellite tracking analysis to modeling the home range of Hawksbill turtle (Eretmochelys imbricata). He was also responsible for GIS services at the Center (update/create geographic databases, spatial analysis, cartography), gaps analysis for the strategic plan of the National System of Protected Areas 2014-2020 and teaching Geography courses at undergraduate level.
Having the opportunity to learn more about the Cuban fisheries and to gain experience in working with NGOs, Adrian volunteered for SOS Pesca Project, implemented by COSPE and WWF.
Adrian interests lie in marine spatial planning, a subject that is poorly addressed in the Cuba Conservation Strategy. Hence he decided to take a program overseas where he could learn different tools and skills in order to use it for guaranteeing the effectiveness in marine conservation planning in developing countries.
Julie Hovey
Graduate Project Research - Vessel needs, preferences, and restrictions related to minimizing risk to whales without compromising vessel operations and the safety of navigation

Julie Hovey graduated from Queen's University with a Bachelor of Science (Honours) majoring in biology. During her undergraduate degree, Julie completed field studies at the Hunstman Marine Science Center in St. Andrews, NB. This work sparked her interest in marine ecosystems and human-induced impacts on marine environments, particularly the impact of aquaculture. Her undergraduate honours thesis investigated the ecological role of calico crayfish in a land-based, recirculating aquaculture system producing Nile tilapia. This research cemented Julie's interest in ecosystem services and how natural processes may be used to mitigate environmental issues.
Julie's research interests are primarily concerned with the improvement of aquaculture to reduce environmental impact and increase long term sustainability. She is interested in the combination of ecosystem-based management and marine spatial planning to address these concerns. Julie is honoured to be a recipient of the Sobey's Fund for Oceans scholarship, providing a unique opportunity to integrate disciplines in order to solve problems facing the ever-changing ocean.
Erin Keenan
Graduate Project Research - Mobilizing Inuit Qaujimajatuqangit in narwhal management through community empowerment: A case study in Naujaat, Nunavut

Erin grew up in Toronto, Ontario and completed her BAH at Queen's University in environmental studies and global development studies. In combining these two areas, she became interested in the relationship between indigenous knowledge systems and environmental management in Canada. This interest, coupled with her lifelong fascination with the marine environment, led her to the Marine Affairs Program. As an MMM student, she plans to link her background in environmental sustainability to community-based marine management in coastal areas. She is also joining the Fish-WIKS project as the Master's student for the Arctic region. Her research will be focused on fisheries management issues in the community of Repulse Bay, Nunavut.
Hillary MacDonell

Graduate Project Research - Examining community adaptation readiness to climate change in the Inuvialuit Settlement Region, Northwest Territories 

Hillary MacDonell is a recent graduate of St. Francis Xavier University, where she graduated with a Bachelor of Science, majoring in Earth Sciences and Biology (Joint Honours). During her undergraduate degree she completed an independent research project studying the epiphytic relationship between the two seaweed species, Ascophyllum nodosum and Vertebrata lanosa. As part of her honours project, she designed and constructed a floating flux-chamber and used it to measure greenhouse gas emissions from aquatic environments. Her strong interest in climate change and in the Arctic region lead her to l'Université Laval this past summer, where she secured an NSERC Undergraduate Student Research Award to conduct research investigating the response of the biological carbon pump to the decreasing ice conditions in the Arctic Ocean. She decided to pursue a Master's of Marine Management because she believes that an interdisciplinary approach is necessary to mitigate the challenges faced by today's oceans.
Taylor Mason
Graduate Project Research - A Role for Inuit: How northern communities can inform and influence the dynamics of offshore oil and gas development in Nunavut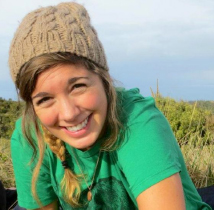 Taylor received her Bachelor of Arts in Aquatic Resources and Public Policy and Social Research from St. Francis Xavier University in 2014. Moving from Prince Edward Island to Saskatchewan in 2008, Taylor realized how passionate she was about the coast. Throughout her experience at StFX, Taylor studied both marine and freshwater ecosystems through an interdisciplinary approach. She completed her final term project with the Antigonish Harbour Watershed Association comparing wetland mitigation policies in Nova Scotia and wetland mitigation banking policies in California. She has also worked in two different Biology labs performing water quality analysis.
Taylor is passionate about Indigenous knowledge systems and is interested in how these systems can be incorporated into policy development regarding marine management and conservation. Through the Marine Affairs Program, she hopes to gain a better grasp on marine policy and environmental management strategies in order to help promote and sustain healthy coastal communities.
Helen McConnell
Graduate Project Research - Shipping and Seismic Exploration Noise in the Arctic Marine Soundscape: A look at Mitigation Measures for Cetaceans 

Helen graduated from Queen's University in 2013 with a Bachelor of Arts (Honours) in Geography with a minor in Environmental Studies. She spent two summers living in Victoria, British Columbia attending the University of Victoria earning transfer credits for her degree. Through the University of Victoria, Helen had the opportunity to take a Field Course at the Hakai Institute on Calvert Island along the central coast of British Columbia, studying Biodiversity and Conservation of Coastal British Columbia. This incredible experience reinforced her lifelong passion for oceans and inspired her to pursue her Masters in Marine Management.  Helen is interested in whales and Marine Protected Areas and is looking forward to exploring these topics through her internship and graduate project. Her background in both human and physical geography as well as in environmental studies and sciences will complement the interdisciplinary emphasis of the Marine Affairs Program.
Kimberly Vardon
Graduate Project Research: Examining the Feasibility of Implementing a Marine Mammal Oil Spill Response in Canada

Kimberly hails from Southern Ontario, but has called Halifax her home for the past few years. She received a Bachelor of Science in Marine Biology from Dalhousie University, coupled with a Certificate in Disability Management.
During her undergraduate studies, Kimberly acted as a volunteer Field Research Assistant for the Bimini Biological Field Station, where she spent her days tagging and surveying juvenile lemon sharks. No stranger to the sea, Kimberly gained first-hand insight into Canadian fisheries practices during her employment as a Certified Scotia Fundy At-Seas Fisheries Observer, and aspires to progress elasmobranch conservation and management policies.
Under the guidance of the Marine Affairs faculty, Kimberly aims to explore innovative techniques for generating solutions that can satisfy the scientific and policy-making communities, alongside significant stakeholders, by advancing integrated fisheries policies and management practices that are sustainable while allowing for economic prosperity in the Maritime regions.
Maryann Watson
Graduate Project Research - Bycatch 22: Regulatory pressures of selective fishing on commercial salmon fishers and impacts of handling on chum salmon (Onchorhynchus keta) released from purse seine fisheries in Northern British Columbia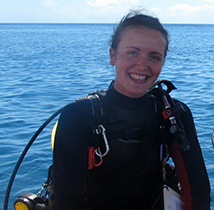 Maryann graduated from the University of Victoria with a BSc. in Biology and a Concentration in Marine Biology. She completed part of her degree at the Bamfield Marine Sciences Centre on the west coast of Vancouver Island. Her interests in conservation biology and ecology led her to pursue undergraduate research in coral reef ecology. During this time she obtained her CAUS scientific diving certification and joined her lab's field team on Kiritimati Atoll to study human impacts to the local reef. Maryann led household surveys of the local community on Kiritimati, focusing on fishing behaviour and perceptions of change in the fishery. These experiences focused her interest to the management of small-scale fisheries and incorporating local knowledge into solutions such as protected area design. During her time in the Masters of Marine Management program, Maryann hopes learn how solutions are developed using both scientific and socioecological data.
Maryann is the recipient of the Douglas M. Johnston MASC Scholarship and Gold Award in Marine Affairs, and the Sobey Fund for Oceans Scholarship.
Kascia White
Graduate Project Research - Applying Adaptive Management Approaches to Data Limited Fisheries: The Case of Bermuda's Shallow Water Snapper Species

Kascia White hails from the tiny island of Bermuda. She graduated from Saint Mary's University in 2014 with a BSc (Honours) in Biology with a minor in Psychology. Her undergraduate thesis focused on the effects of ocean acidification on the calcifying coral species Porites astreoides. Kascia spent 5 years working as a summer intern at the Bermuda Institute of Ocean Sciences (BIOS) in the Ocean Acidification Lab. While there, she received her Advanced Open water and AAUS scientific diver certifications. Kascia has also worked at the Bermuda Department of Conservation Services where she was actively involved in the benthic mapping, monitoring and assessment program (BMMAP), sea grass monitoring program, water quality monitoring program, and ongoing studies of green sea turtle grazing on sea grass beds around the Bermuda platform. The benthic and sea grass monitoring involved conducting over 150 benthic surveys ranging from 10-70ft. using SCUBA.
Kascia's interests lie in marine environmental management with a focus on marine coastal development and fisheries. Throughout her tenure in the MMM program she hopes to merge her background in the biological sciences with the knowledge, experience and ideas of the humanities and social sciences