RMS Western Pacific
Canada and Maritime Dimensions of Regional Security
Regional Maritime Security in the Western Pacific
Workshop on Regional Maritime Security in the Asia-Pacific Region
(Halifax, 1-5 December 1999)
The Project's second regional workshop was held at Dalhousie University 1-5 December 1999, in concert with the annual meeting in Halifax of the Canadian Consortium on Asia Pacific Security (CANCAPS). The coordinator was Rear-Admiral (Ret'd) Fred Crickard, Senior Research Fellow at the Centre, assisted by Mr. Graham Walker, a graduate student. As in the previous workshop, Proceedings were provided to participants annotated as being "For discussion purposes only" and "Not for citation without the author's permission."
Workshop on Prevention of Incidents at Sea: Malaysia, Brunei Darussalam, Cambodia, Myanmar, and Vietnam
(Kuantan, Malaysia, 25-27 July 2000)
Since 1997, Research Fellows Peter Jones and David Griffiths (and at the first session in 1997, Peter Haydon) had been working with Mr Mak Joon Num of the Maritime Institute of Malaysia (MIMA) to develop mechanisms to enhance cooperation between the regional navies of Southeast Asia. This was the 4th workshop in the series, the previous three having engaged participants from Malaysia, Indonesia, Thailand and Singapore. It was attended by officers from the Royal Brunei Navy; the Royal Cambodian Navy; the Royal Malaysian Navy and Royal Malaysian Air Force; the Myanmar Navy and the Vietnamese Peoples Navy. Workshop facilitators were again Mr. Mak, Dr. Jones and Mr. Griffiths.
Workshop on MALINDO Prevention of Sea Incidents Cooperative Guidelines
(Jakarta, Indonesia, 18-19 January, and Surabaya, Indonesia, 22-23 January 2001)
The 5th & 6th workshops of the CFPS/MIMA series were held to inaugurate the "MALINDO Prevention of Sea Incidents Cooperative Guidelines" which were signed by the two naval chiefs, Adm Indroko S. for Indonesia and Adm Dato Seri Abu Bakar bin Abdul Jamal for Malaysia, in Jakarta on January 18th (pictured). The first of the workshops, in Jakarta, introduced the concept to Indonesia's Western Fleet (KOARMABAR) and the second in Surabaya to the Eastern Fleet (KOARMATIM).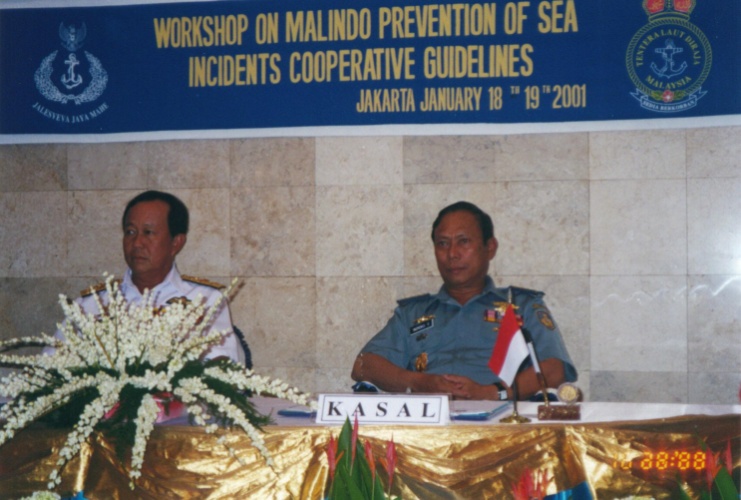 Chiefs of the Malaysian and Indonesian Navies at the Jakarta Workshop, 2001

Maritime Security Conference
Workshop on US-Taiwan Non-Proliferation and Confidence Building Measures
(Albuquerque, USA, 4-8 March, 2005)
In March 2005, David Griffiths represented the Centre at a workshop on US-Taiwan Non-Proliferation and Confidence Building Measures held in Albuquerque, New Mexico, at the Cooperative Monitoring Center (CMC) of Sandia National Laboratories. The event was co-hosted by CMC and the Center for Nonproliferation Studies of the Monterey Institute of International Studies. His three papers ("Case Studies in Maritime Confidence Building: A Canadian Perspective," "Conceptual Issues in Confidence Building" and "Agreements for the Prevention of Incidents at Sea") served as the basis for discussion on potential confidence building steps in the region.
International Symposium on Maritime Security of the South China Sea
(Haikou, China, 8-9 December 2005)
The Centre participated in an International Symposium on Maritime Security of the South China Sea that took place in Haikou, Hainan, People's Republic of China in December 2005, co-hosted by the National Institute for the South China Sea Studies and the Hainan Maritime Safety Administration of P.R. China. David Griffiths presented a paper entitled "Paradigm Traps: Reflections on Maritime Security Strategies" which opened an extemporaneous discussion of various Cold War and post-Cold War agreements for the prevention of incidents at sea ("INCSEA" agreements) as a very good example of a successful maritime security paradigm shift.
Workshop on Confidence-Building Measures (CBMs)
(Taipei, Taiwan, 13-15 November 2006)
The Centre participated in a three-day workshop hosted by the Ministry of Foreign Affairs of the Republic of China (Taiwan) in cooperation with the Center for Strategic and International Studies in Washington. It was a follow-on to four previous workshops between 2001 and 2005 on arms control, non-proliferation, and confidence building measures (CBMs). A select group Taiwanese officials received a series of presentations related to maritime security, confidence-building measures and cross-Strait security issues from officials and non-government experts, including David Griffiths who addressed three topics: "Agreements for the Prevention of Incidents at Sea (INCSEA)," "Maritime Confidence Building Concepts" and "Case Studies in Maritime Confidence Building." The workshop was followed by discussions with senior officials and political figures, culminating in a meeting with President Chen Shui-ban (pictured).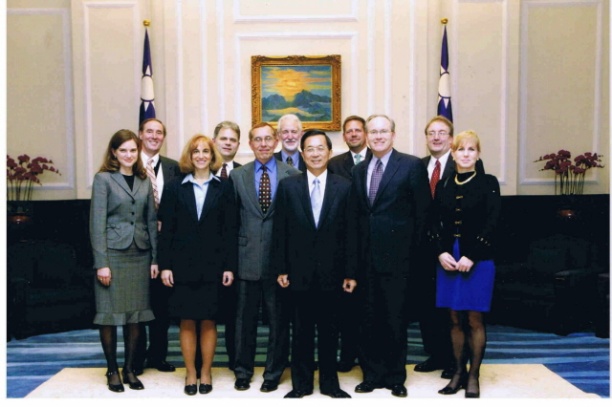 With President Chen Shui-ban, Taipei, 2006
Seminar on Arrangements for Maritime Confidence-building Measures
(Shanghai, China, 20-21 November 2007)
In conjunction with the inauguration of a new Institute of the Law of the Sea and Fisheries Law at Shanghai Fisheries University (now Shanghai Ocean University), Research Fellows Peter Jones (Associate Professor at the Graduate School of Public and International Affairs at University of Ottawa) and David Griffiths co-facilitated a 2½ day seminar along with Dr. Hanling Wang from the Chinese Academy of Social Sciences (all three pictured below). Participants from across China, representing a wide variety of government and academic disciplines, discussed the principles, practice and prospects for prevention of incidents at sea ("INCSEA") arrangements in the western Pacific region. While in China, David Griffiths also travelled to Qingdao to speak at the Ocean University of China and to Beijing for discussions on future prospects for cooperation.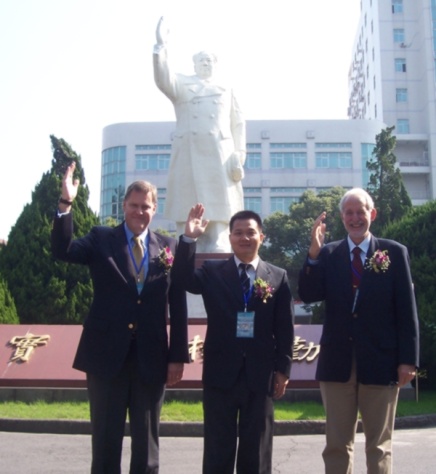 Dr Wang, Dr Jones, Mr Griffiths & Chairman Mao, Shanghai, 2007
Workshops on China-Taiwan Cross-strait Confidence-building Measures
(Taipei: 14-16 April and Beijing: 18-19 April 2008)
These workshops were a continuation of the Centre's contribution to work by the Washington-based Center for Strategic and International Studies which led a delegation to both Taiwan and Mainland China to explore a potential agenda for cross-Strait confidence-building Measures (CBMs) in the fields of military, health, and environment, with David Griffiths leading discussion on maritime aspects. The aim was to conduct a frank dialogue to identify concrete policy proposals for building trust, averting unwanted conflict, and enhancing cooperation between the two sides of the Strait. The visit was timed to take place after the Taiwan presidential election (March 22) and before the new president was inaugurated (May 20). Following the workshops the team had an opportunity to meet with President-elect Ma Ying-jeou and his team. Travelling on to Beijing, the team then held a one-day discussion of the same issues with Chinese authorities, hosted by the Chinese Foundation for International and Strategic Studies (CFISS).
Workshop on Strategic Implications of Military Activities in the EEZ
(Newport, 29-30 July 2009)
David Griffiths presented the keynote address at this scholar's workshop at the U.S. Naval War College, in which six panellists were invited from China and the USA respectively to present and discuss the divergent views between the U.S. and China concerning the law of the sea governing military activities in the exclusive economic zones of foreign states in general, and U.S. military activities off the coast of China in particular. The event was conducted by the China Maritime Studies Institute of the College's Center for Naval Warfare Studies.
International Academic Symposium on China's Contribution on the Security and Cooperation in Indian Ocean Area
(Shanghai, China, 22-23 November 2012)
Hosted by the School of Advanced International and Area Studies (SAIAS) at East China Normal University (ECNU), David Griffiths spoke on "Maritime Relationships in the Indian Ocean: Perceptions, Paradigms And Prospects."

Canada-China Incidents at Sea Workshop
(Beijing, China, 25-26 April 2014)
The Canadian Embassy in Beijing invited Research Fellow Dr Peter Jones from University of Ottawa and David Griffiths from CFPS to facilitate a one-day Canada-China Incidents at Sea Workshop at the embassy, co-hosted by Professor Hanling Wang of the Chinese Academy of Social Sciences. On the following day. Dr Jones and Mr Griffiths met privately with Chinese officials to continue discussions.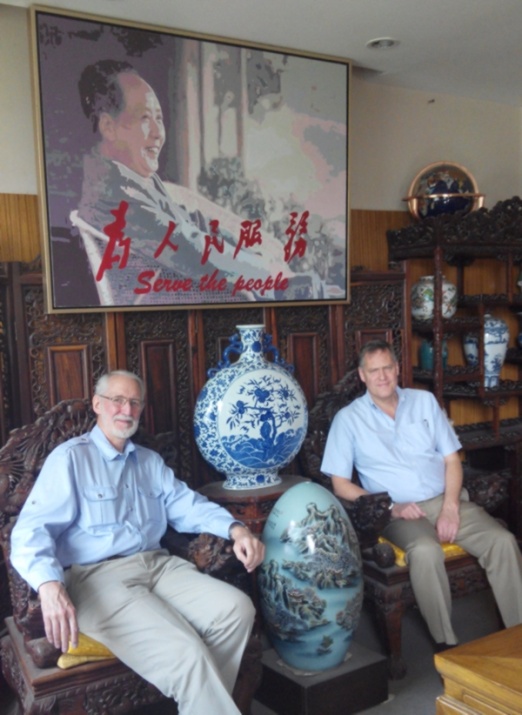 David Griffiths and Peter Jones, Beijing, 2014
Seminar on Maritime Confidence Building
(Jinan, China. 30 April 2014)
David Griffiths was a guest of the Shandong Institute for East-Asia Studies in Jinan for a half-day discussion of international maritime confidence and cooperation issues particularly relevant to the province of Shandong.

SELECTED PUBLICATIONS
David N. Griffiths. U.S.-China Maritime Confidence Building: Paradigms, Precedents and Prospects. China Maritime Study No. 6, July 2010. Newport RI: China Maritime Studies Institute, U.S. Naval War College, 2010. Available online at https://usnwc.edu/Publications/Publications/documents/CMS6_Griffiths.aspx
"Challenges in the Development of Military-to-Military Relationships", in Erickson, Andrew S., Lyle J. Goldstein and Nan Li (eds), China, the United States and 21st Century Sea Power. Annapolis MD: United States Naval Institute, 2010.
Crickard, Fred W. and Walker, Graham F. (eds),  Regional Maritime Security in the East Asia-Pacific Region: Working Papers. Halifax: Centre for Foreign Policy Studies, 1999.