Collaboration is an increasingly vital part of higher education and a new partnership between Dalhousie's Faculty of Open Learning & Career Development and New Brunswick Community College (NBCC) has showcased the power of inter-institutional collaboration in particular.  
Close to 20 academic leaders from NBCC recently completed Dalhousie's Academic Leadership Program, a ten-course professional development certificate taught by senior instructors primarily from Dalhousie's Faculty of Management. Courses in the program ranged in topics from leadership theory and strategic decision-making to performance management and stakeholder engagement.
The program was originally created with an internal audience in mind and has been offered to academic leaders at Dalhousie numerous times in previous years. Past participants have repeatedly applauded it for the relevancy of the topics covered and the opportunity to put theory to practice in the form of "action leadership projects" that complement the coursework. The leadership team at NBCC was looking for a similar program they could adapt for their needs and Dalhousie was able to deliver.
"Dalhousie University was able to customize the program to our specific needs – a 'made for NBCC' approach," said Ann Drennan, Vice President Academic, Innovation, and Student Affairs at NBCC. "The real value for us is in the projects the participants completed, developing solutions to real-world challenges at the College. That brings the learning back into the College and emulates how we train our students."
The courses were completed online and each spanned two weeks. Learners also received mentoring sessions for their group projects with a mentor from the Faculty of Management, and one-on-one coaching sessions with an executive leadership coach.  At the end of the program, learners earned a certificate from Dalhousie in Academic Leadership.
The practical and real-life application of learning was a stand-out feature of the program for learners. "This program exceeded my expectations. The action-based learning and capstone project involving a specific problem from my workplace added the most value to the program," said Ray Hubble, Dean of NBCC's School of Health & Wellness. "The project allowed me to integrate and demonstrate my learning while developing concrete recommendations for our senior leadership team.  I recommend this practical course for current and emerging leaders."
"This program was a great learning experience. It helped me gain valuable leadership skills that I will surely use in my career. Engaging faculty helped to make the learning experience top-notch," said Melissa Benoit, a Coordinating Instructor in the School of Health & Wellness at NBCC. "I worked side by side with my peers and leaders of my organization to meet goals and timelines, learn new skills and engage in meaningful conversation about leading our organization. I benefitted greatly from the program, and I am confident I will utilize the learned skills in my career. Thank you for helping me gain these valuable leadership skills."
As one of New Brunswick's largest postsecondary education institutions, NBCC drives social and economic wellbeing across the province. NBCC welcomes more than 11,000 learners each year through quality-assured, relevant training opportunities. This learning partnership between the two institutions lays a solid foundation for more opportunities to collaborate in the future.
"We've been delighted to work together with NBCC on this program and value the inter-institutional collaboration this has sparked between us," said Dr. Dianne Tyers, Dean of Dalhousie's Faculty of Open Learning & Career Development. "Assisting organizations in upskilling their management teams is an important element of what we do, and all of our work is focused on making a positive impact on the Atlantic region."
The development of this program was led by the Faculty's Corporate Solutions team that is responsible for working with organizations of all sizes to understand how Dalhousie can create a learning solution for their custom training needs. For more information on how Corporate Solutions can respond to your training needs, visit our website and submit the form so we can follow up with you to discuss a solution.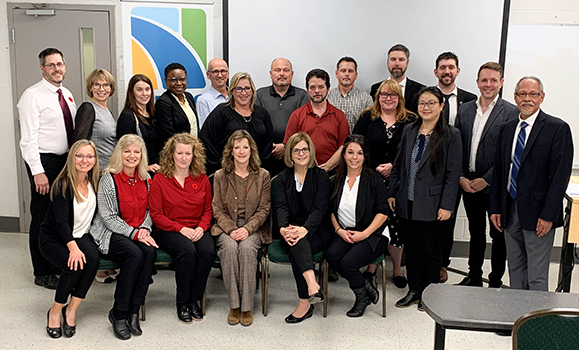 Back Row (L-R): Daniel Hebert; Carole Murphy; Tanya Mason; Keisha Peters; Ray Hubble; Shelley Poirier; Dwyane Chatterton; Ted White; Kirby Rushton; Stacey Ivany; Josh Lamont; Ellie Wang; Sonny Newman; Jeff Myers; Dr. Ramon Baltazar
Front Row (L-R): Melissa Benoit; Carol Clerke; Tara Fyfe-Hitchcock; Ann Drennan; Tammie Fournier; Ami Cail
Missing: Orry Lyttle