Today@Dal
»
Go to news main
Building bonds through health and wellness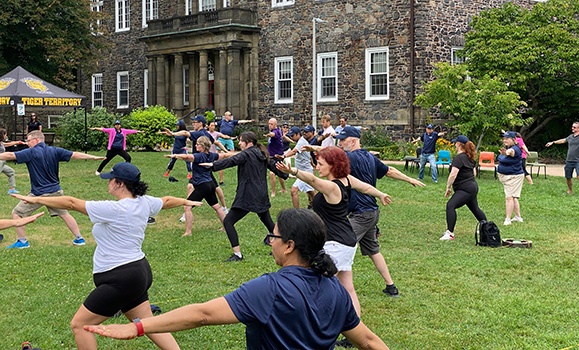 Members of Dal's Information Technology Services (ITS), Academic Technology Services (ATS), and MedIT (Medical Information Technology) teams gathered on the Studley Quad on August 25 for a day of health and wellness focused activities.
The participants followed the call of the drums played by Catherine Martin, Director of Indigenous Community Engagement. "Make a circle, everybody has to be side by side," said Catherine. In the circle, a smudging led by Michele Graveline, student advisor from the Indigenous Student Center, and Elder Anne took place: "We smudge our ears so we hear only good things at a level we are not used to, we smudge our mouths so that only good words come out and we smudge our hearts because in Miꞌkmaꞌki and in many indigenous worlds we speak first from our hearts," said Catherine. 
After the smudging, everyone was ready for some warrior yoga led by Helen Burns, a yoga instructor from Dalplex. After mastering the warrior poses, everyone had an opportunity to rotate around four Health and Wellness stations where they found information on proper postures at your workstation, outdoor activities such as kayaking and camping, and services offered by Dalplex to help staff be active.
For some of the ITS employees, this was the first time they had met each other in person. Some of them were hired during the pandemic, or they were from different units and never had an opportunity to interact. Dal's new CIO Jody Couch, who recently joined Dalhousie, met most of them in person for the first time.
It was an event that exceeded everyone's expectations and strengthened links among the IT community.
A special thank you goes out to all the participants, the Dalhousie's Workplace Wellness Grants Program for co-sponsoring the event, as well as Jody Couch and ITS for co-sponsoring and supporting the initiative.
The event wouldn't have been possible without advisors like Janice MacInnis, Karen Dodge, and Natalie Murray, as well as all the volunteers - especially Karl Vollmer, Dal third year economics student and some new Dal students who really stepped up to help out. Also thank you for all the support and help from Communications, Marketing and Creative Services, Dalplex, the Dal Physiotherapy clinic, Facilities Management, Dal Card, Student Life, the Trail Shop and Aramark.
Until next time,
Vibha Sachdeva, Kurt Sampson, Patricia Figueredo 
(Organizing Committee)