Today@Dal
»
Go to news main
Pets of Dalhousie: Meet Snoopy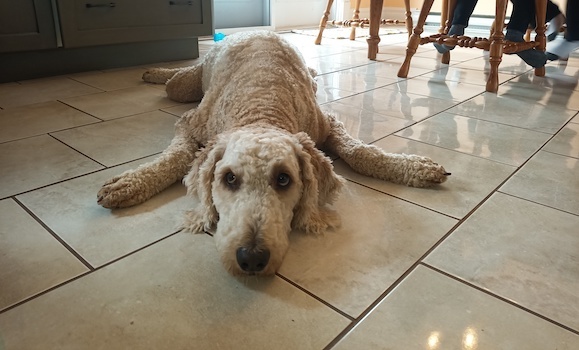 Snoopy is a golden doodle who lives with Adam Donaldson, associate dean (scholarship, curriculum and programs) with the Faculty of Graduate Studies.

Name: Snoopy — because there are peanuts fans in the house but dad wouldn't get a beagle.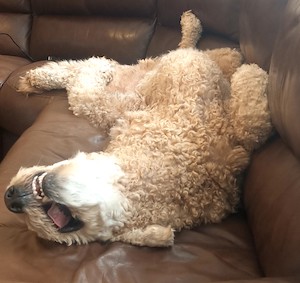 Nickname: Snoop
Species/breed: Golden doodle, although we are suspicious there may be part starfish in there somewhere!
Age: 2
Fave food: Any kind of treat ... doesn't matter what it is.
Special tricks: Master distractor. Hand bump while typing. Guilt trip sad eyes staring into your soul.  But the best one is that he grabs a blanket out of a box we have by the TV, drags on top of the couch, and lies down on it ... still working on training him to bring it back.
Best quality: He is one GIANT ball of affection and has really helped to bring new energy into our older dog Molly. 
Social media platform or handle, if available: Too busy for social media ... someone has to hold the couch down.
Want to tell the Dal community about your beloved pet? Forward along your image(s) and information using the above categories to today@dal.ca.
Don't forget to check out the previous pets we've featured in this space this month — Bella, Gracie, Rusty, Tiger Lily, Juno, Louie and Izzie, Willow, Cooper, Anastasia, Dally, Stella, Diana, Mika, Halo, Frobert (Fred and Robert) and Molly — as well as pets from previous months:
The month in pets: January

The month in pets: February

The month in pets: March

The month in pets: April