Today@Dal
»
Go to news main
Shout‑Out summary
Posted by
Communications, Marketing and Creative Services + Human Resources
on June 30, 2021 in
Community Highlights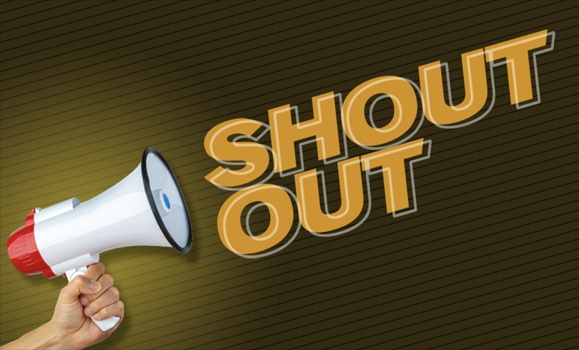 Shout-Out is a new peer-to-peer recognition program that allows you to informally give a shout-out to someone in your faculty, department or unit, or in the broader Dal community, who has helped you or your team in some way — big or small, during the past year.
Each day in Today@Dal for the next couple of weeks we'll be featuring just some of the many shout-outs submittted. It will take us some time to feature them all, so make sure to visit the Shout-Out site in myDal for all of the latest kudos and thanks!
Submit your own "shout-out" on myDal.
--
Judith Ng'ethe, Susan Brousseau, Nakita Strowbridge, Bob Mann, Kara Miller    University Secretariat
Wow;-) An amazing team who has juggled the challenge of bringing Senate operations into the online environment. They all deserve a huge round of applause for how they have done so with such grace and collegiality! Thank you!! Thank you!! Thank you!! I will always remember the laughs and smiles;-)
Kevin Hewitt
Suzanne Roberts    Accounts Payable, Financial Services
Suzanne is a wealth of knowledge for our Accounts Payable department and readily shares her knowledge. She is patient and has kindness when training others. She goes above and beyond to ensure the processes are understood and followed, which helps us become a strong team.
Lorna Curnew
Andrew Martin    Faculty of Law
When we first started working remotely at the beginning of the pandemic, Andrew Martin, a faculty member in the Law School, reached out to me and ever since then we have been in contact, offering support to each other. I truly appreciate Andrew's kind gesture and it has helped so much with the isolation of living and working alone!
Lynda Corkum
Colin Richardson     Arts Centre
Colin Richardson has gone above and beyond in our renewal project at the Dalhousie Arts Centre. His dedication and fortitude have not gone unnoticed. We will have him to thank when we all return to the Rebecca Cohn Auditorium and Dalhousie Arts Centre in the fall! Thank you Colin from your colleagues, Dalhousie University and all of your community friends and partners!
Shirley Third-Genus
Dr. Sarah Mason     School of Communication Sciences and Disorders, Faculty of Health
Sarah has worked tirelessly over the course of the pandemic to ensure audiology students have clinical placements, all the while running the Dalhousie Hearing Aid Assistance clinic and ensuring continuity of care for clients. Thank you for all of your hard work, Sarah! We appreciate all you do!
Emily Balkam
Thaissa Honda     Dean's Office, Faculty of Health
The Faculty of Health Practice Education Committee (PEC) would like to send their sincere thanks to Thaissa Honda in the Dean's office. Thaissa has worked tirelessly over the course of the pandemic to support clinical education placement agreements and our committee as a whole. Wishing you all the best in your new role, Thaissa. We appreciate all you have done for us this past year!
Emily Balkam
Alison Crepinsek and Caitlyn MacQueen     Dean's Office, Faculty of Science
A HUGE acknowledgement to the Faculty of Science's communications team, who worked diligently this past year to make the lives of students and our community rich and engaging. Many new online programs, initiatives and events were developed throughout the pandemic and it would not have been possible without their continued efforts, determinations and work ethic. Well done!
Jocelyn Adams
Faculty of Computer Science Academic Integrity Officers     Faculty of Computer Science
I want to give a shout out to the academic integrity officers in FCS, Alex Brodsky, Khurram Aziz, Yannick Marchand, Corey DeGagné, Nauzer Kalyaniwalla & Christian Blouin, for their dedication to a challenging role! As a team, they have worked hard throughout the past year not only fulfilling their roles, but also creating and providing additional educational materials on academic integrity for students and faculty.
Heather Elliott
Dr. Heather Butler     Anesthesia, Pain Management & Perioperative Medicine, Faculty of Medicine
Heather is a constant force for good. As a manager of a team of research staff, she helps us key our sights on long-term goals while also having fun! She encourages us to bring our whole selves to work and cares deeply about us. It's a true privilege to work for Heather!
Jillian Banfield
Imhotep's Legacy Academy Part-time Program staff and Executive Team members     Imhotep's Legacy Academy
A note to recognize the dedication of the Imhotep's Legacy Academy part-time program staff (all of whom are university students) and Executive Team members: Mr. Sidney Idemudia, ILA Executive Director, and Mr. Asher Trim-Gaskin, ILA Program Manager, who worked diligently to ensure the continuity in delivering ILA's STEM programs to students of African heritage across the Nova Scotia, despite a global pandemic. Congratulations to all!
ILA Administration
Julie Barry     School of Nursing, Faculty of Health
I wish to nominate Julie Barry from the School of Nursing for her valuable insight and support to the founding committee of the Dalhousie Nurse Practitioner Journal Club. The thoughtful and very wise advice provided by Julie has enabled our committee to move our proposal forward very efficiently.
Laurie Graham
Teresa Walsh     Rowe School of Business, Faculty of Management
Teresa is one of the best kept secrets at Dal. She's been at Dal for more than 30 years, yet she remains very humble about her work. Always professional and kind, efficient and caring, she's our "go to" staff for many requests, often made last minute. Most importantly to me, she welcomes EVERYONE the same. Consistent throughout all these years, she's certainly one of the individuals that exemplify to me the best that Dal has to offer. Teresa, I am so grateful to have you as a colleague. Thank you for being the wonderful human being you are!
Maria Pacurar
Mike Pauley    Communications, Marketing and Creative Services
A big thanks to Mike for his assistance in ensuring that the recordings of our Board of Governors meetings are available on the Board website in a timely fashion following meetings. It's not in his job description, but we couldn't do it without him! Thanks, Mike.
Susan Brousseau
Rebecca Parker, Michelle Mahoney and Lisa Sillito     Faculty of Law
The willingness and efficiency in which Michelle, Rebecca and Lisa have taken on new tasks while working remotely has been greatly appreciated. Michelle had only been with us for 8 months when the pandemic started and Rebecca joined my team in the fall and has yet to meet many of the faculty and staff in person. Lisa stepped in to assist my team during the the pandemic as well on a part-time basis. Thank you all for your hard work.
Tiffany Coolen-Jewers
Lauren Brierley     Dean's Office, Faculty of Health
Lauren has an exceptional ability to remain calm at all times! This past year especially has been unprecedented in terms of recruitment and all else related to HR. She manages it all with pride and grace and always with a smile (during remote working a smiling emoji :) ). I rely on Lauren immensely - she is my right arm and I appreciate her so much.
Cathie Smith-Gillis
Hillary Titley     School of Communication Sciences and Disorders, Faculty of Health
Hillary did a great job converting our School's paper-based application process to a completely virtual format. It was a lot of work and we greatly appreciate your efforts.
Crystal Vaughan
ETD Team     Faculty of Agriculture
Sondra, Matt, Ryan, Madiya, Cassie, Rebecca, Emma, Bangwei, Hailey; you all went above and beyond to support the build/move of over 200 courses online for Fall 2020/Winter 2021. With a lot of dedication, hard work, adaptability, and a little bit of patience, what we accomplished together as a team to support our faculty and students during a challenging time was nothing short of amazing. Great work!
Brian Lesser