Cleopatra is a tuxedo kitty who lives with Jessica Mailhiot, production and outreach administrator with the Fountain School of Performing Arts.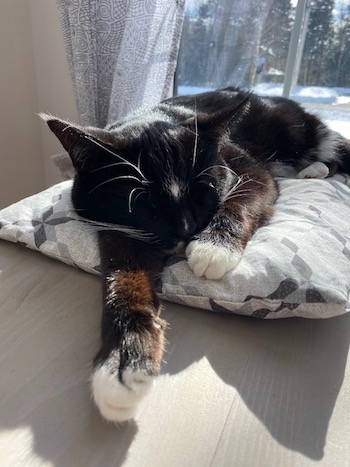 Name: Cleopatra — Greek for "Famous in her Father."  My father "Guisseppe or Joe" was my owner's dad's cat, and he was an epic feline.
Nickname: Teo or Pooper Schnooper (I prefer the former).
Species/breed: Tuxedo Kitty (of Italian and New Brunswick descent).
Age: 13 years
Fave food: Chips — preferably Ruffles Bacon and Cheddar, and please break them up into small pieces as well!
Special tricks: Leaping in the air for little toys made of pipe cleaners that were made for me by my stepsister Lauren.
Best quality: Morning belly cuddles, and very very loud purrs. I'm good at those.   
Social media platform or handle, if available: I'm too old for social media — plus my mommy works in it all day long and posts lots of pictures of me regularly.    


Want to tell the Dal community about your beloved pet? Forward along your image(s) and information using the above categories to today@dal.ca.
Don't forget to check out the previous pet we've featured in this space this month — Gili, Yserin, Korial and Baron Von Doom, Squishy, Spruce, Bundles, Chucho and Allie, Nacho and Dorito, Henry Charles, Prim, Wally and Sissi, the pets of OFI, Jack, Lewi, Neely, Rex, Gus and Lia — as well as pets from previous months:
The month in pets: January

The month in pets: February

The month in pets: March

The month in pets: April