Today@Dal
»
Go to news main
Shout‑Out summary
Posted by
Communications, Marketing and Creative Services + Human Resources
on June 23, 2021 in
Community Highlights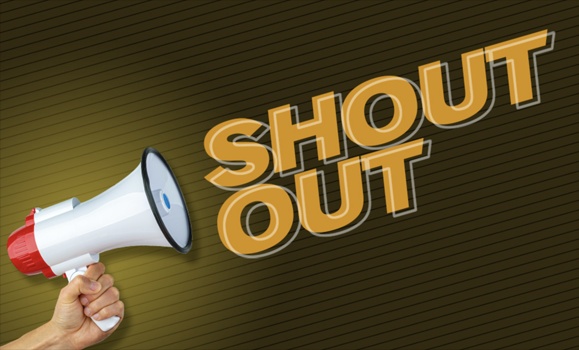 Shout-Out is a new peer-to-peer recognition program that allows you to informally give a shout-out to someone in your faculty, department or unit, or in the broader Dal community, who has helped you or your team in some way — big or small, during the past year.
Each day in Today@Dal for the next couple of weeks we'll be featuring just some of the many shout-outs submittted. It will take us some time to feature them all, so make sure to visit the Shout-Out site in myDal for all of the latest kudos and thanks!
Submit your own "shout-out" on myDal.
--
Chloe Westlake     President's Office
Since the beginning of the pandemic, Chloe has led reviewing and referring folks reaching out to Dal via the COVID-19 email. This includes connecting community members with the people who can best answer their questions and address their concerns. Chloe has done an amazing job working with Student Affairs to ensure our students and community members get the answers they need. We so appreciate you, Chloe!
Verity Turpin
Pamela Goodwin     Registrar's Office, Student Awards & Financial Aid
Pam is an amazing mentor and mighty leader! Thanks for all the support, guidance and knowledge shared with me over that last 6 months!
Hannah Draper
Accessibility Planning Working Group Leads     Multiple Units/Faculties across Dal
A huge thank you to the following colleagues for their endless hours of work, dedication and tremendous leadership, towards the development of an Accessibility Plan for Dalhousie:

Tareq Abdullah
Lisa Delong
Siobhan Evans
Tereigh Ewert
Orla McDevitt
Rochelle Owen
Ivonne Paez Rueda
Mikiko Terashima

Leanne French
Diane Obed & Tereigh Ewert      Centre for Learning & Teaching
Extraordinary work that has been carried out by the EDI team at CLT has helped pave the way to creating an inclusive environment at Dalhousie. I am thankful for Diane, Educational Developer, Indigenous Education and Tereigh, Senior Educational Developer (Diversity and Inclusivity) for their critical insight into matters of equity, diversity, inclusion and indigenous education. Proud to be part of the Team EDI at CLT!
Shazia Nawaz
Suzie Officer     Faculty of Health, Dean's Office
Suzie has done an exceptional job at managing all of the requests for return to campus and face to face planning in the Faculty of Health. Her customer service and supportive approach navigating, DAL RTC, EHS, Facilities, RO, Public Health, NSH, Libraries, acquiring PPE and cleaning supplies, etc, to support faculty and students move safely and be safe in learning environments. Many, many thanks for the incredible time and energy to address and manage so many issues and challenges, your team leadership was and is so so appreciated by many.
Lynn Shaw
Krista Beck      Cilent Services, ITS
Krista has been an innovator, mover, and shaker in her role as the SharePoint Manager. I'd like to put a shout out today to say a big thanks for all her hard work on the first update in many years to our myDal site. We are embarking on a new journey as a community toward a better myDal - a project that has become known as myDal 2.0. Under Krista's continued leadership, myDal will change and expand until we reach our full vision in about 18-24 months with lots of new site launches and key updates along the way. Thanks to Krista and her hard work we are beginning that journey with our key myDal community stakeholders toward an empowered online myDal experience for faculty and staff - where Dal goes to work, finds out how, and get things done!
Donna Forbes
Janice Slauenwhite      Dal Libraries
Janice is amazing! Keeping the Dal Libraries employees on track while being on site almost every day during the past year (plus)! Always being there to answer questions while keeping (the needed) calm & positive thought train moving! Thanks Janice!
Courtney Bayne
Beth Weir     Faculty of Health
What would I do without Beth? Working out of the IWK as a new staff coordinating the CVS Program, she was, and continues to be, very patient with my questions, and always with a smile. Thank you Beth!
Dawn Pickering
Dalhousie University Undergraduate Chemistry Society (DUUCS)      Department of Chemistry, Faculty of Science
DUUCS, you are simply a ray of sunshine. Your creativity, resiliency, and perseverance in maintaining and expanding the Chemistry community despite the challenges that we faced together in 2020/2021 is INSPIRING.

THANK YOU for all that you do in supporting our undergraduate chemistry community!
Jennifer MacDonald
Christina Coakley   Registrar's Office, Student Affairs
Christina led a team in Student Affairs to develop service standards for the Division to meet the new demands created by remote working. Christina and the team delivered superb, easy-to-implement tools that we have adopted across the Division to improve how we connect with our students and community. Getting this work done, along side everything else, was no easy task. Thank you, Christina for your leadership and working with the team to get this work across the finish line!
Verity Turpin
Heather Elliot     Faculty of Computer Science
Thank you very much Heather, for being a solid foundation for our Academic Integrity office here at FCS, for your thoughtful initiatives to improve our well-being through the Wellness committee, for the countless little (often large) tasks you do for our faculty, and most of all for doing that all with a smile.
Khurram Aziz
Department of Medical Neuroscience Staff     Department of Medical Neuroscience/Human Body Program, Faculty, Medicine
Thanks for all you have done to keep the Department running during challenging times. Your tireless work has kept the Human Body Donation and Clinical Cadaver Programs running and made sure that our Graduate Program, and research in the Department, were maintained as much as possible. The Professors and Instructors of the Department owe all staff an enormous debt of gratitude for all they have done!
William Baldridge
Meaghan Mamye    School of Health Sciences, Respiratory Therapy, Faculty of Health
A big shout out to Meaghan Mamye for always putting the students first! Meaghan worked tirelessly to ensure the respiratory therapy students were able to attain all of their neonatal/pediatric competencies while ensuring the students were practicing in a safe environment in a difficult time! Way to go Meaghan!
Louanna Bethune
Emily Thompson     Department of Engineering; SuperNOVA at Dalhousie, Faculty of Engineering
Em has been such a great ally in the workplace, especially in the last few months! Whenever we have a meeting with new staff or partners, she introduces herself with her pronouns and it's made it easier for me to share mine too! We onboarded a lot of new staff last week and she set the standard by introducing her pronouns first, and the practice was organically taken on by all the new people, who shared theirs too. No only did I feel comfortable sharing my pronouns that are newer to the workplace, but our whole team was able to learn everyones pronouns without making assumptions. Thanks Em, you rock!
Hil Hamilton
Sondra Mantle    Educational Technology and Design - Faculty of Agriculture
Sondra has been instrumental in ensuring our success as we transitioned to online instruction. Her dedication and knowledge helped us all through an incredibly challenging time and her calm nature and sense of humour are indispensible!
Joye Sears