Neely is a chocolate lab who lives with Mary Jane Webber, communications and strategy manager with the Ocean Frontier Institute.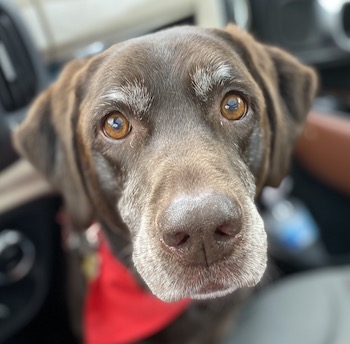 Name: Neely Webber

Nickname(s):  Littlebabypuppydog Bestdoginthewholeworld, My baby, Furface

Species/breed: Chocolate Lab

Age: 10

Fave food: Yes. (But if we had to pick, chimken and cawwots)

Special tricks: Being an empath. She will instinctively go to the person in the room who is holding in the most negative energy. She even nudges my arm holding the phone if I am talking to someone in distress. If I'm in a meeting where things are getting tense, she will leap off the second floor bed and rush to the basement to be within petting distance. She's very woowoo.

Best quality: Companioning. The unvarnished truth is that her love and solid presence got me through the pandemic. As a single person, the days were a lot less lonely, long and scary with her by my side. Never, ever has any creature looked at me the way she does.
Want to tell the Dal community about your beloved pet? Forward along your image(s) and information using the above categories to today@dal.ca.
Don't forget to check out the previous pet we've featured in this space this month — Gili, Yserin, Korial and Baron Von Doom, Squishy, Spruce, Bundles, Chucho and Allie, Nacho and Dorito, Henry Charles, Prim, Wally and Sissi, the pets of OFI, Jack and Lewi — as well as pets from previous months:
The month in pets: January

The month in pets: February

The month in pets: March

The month in pets: April