Today@Dal
»
Go to news main
Pets of Dalhousie: Meet Double Trouble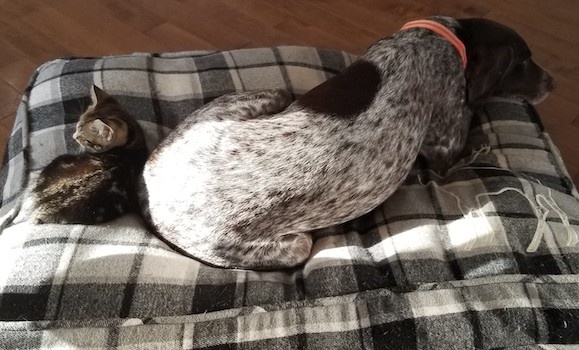 Double Trouble — Digby and Prince — are best pals who live with Courtney Bayne, university records manager with Dalhousie Libraries.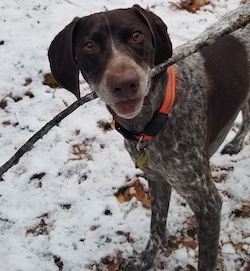 Names:  Double Trouble (cause one does not go without the other) – Digby (dog) and Prince (cat).
Nicknames: Dog-be or Dig and Prin or Prinny.
Species/Breed: German Short Haired Pointer and Tabby.
Age: Digby is 5 years and Prince is about 7 months.
Fave food: Digby like popcorn and Prince, pretzel sticks.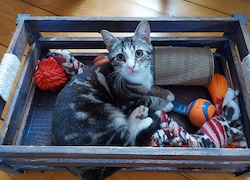 Special tricks: Digby's special tricks are playing fetch & catching the items in the air (including popcorn!), sitting pretty, bowing, & doing 'Rabbit' (bouncing on hind legs in a full vertical extension). Prince's special tricks are sleeping anywhere, hunting flies, & pulling the 'Puss n' Boots eyes' when caught doing wrong.
Best Quality: Both are super cuddlers; playing with each other like puppies.
Social Media Platform or handle if avaible: No time to post. Digby is very busy training his little bro to play fetch and go outside on a leash like a gentleman.
 
Want to tell the Dal community about your beloved pet? Forward along your image(s) and information using the above categories to today@dal.ca
Don't forget to check out the previous pets we've featured this month — Penny, Toby, Lily and Luna, Moo-Joe, Mudkip, Rocky, Angus, Metadata Futurecat, Tobi Ezkiel, Cider, Winston, Nacho Kitty and Mr. Biscuits, Noah, Malachi, Oliver and Finnley, Henry, Tilly, Cosmo, Olive, Templeton, Pixie, Candy and Scara and Picassa — as well as pets from previous months:

The month in pets: January

The month in pets: February

The month in pets: March

The month in pets: April