Today@Dal
»
Go to news main
Pets of Dalhousie: Meet Picassa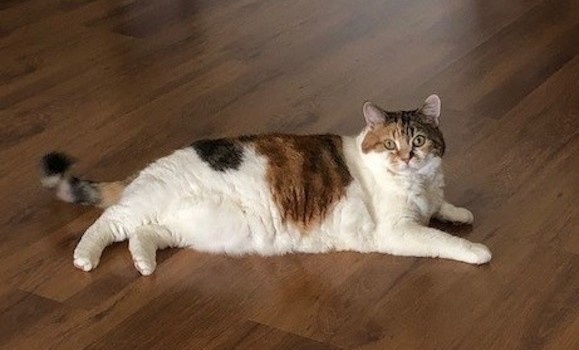 Picassa is a calico cat who lives with Cathy Lee, executive administrator with the Faculty of Open Learning & Career Development.
Name: Picassa
Nickname: "poo" but not for the reason you might think lol!
Species/breed: Calico
Age: She is a rescue from the SPCA so we think she's about nine.
Fave food: Chicken breast
Special tricks: Crying outside the bedroom door at 6am for food, if you can call that a trick lol!
Best quality: She is great with kids — so gentle.
 
Want to tell the Dal community about your beloved pet? Forward along your image(s) and information using the above categories to today@dal.ca
Don't forget to check out the previous pets we've featured this month — Penny, Toby, Lily and Luna, Moo-Joe, Mudkip, Rocky, Angus, Metadata Futurecat, Tobi Ezkiel, Cider, Winston, Nacho Kitty and Mr. Biscuits, Noah, Malachi, Oliver and Finnley, Henry, Tilly, Cosmo, Olive and Templeton, Pixie, Candy and Scara — as well as pets from previous months:

The month in pets: January

The month in pets: February

The month in pets: March

The month in pets: April