Deebo and Daisy are two miniature dachshunds who live with Alicia Kirk, office and HR administrator in the Faculty of Graduate Studies.
Name: Deebo (black and tan); Daisy (red)
 
Nickname: Chonky Stonky or Bobo;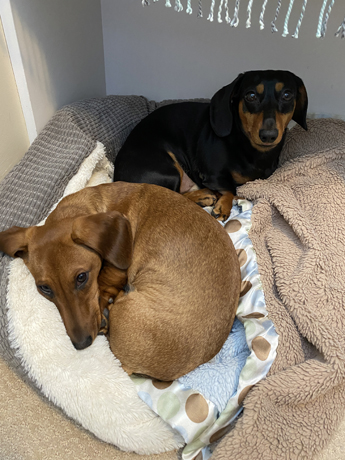 Daisy Doo or Princess Potato

Species/Breed: Miniature dachshunds

Age: 4 years (Deebo); 5 months (Daisy)

Fave Food:  Deebo can hear someone open a package of cheese a hundred kilometers away. Daisy, in all her puppy glory, seems to prefer twigs, snow and leaves so far.

Special Tricks: Distracting me with unrelenting cuteness all day long (#wfhproblems), and alerting the entire neighbourhood when anything moves. Oh, and Deebo oinks like a pig when he's happy.

Best Quality: Small dogs at heart, big dogs in attitude.
Social media platform or handle, if available: N/A.
Want to tell the Dal community about your beloved pet? Forward along your image(s) and information using the above categories to today@dal.ca

Read more about this series on Dal News. And don't forget to check out the previous pets we've featured in this space this month, including Hamish, Maple, Paulomer, Declan, Hermes and Loki, Billie Jean, Clover, Hamilton, pets of ORS, Toby, Leo, Hattie, Bella and Blue, Mai, Piper and Griffin, Lucy, Miss Spooky Bones & friends, Amy, Tess, as well as those from previous months:

The month in pets: January

The month in pets: February