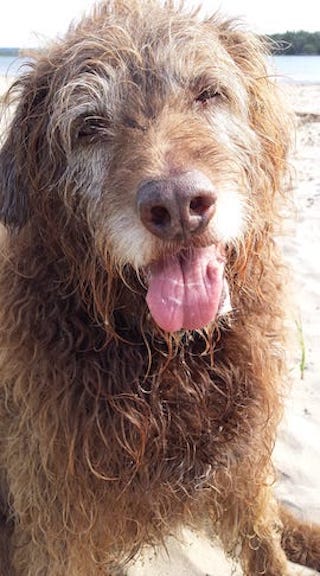 Amy is a labradoodle who lives with Maggie Lapp, assistant to the director in the Rowe School of Business.

(Find information on how to submit your own pet's profile at the bottom of this profile).
Name: Amy 
Nickname: So many but Amers or Girlie are the most used.
Species/breed: Labradoodle (black lab/chocolate poodle parents)
Age: 14
Fave food: Chicken, sardines, kielbasa, cheese, cookies — anything, really, except ketchup.
Special tricks: She loves to stand in doorways and is a champion digger, especially under shrubs.
Best quality: Her soulful amber eyes that can melt any heart.
Social media platform or handle, if available:  Amy appears regularly on Facebook and Instagram and is quite a hit with viewers. She is also a neighbourhood celebrity — everyone knows Amy
Want to tell the Dal community about your beloved pet? Forward along your image(s) and information using the above categories to today@dal.ca

Read more about this series on Dal News. And don't forget to check out the previous pets we've featured in this space this month, including Hamish, Maple, Paulomer, Declan, Hermes and Loki, Billie Jean, Clover, Hamilton, pets of ORS, Toby, Leo, Hattie, Bella and Blue, Mai, Piper and Griffin, Lucy, Miss Spooky Bones & friends as well as those from previous months:

The month in pets: January

The month in pets: February