Today@Dal
»
Go to news main
Pets of Dalhousie: Meet Lucy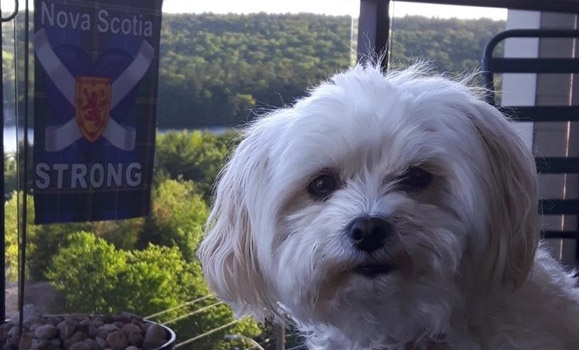 Lucy is a dog who lives with Cathy Pinsent, an administrative assistant in the Master of Engineering in Internetworking Program in Dal's Faculty of Engineering.

(Find information on how to submit your own pet's profile at the bottom of this profile).

Name: Lucy (re-homed to us, so came with her name)

Nickname: Boo, LuLu, Bubbas

Species/breed: Maltese, Bichon, Yorkie (and yes, has traits, behaviours and attitudes of all three!)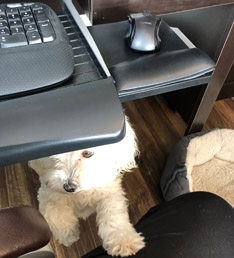 Age: 7

Fave food: It is a toss up between fresh veggies and cheese. Lucy knows the sound of the fridge crisper opening, the sound of chopping and the sound of the cheese wrapper. She will come running from wherever she may be chilling.

Special tricks: Parcoring from chair to chair, especially after a bath or being out in the snow or rain.

Best quality: unconditional love

Social media platform or handle, if available: Has made several appearances at our Zoom Internetworking Staff meetings, keeps me company all day long at my desk (usually in her bed, unless she needs something … treats or attention!) and has been there with love and support for the whole family during this pandemic.
Want to tell the Dal community about your beloved pet? Forward along your image(s) and information using the above categories to today@dal.ca

Read more about this series on Dal News. And don't forget to check out the previous pets we've featured in this space this month, including Hamish, Maple, Paulomer, Declan, Hermes and Loki, Billie Jean, Clover, Hamilton, pets of ORS, Toby, Leo, Hattie, Bella and Blue, Mai, Piper and Griffin, as well as those from previous months:

The month in pets: January

The month in pets: February