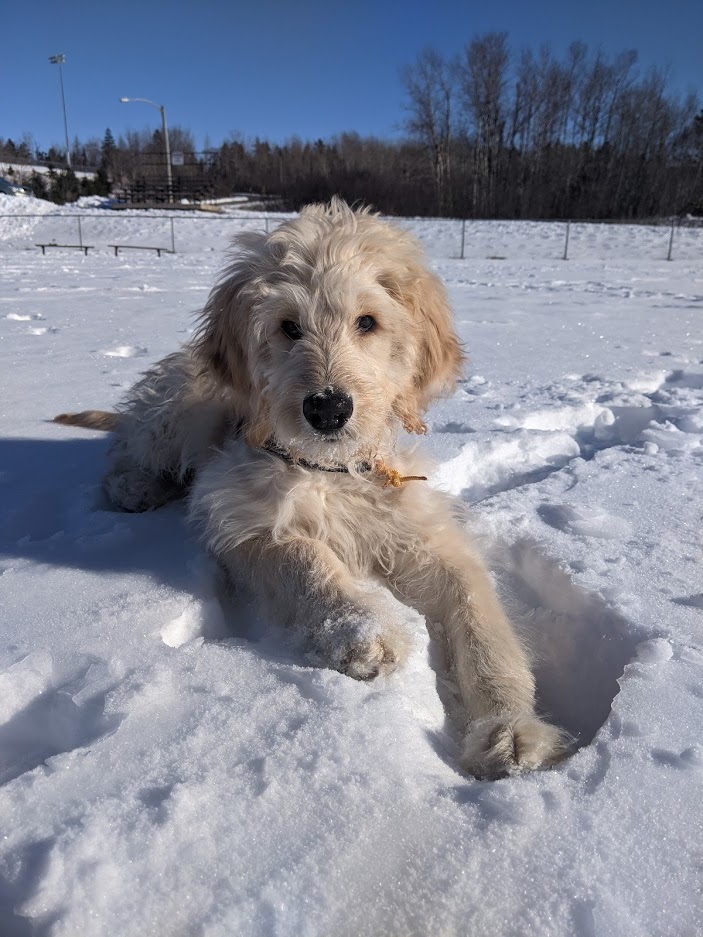 Leo lives with Jenny Wang, a second-year student in the Dalhousie Medicine New Brunswick program.

(Find information on how to submit your own pet's profile at the bottom of this profile).
Name: Leo (as you can tell, I'm incredibly imaginative)
Nickname: He'll answer to just about any exciting sound, human or otherwise.
Species/Breed: Goldendoodle! 
Age: 4 months 
Fave food: Leo tackles all foods (and garbage) with unequaled vigor. Chicken seems to slightly edge out the rest, though. 
Special tricks: He possesses an astounding ability to locate any type of plastic wrap within a 20-meter radius. Aside from that, he likes to dance and rolls over on command! I'm currently training him to jump through my arms in the shape of a hoop. 
Best quality: His puppy dog eyes...an equal blessing and a curse. 
Social media platform or handle: I post photos and stories of Leo on @jenny.w.a.n.g. - watch him grow up!
Want to tell the Dal community about your beloved pet? Forward along your image(s) and information using the above categories to today@dal.ca

Read more about this series on Dal News. And don't forget to check out the previous pets we've featured in this space this month, including Hamish, Maple, Paulomer, Declan, Hermes and Loki, Billie Jean, Clover, Hamilton, pets of ORS, Toby as well as those from previous months:

The month in pets: January

The month in pets: February