Today@Dal
»
Go to news main
Pets of Dalhousie: Meet MacKenzie and Nicola
Posted by
Communications, Marketing and Creative Services
on February 9, 2021 in
Community Highlights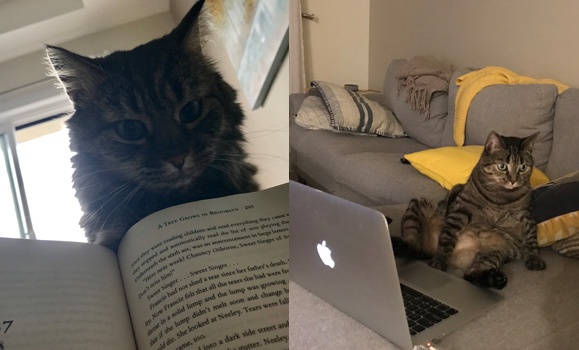 Get to know MacKenzie and Nicola, two grey tabbies belonging to Taylor Hill, a PhD student in the Department of Psychology and Neuroscience.
(Find information on how to submit your own pet's profile at the bottom of this profile.)

Name(s): MacKenzie and Nicola

Nickname(s): Mac and Nic

Species/breed: Grey tabbies. My fluffy one is a weird mix of a badger, raccoon, bear, porcupine. My little one looks like a mink/mouse/ferret.

Age: Sisters, 7.5

Fave food: goat cheese, cream cheese

Special tricks: Being the most beautiful, funny things in the entire world.

Best quality: The smell of their fur, the shape of their paws, their pink noses contrasting with white mouths. Mac has crooked whiskers, extra toes, paw fluff, weird amount of fluff.

Social media platform or handle, if available: We don't have any.
Want to tell the Dal community about your beloved pet? Forward along your image(s) and information using the above categories to today@dal.ca

Read more about this new series on Dal News. And don't forget to check out the previous pets we've featured in this space, including Camden, Juno, Bristow and Milo, Uke, Birdie, Varric, Toby, Charlie, Shuri, Ranger and Hazel and Darla.