Today@Dal
»
Go to news main
Dr. Afua Cooper named new HRM Poet Laureate
Posted by
Communications and Marketing
on April 24, 2018 in
Kudos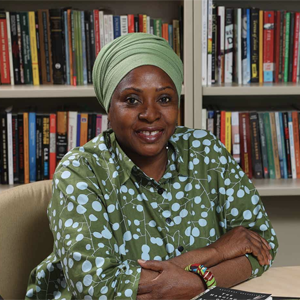 Dr. Afua Cooper, cross-appointed to the Departments of History and Sociology & Social Anthropology and the most recent James R. Johnston Chair in Black Canadian Studies, has been named the new Poet Laureate for the Halifax Regional Municipality (HRM). She will serve in the role for a two-year term.
The Poet Laureate "serves as an ambassador and advocate for literacy, literature and the arts, and reflects the vitality of our community through appearances and readings of poetry at a number of civic events and other activities."
Said Mayor Mike Savage in a news release: "We're very pleased to appoint Dr. Cooper as our next Poet Laureate, a position which gives voice to the various groups that make up our community, through spoken and written words."
From HRM's release:  
Dr. Cooper has been a poet and spoken word artist for over 30 years and has performed all over the world. She has five books of poetry published and is also a writer of young adult fiction, works of history, and essays, including the co-creation of Black Halifax, an interdisciplinary presentation that uses poetry and spoken word to tell Halifax's 300 year-old African Nova Scotian history.
Her book The Hanging of Angelique: The Untold Story of Slavery in Canada and the Burning of Old Montreal was a national best-seller, and was selected by CBC in 2017 as one of the most important books published in Canada. It was also shortlisted for the Governor General Award.
Dr. Cooper founded the Black Canadian Studies Association (BCSA), which she currently chairs and co-founded of the Dub Poetry movement in Canada.
Congratulations to Dr. Cooper, who officially assumes the position of Poet Laureate at a ceremony today. Look for more coverage of her appointment later this week on Dal News.