Media Releases and Opportunities
»
Go to news main
Media Release: Dalhousie University student awarded prestigious 3M National Student Fellowship
Posted by
Communications, Marketing & Creative
on May 12, 2023 in
News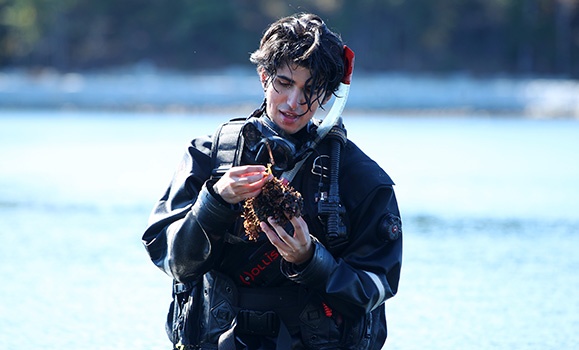 Dalhousie University congratulates Aaron Judah on being awarded a 3M National Student Fellowship. The award, which is presented annually by the Society for Teaching and Learning in High Education (SLTHE), celebrates post-secondary students who have demonstrated outstanding leadership and educational vision. Up to 10 students receive the award each year, which includes a $2,000 award and all associated fees and funds to attend the STLHE annual conference.
Last summer, Judah, who is a student in Dal's marine biology program and graduating this spring, worked with Nova Scotia BIPOC (Black, Indigenous, People of Colour) outreach group Diversity of Nature to create Halifax Shark Week, an engaging, in-person alternative to the Discovery Channel's traditional Shark Week programming. The aim of Halifax Shark Week was to build a better understanding of the ocean, sharks and the scientists who study them. 
"The purpose of the series of events was to recast what we see in the typical shark week. It's usually a very non-diverse group of leaders and scientists," says Judah, who identifies as part of the LGBTQ+ community and grew up in Toronto with an Indian father and Italian mother. "Our goal was to provide the space and opportunity for diverse shark scientists to provide a glimpse at what shark research actually looks like and introduce local youth to the sharks and rays of Nova Scotia."
Judah's fascination with the ocean and conservation began as a child while exploring coral reefs and aquariums during family vacations. Hours of looking at Google images and reading marine biodiversity books deepened his interest and primed him for the work he'd undertake in Dr. Aaron MacNeil's Integrated Fisheries Lab after arriving at Dal in the Integrated Science Program.
His studies and research at Dal have taken him around the world to places such as South Africa and Bermuda. He's presented research at international conferences and been a guest lecturer. And, this term, he completed his honours thesis on the functional biodiversity of sharks and rays on coral reefs.
"I've always been driven by my passion and curiosity for the ocean and how we can understand the ocean better to do conservation," says Judah, citing Dr. MacNeil as an important mentor. "I come out of my degree at Dal with the exact same passion and drive that I had going in, maybe just more understanding of the complexities and how to balance when it comes to human livelihoods and conservation."
At Dal, Judah also threw himself into his community of fellow marine biology students and soon emerged as one of its leading lights. He has won several awards for his leadership and contributions to student and community outreach groups and initiatives, including the Dalhousie Association of Marine Biology Students and the Marine Biology Mentoring Program. 
The latter, which he founded five years ago, pairs younger marine biology students with upper-year counterparts to help them advance their lives and careers. 
"Aaron has made countless contributions to the Faculty of Science both in and out of the classroom and been an incredible representative of the Dal Science community," says Charles MacDonald, dean in the Faculty of Science. "He is a skilled researcher, a highly engaged student leader, and an advocate for equity and inclusion. I am thrilled Aaron is being recognized for his leadership through the 3M National Student Fellowship and offer my congratulations to him."
This month, Judah travels to Réunion Island (an island off the coast Madagascar) for a conference before returning to Halifax for convocation and then on to the SLTHE conference in PEI where he and this year's other 3M fellows will deliver a plenary session. 
Judah plans to use the monetary award included in his fellowship to help finance his move to Honolulu later this year, where he'll be entering into a Master's in biological oceanography at the University of Hawai'i Mānoa to study deep sea biodiversity and marine-protected areas.
For more on Aaron Judah's work and fellowship visit Dal News.
-30-
Media Contact:
Lindsay Dowling-Savelle
Media Relations Manager
Dalhousie University
902-222-8810
Lindsay.Savelle@dal.ca