Media Releases
»
Go to news main
Nayani Jensen named Dalhousie University's 91st Rhodes Scholar
Posted by
Media Centre
on November 20, 2017 in
News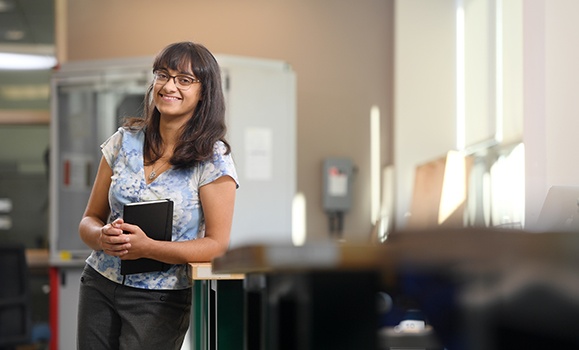 Dalhousie University congratulates Nayani Jensen, on being named a Rhodes Scholar for the class of 2018. The Rhodes Scholarship is a distinguished award, given to 95 high-achieving students from around the world, allowing them to pursue post-graduate studies at Oxford University. Rhodes Scholars are selected based on academic distinction, integrity of character, passion for community and their field, and leadership ability.
"Nayani is a deserving addition to this legacy of achievement," says Richard Florizone, President of Dalhousie University. "In her diverse experiences — in the classroom, in co-op, and in her literary and artistic pursuits — she has demonstrated incredible skill at finding connections that span disciplines, all while making impressive contributions to the university community."
Nayani Jensen becomes Dalhousie's 91st Rhodes Scholar, and is one of only 11 students from across Canada chosen this year for the prestigious opportunity to study at the University of Oxford with an award valued in excess of $100,000. Since the Rhodes Trust's founding in 1903, only a small handful of universities across North America can claim more Rhodes Scholars than Dalhousie.
"I'm so excited to join such an incredible legacy of scholars and pursue my interests in literature at Oxford," says Nayani Jensen. "It's a great honour."
Ms. Jensen, from Halifax, is in the final year of her Bachelor of Engineering degree, specializing in Mechanical Engineering. She has done exceptionally well in the rigorous degree program, and her commitment to her field of study has led to some interesting course work. She is currently working on her senior design project, designing and building a man-powered vegetation shredder for use in local community urban garden, to improve on-site composting efficiency. She has worked as a teaching assistant and an NSERC undergraduate researcher, as well as completing three co-op terms focused mainly on environmental topics. Jensen has also earned Sexton Scholar status – which is awarded to students with a GPA 3.85 or higher with a full course load in the Faculty of Engineering. She is also the recipient of several major awards including the Chancellor's Scholarship, Dalhousie's largest undergraduate scholarship.
"Nayani is an exceptional student academically, but also exemplifies the best qualities of a professional engineer," says Dr. Darrel A. Doman, Department Head and Associate Professor, Department of Mechanical Engineering, Dalhousie. "To have one of our students achieve such rarefied award fills us with pride. We are certain Nayani will go to accomplish great things throughout her career."
Throughout her studies Jensen has continued to pursue her passion for music and creative writing. She has played violin in both the Nova Scotia Youth Orchestra and the Dalhousie Symphony Orchestra, and is the author of a number of short stories, plays and an unpublished novel — one that, in 2014, won the Young Adult Novel Prize in the Atlantic Writing Competition. At Oxford, Jensen hopes to study English Language and Literature with the goal of continuing to develop her own writing. 

"Engineers are doing a lot of really versatile things," she says. "I think people think of engineering as being a very narrow, forcing you to do one thing. But that's not really the case. You can definitely do a lot while you're doing it — it never has to be just math, or just physics, or just art for that matter. I think when you're in university, there's the possibility of doing everything you want to do."
For more on Nayani Jensen, read the Dal News story, here.
-30-
Media Contacts

Janet Bryson
Senior Communications Manager
Communications and Marketing
Dalhousie University
902-494-1269