Media Releases
»
Go to news main
Dalhousie University'™s Faculty of Agriculture named the official Post‑Secondary Education Partner of The Royal Agricultural Winter Fair in Ontario
Posted by
Media Centre
on July 26, 2016 in
News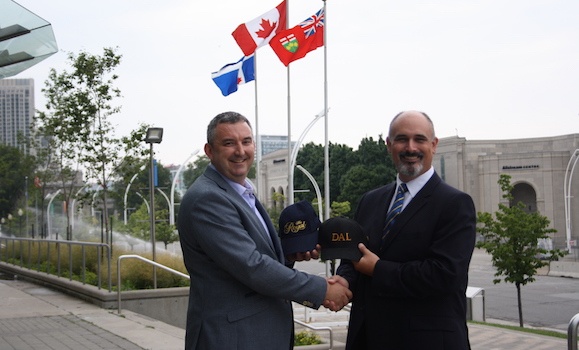 Halifax, NS - Two pillars of the agricultural community have come together to support the ongoing education of Ontario youth and teachers in the science behind modern agriculture and career opportunities available in this growing industry. Dalhousie University's Faculty of Agriculture, which has been educating students in the science of modern agriculture for more than a century, has been named the official Post-Secondary Education Partner of The Royal Agricultural Winter Fair (The Royal) in Toronto.  Together, The Royal and Dalhousie will address educational pathways and career opportunities in agriculture and food with high school students, teachers and guidance counsellors.
"We welcome the opportunity to challenge people's understanding of modern-day agriculture," said Dr. David Gray, Dean of the Faculty of Agriculture and Principal, Dalhousie Agricultural Campus. "Agriculture is grounded in developing and sustaining life at a fundamental level, but also developing communities around our agricultural activities and responding to the health and wellbeing of such communities, locally, nationally and internationally.  We look forward to partnering with The Royal on this endeavor."
"Agricultural education has been a cornerstone of The Royal's mandate for the past 94 years," said Charlie Johnstone, Chief Executive Officer of the Royal Agricultural Winter Fair. "With our Dalhousie partnership, we can take our focus on education to a whole new level and in the process, help our urban visitors better understand the opportunity that agriculture represents." The Royal welcomes more than 300,000 visits annually, including more than 20,000 students and teachers - and thousands more parents and children.
Among many educational-related initiatives scheduled for the 2016 Royal Agricultural Winter Fair this November, Dalhousie's Faculty of Agriculture will be the presenting sponsor of a guidance counselor symposium, in association with the Ontario School Counsellors' Association. Dalhousie's Faculty of Agriculture will also host a series of fast-paced, activity-based learning seminars about food and agriculture during the Fair for high school teachers and their students.
For more details on the Royal Agricultural Winter Fair, visit royalfair.org this Fall.
- 30-
Media Contacts:
Lindsay Dowling
Communications Officer
Dalhousie University
Lindsay.dowling@dal.ca
902-494-4189
Karen Poncelet
Marketing Communications and Community Relations Manager
The Royal Agricultural Winter Fair
kponcelet@royalfair.org
Direct: 416-263-3411    
About The Royal:
The Royal Agricultural Winter Fair is the world's largest combined indoor agricultural and equestrian show. This year, The 94th Royal Agricultural Winter Fair runs November, 4-13, 2016 at Exhibition Place, Toronto. For more information, please visit www.royalfair.org
About Dalhousie University's Faculty of Agriculture:
Dalhousie's Faculty of Agriculture and the beautiful Agricultural Campus cultivates learning and research, focusing on improving and sustaining our environment for the health and well-being of our world. Visit www.dal.ca/royal