Media Releases
»
Go to news main
Dalhousie leads $18M federally funded international development project in Ethiopia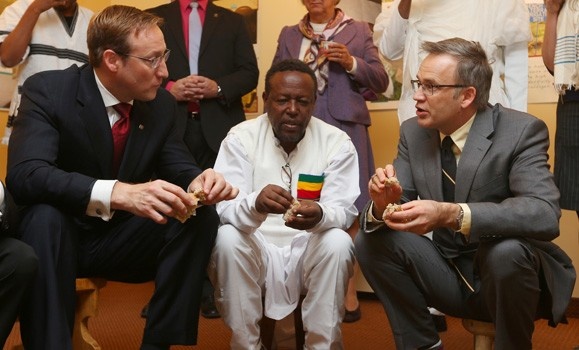 Truro, N.S. – Today, the first day of International Development Week, the Government of Canada's Department Foreign Affairs, Trade and Development announced a nearly six-year, $18-million international development project in Ethiopia. Titled "Agricultural Transformation through Stronger Vocational Education" (ATTSVE), the project will be led by Dalhousie University with the support of partners, including Mennonite Economic Development Associates of Canada, Jimma University College of Agriculture and Veterinary Medicine in Ethiopia, and McGill University.
Read the Government of Canada's news release here.
"At Dalhousie University, we aspire to have not only a local impact but a global impact," said Dalhousie President Richard Florizone, speaking at Sunday's announcement on the university's Agricultural Campus. "This international development project in Ethiopia, one of the largest in Dalhousie University's history and the largest for our Faculty of Agriculture, will allow us to make world-class contributions to a global issue by sharing agricultural expertise to support economic growth and alleviate poverty."
ATTSVE, which is the largest international development project ever awarded to a Canadian university, will focus on enhancing current Ethiopian agricultural education programs available at rural colleges all over the country. Its goal is to help evolve the country's agricultural practices and education beyond its subsistence-based foundation towards a market-focused system that better supports not only the economic strength of the country and its citizens, but also the unique needs of farmers, rural youth, the agri-industry and the broader rural communities.
David Gray, Dean of the Faculty of Agriculture, explained that the project will bring benefits on many levels:  building capacity for agricultural training and education in Ethiopia with Dal's partners, bringing knowledge and experiences of Ethiopian agriculture to students at Dal, increasing potential research collaboration opportunities, and more.
Read more about the announcement, ATTSVE and agriculture in Ethiopia on Dal News.
Images
Dr. Richard Florizone
President Florizone of Dalhousie University during the official announcement of ATTSVE on Feb. 1, 2015.
Photo Credit: Nick Pearce
Download Hi-Res image
Bizuayehu Mengiste
Bizuayehu Mengiste, Ethiopian doctoral student with the Faculty of Agriculture, led a traditional coffee ceremony at the ATTSVE announcement on Feb. 1, 2015.
Photo Credit: Nick Pearce
Download Hi-Res image
ATTSVE Announcement
Peter MacKay, Solomon Demeke (Jimma University College of Agriculture and Veterinary Medicine, and Dal honorary degree recipient) and President Florizone chat during the coffee ceremony.
Photo Credit: Nick Pearce
Download Hi-Res image
Media Contacts
Stephanie Rogers
Communications Manager, Faculty of Agriculture
(902) 890-0698
s.rogers@dal.ca
Nikki Comeau
Communications Officer, Dalhousie University
(902) 494-4189
nikki.comeau@dal.ca