Media Releases
»
Go to news main
Eight Dalhousie researchers receive new CFI funding to further innovative discoveries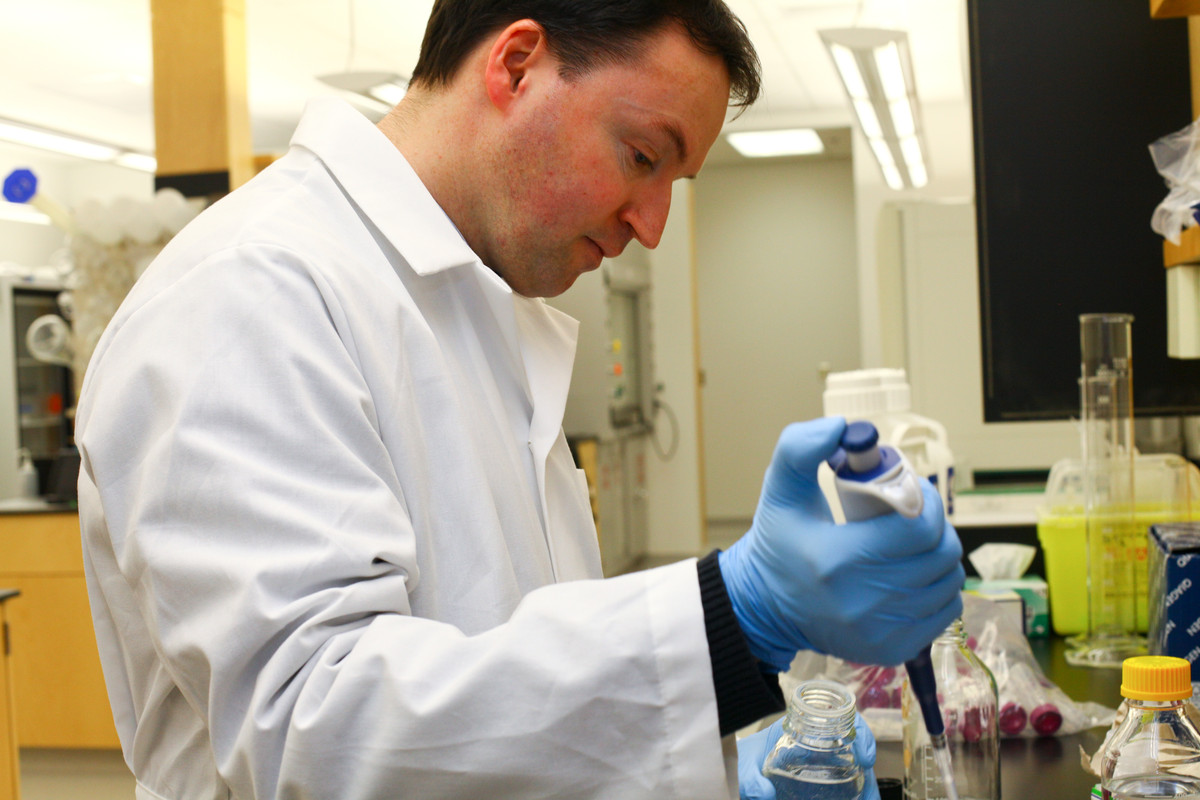 Dr. Ian Weaver, one of eight Dalhousie CFI John R. Evans Leaders Fund recipients.

HALIFAX, N.S. – Today, The Honourable Ed Holder, Minister of State (Science and Technology), announced the recipients of the Canada Foundation for Innovation (CFI) John R. Evans Leaders Fund. Eight researchers from Dalhousie University recieved funding.

This funding helps institutions and their researchers acquire infrastructure to create state-of-the-art facilities that undertake cutting-edge research and technology developments to benefit Canadians.
"The Dalhousie researchers recognized in today's announcement are producing pioneering research in their area of expertise," said Dr. Martha Crago, vice-president research at Dalhousie University. "Their research findings are making concrete contributions to the ways we practice paediatric care, treat breast cancer and how we can explore bio-fuels as a replacement for petroleum products to decrease environmental impacts."
About the research projects
Dr. Marsha Campbell-Yeo, assistant professor in the Faculty of Health Professions, is working to produce scientific knowledge that supports the integration of mothers and families as active participants in paediatric care. An at-risk newborn's health outcomes could greatly improve if mothers and families are directly involved in their care. Skin-to-skin contact between mother and newborn is one strategy that has already been studied. Researchers believe a newborn's immediate physiological stability and later cognitive and emotional development could be impacted by this direct care. In addition, this approach can potentially minimize demands on the health care system.
Children face transitions every time they switch from one health care provider or setting to another, or when their health condition changes. Transitions can present opportunities and challenges in both emergency settings and in situations where a child requires complex care. Dr. Janet Curran, assistant professor in the Faculty of Health Professions, will use research findings to design interventions that improve transitions in care for children and their families, while lowering hospital admission rates and adverse events.
Dr. Alon Friedman, professor and Dennis Chair for Epilepsy Research in the Faculty of Medicine, is investigating the role of the blood-brain barrier in acquired epilepsy. Acquired Epilepsy is a common neurological disorder often developing after traumatic, ischemic and infectious injuries to the brain. The blood-brain barrier is a key functional and structural barrier that allows the maintenance of a unique brain environment and proper brain function. Dr. Friedman will look at specific mechanisms that will be targeted for the prevention of epilepsy following injuries, bringing us closer toward a clinically applicable preventive treatment strategy.
Breast cancer is the most prevalent cancer in Canadian women. Not all breast cancers express hormone receptors, making them triple-negative cancers. With no hormone receptors, these cancers are difficult to treat and more likely to spread. Dr. Paola Marcato, assistant professor in the Faculty of Medicine, has discovered that retinoic acid (RA) plays a critical role in determining how fast these triple-negative breast cancers grow and spread. Cancer stem cells (CSCs), found in tumors are most likely to spread and may require RAs to do so. Dr. Marcato is investigating the growth of CSCs and the role RA plays. Her research will lead to greater understanding of how breast cancers progress, the development of more effective treatment and improved health for Canadians with cancer.
Electric signals pump blood through the heart. Heart disease and age can impact the tissue of the heart, which can cause deadly disturbances to these electric signals called arrhythmias. Dr. T Alexander Quinn, assistant professor in the Faculty of Medicine, is looking at the role disease- and age-related changes in tissue stretch play in the generation of arrhythmias. This knowledge could identify ways to better treat and prevent these deadly conditions.
By combining physiological and kinematic methods with mouse genetics, Dr. Turgay Akay, assistant professor in the Faculty of Medicine, is working to understand the role neuronal mechanisms play in walking. His research will address changes of spinal circuitry that occur during degenerative or injury-related human diseases. The results from this research will help work towards a cure for human diseases that affect motion.
Low value biomass (agricultural and forestry residues, animal manure, algae and agri-food processing waste) is one alternative source for fuels and chemicals that can be used to address environmental issues. Dr. Quan (Sophia) He, assistant professor in the Faculty of Agriculture, is using techniques to turn biomass wastes into crude bio-oil—utilizing them to benefit the pharmaceutical industry and creating an alternative to petroleum products. The results of Dr. He's research could benefit the agricultural, forestry, aquaculture, pharmaceutical, energy and environmental sectors.
Maternal stress during pregnancy can increase the risk of a child developing a range of altered psychological and neurodevelopmental outcomes, such as learning and behavioural disorders (e.g. ADHD), anxiety and depression, and impaired cognitive development. These health outcomes are some of the most burdensome for individuals, families and society due to their long duration, disabling nature and limited forms of treatment. Dr. Ian Weaver, assistant professor in the faculties of Medicine and Science, is looking at the role the glucocorticoid (GC) hormones—often used to manage stress—play in brain development at the fetal stage and how GCs affect psychological and neurodevelopmental outcomes. The findings will explore responses to stress that are maintained into adulthood and will help identify therapies for chronic stress-related illnesses. (Read more at Dal News: How you deal with stress could be related to your genes)
View CFI's announcement here:
http://www.marketwired.com/press-release/-1984506.htm
The eight researchers also receive matching funds from the Nova Scotia Research and Innovation Trust (NSRIT)

Media Contacts
Alana Milner
Senior Communications Advisor, Dalhousie Research Services
Dalhousie University
(902) 494-4148
alana.milner@dal.ca
Nikki Comeau
Communications Officer, Communications and Marketing
Dalhousie University
(902) 494-4189 / (902) 222-8810 (m)
nikki.comeau@dal.ca