Whether it's helping wildfire evacuees or working to combat food insecurity, when her community needs her, Dal student Mackenzie Nolan steps up.
In honour of her extensive volunteering work, Mackenzie was awarded a TD Scholarship for Community Leadership this year as she embarks on her post-secondary studies at Dal. The scholarship recognizes individuals who have made a positive impact and shown leadership in their community.
Mackenzie, an award-winning member of the Canadian Sea Cadet Program who grew up in Brampton, Ont. and is a member of the Missanabie Cree First Nation, dove headlong into volunteering as a teen.
"It's a really good way for youth to expand their leadership capabilities and to break out of their quiet shell," says Mackenzie, who began her studies in the Faculty of Arts and Social Sciences this month.
Mackenzie has worked with her local legion, coached a youth hockey team, delivered supplies to wildlfire evacuees, volunteered at COVID-19 vaccination clinics, reached the rank of chief petty officer in Sea Cadets, and participated in several leadership programs — and that's just a snapshot of Mackenzie's extensive volunteer and community leadership work.
Mackenzie was named the Top Sea Cadet in Ontario of 2022 and has been awarded the Navy League Award of Excellence for 2022, along with the 2021 Legion Medal of Excellence.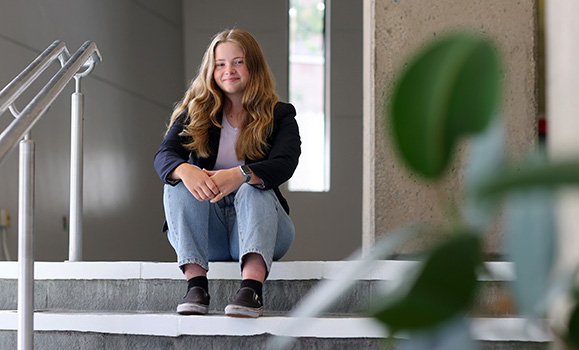 Eye-opening experiences

While she credits her experience with local legions and the Sea Cadet program for getting her out in the community, Mackenzie says she sees her volunteer work as a privilege.
"It makes me feel good that I have the capabilities to help people who may not have the things that they need. Being able to get out in my community and have the extra time to go help others is a really cool thing to do," she says.
"A lot of people may not have that time, energy or capability to do that kind of thing."
That effort might be something as simple as repetitively measuring out bulk foods to be repackaged and delivered to food insecure individuals during her work with the City of Brampton's Social Support Task Force.
"A lot of people would've thought it was boring because I had to measure out 500 grams of lentils and put it into a plastic bag. But little things like that will really make a difference in somebody else's life," she says.
For Mackenzie, however, the experience was an eye-opener to the reality of food insecurity in her community.
"I was very grateful for the opportunity to learn."
Looking ahead

Now in Halifax, Mackenzie is planning on studying psychology and sociology with plans to become both a social worker and a navy reservist.
Mackenzie says this scholarship takes the financial burden off of her shoulders and will allow her to focus more on her education and giving back to her community.
"I come from an Indigenous community, with all the hardships that Indigenous people have faced," she says.