Catherine Chiasson and her family arrived in Halifax from their Cape Breton home earlier this month tugging more cargo than they usually do on trips south to the city. And this time around, the journey home would be different, too, yet for the opposite reason. 
Catherine was one of hundreds of first-year students who moved into residences across Dalhousie in late August and early September, ready to learn, meet new people, and begin a fresh phase of life.
"We come from a small town, so moving here is exciting," said Catherine, who is from Cheticamp, N.S., and plans to study medical sciences.
Catherine's arrival at Howe Hall was accompanied by sunny skies and crisp, cool air, but that didn't prevent her and other first-year students and their families from working up a bit of a sweat as they carted boxes and suitcases filled with belongings, mini-appliances, personal mementos, and more to their new rooms.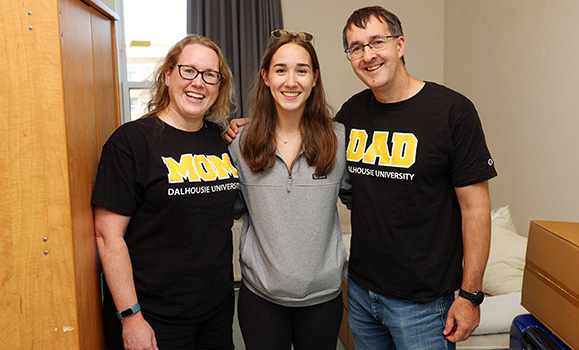 Catherine, centre, with her parents, who are both Dal alumni.

It's all part of the ritual of building a home away from home. And residence staff, fellow Dal students, and other members of the university community turned up in a big way to lend a helping hand in the process as campus sprang to life during move-in days. 
For Catherine's family, it was a return to familiar turf. Michele, her father, received his undergrad and medical degrees from Dal, while her mother, Moira, completed a Bachelor of Science at the university — following in the footsteps of her own mother who studied arts and education at Dal in the 1970s. 
"The Dal blood runs thick in this family," said Moira. 
A younger sister and brother were along for the ride, the former suggesting she has her sights set on a different university but could possibly see herself at Dal someday. 
"We'll focus on one first," said Michele, in response.
Meet more first-year students and view other scenes from move-in days below:
 
Moving into Howe Hall was something of a no-brainer for incoming science student Amanda Anaele.
"I'm used to staying in Howe Hall because I came for a lot of summer camps," she said. "I thought I may as well pick it as my first choice because I enjoyed staying in it."
Being from Halifax, the trip to her new home took a brief 15-minute drive. And that's kind of the point, she says.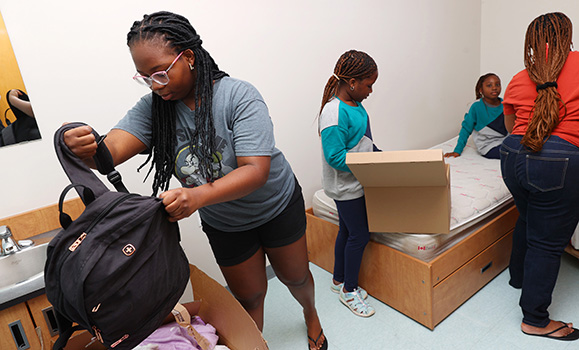 Amanda slings her backpack, above, and poses with family below.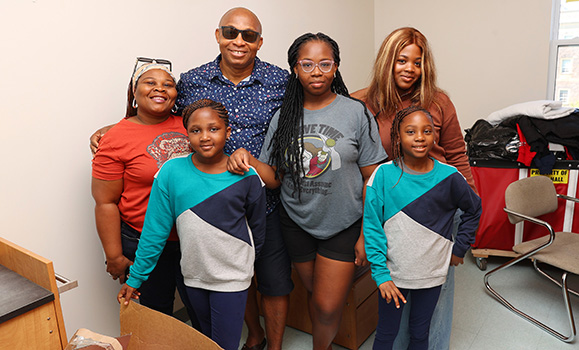 "It's a good university, and it's in close proximity to my family and friends."
Amanda's whole family, including a cousin, came along to help her get set up for the next chapter where, as she says, she'll get "to be in the centre of everything."
In Amanda's eyes, you're never too close to live in residence.
For some familiies, the process of moving a child to Dal turns into an excuse for a vacation as it did for Grace Heaman and her parents. Perhaps it's no surprise given they came all the way from Victoria, B.C. on Canada's west coast. 
The flight to Halifax took all day, but they got here ahead of time so they could visit with family in Lunenburg and do some sightseeing. 
"I've never been anywhere on the east coast before," said Grace, who is studying general arts this fall.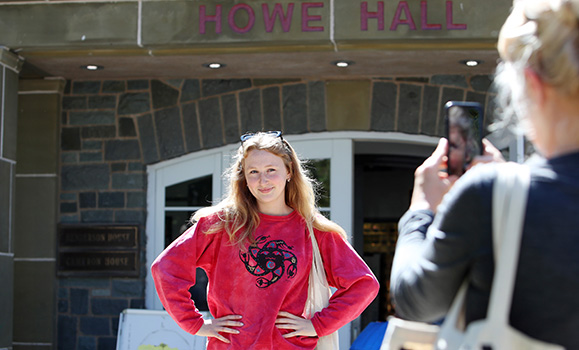 Grace's mom snaps a photo of her outside Howe Hall.

Flying was the more practical option for the family given driving would have taken close to 60 hours. "There's only so much Taylor Swift you can have," says her dad. 
The next item on the family's vacation itinerary: a visit to the beach, erm . . . IKEA.
Maybe it was the long drive from Ottawa. Or maybe Corinne Park is just ready for a bit more independence.
"I'm excited to meet new people and make some friends and live on my own. Sorry, mom," says the first-year computer science student. 
Her mom seems to understand, though: "This has been a transition since we left Ottawa, so it's good. We've had our moments."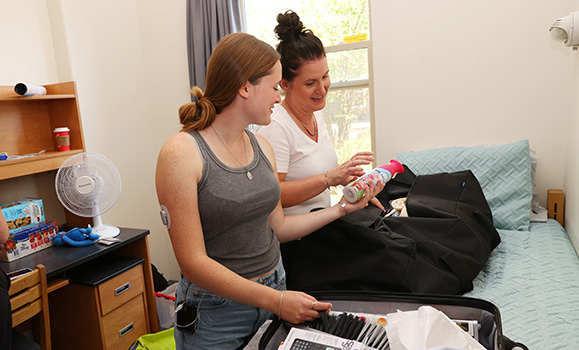 Above, Corinne and her mom share a laugh.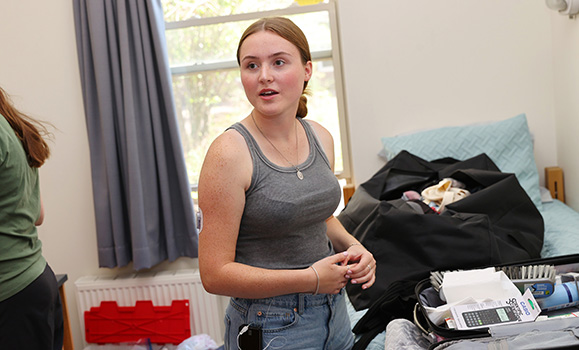 They split the drive into parts, with stops in Edmunston, Moncton, and Hopewell Cape, N.B.
As they unpack clothes and other items from a suitcase and duffel bag, including a calculator, water bottle, broom, and air freshener, Corinne seems well set up to settle into her new room and life in Risley Hall. 
Mia Pham's decision to move into Shirreff Hall had a lot to do with the dining hall on the first floor.
"I have some friends here who say it's great," said the first-year medical sciences student. 
She's also keen about its proximity to Dalplex, which is just across the street.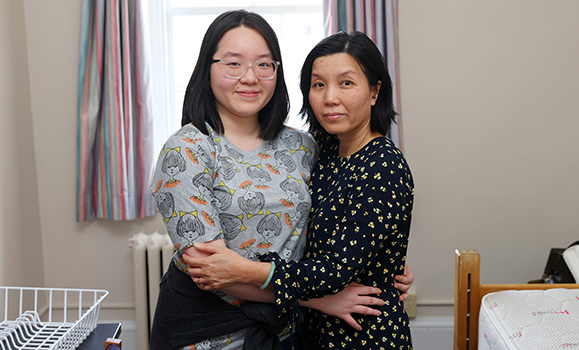 Mia, above left, with her mom.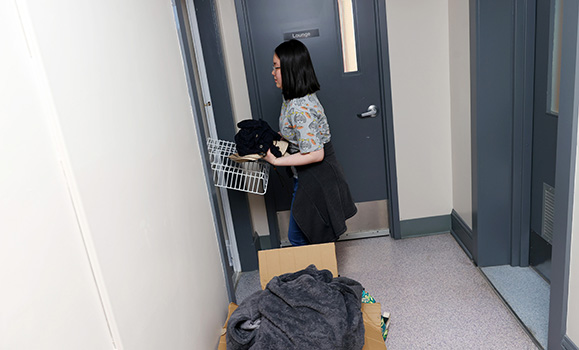 Mia, who made the move from Moncton, N.B. with her mom and sister, expressed excitement about beginning her medical sciences degree. 
"I want to be a dentist, and so I'll try to get into denstistry after this."
Aidan Nassar of Toronto doesn't mince words when explaining why he wanted to come to Dal.
"I just wanted to move far away, and this was the furthest I could get. And it's a new place," said the first-year commerce student.
He was joined by his whole family on the 17-hour drive to Dal, including his younger brother and sister. "It was definitely a journey."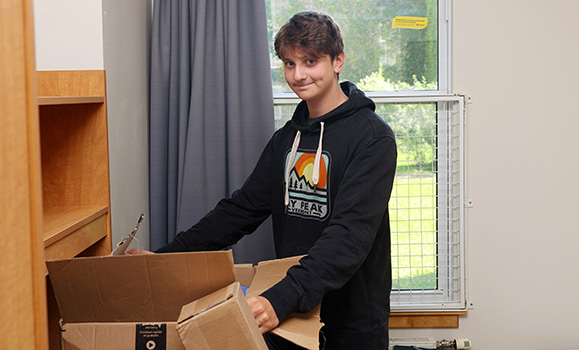 Aidan tears open a box, above, and poses with family below.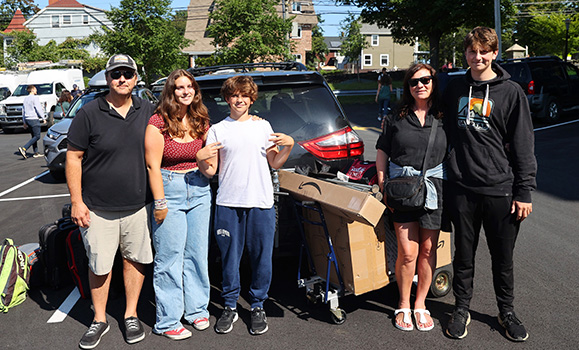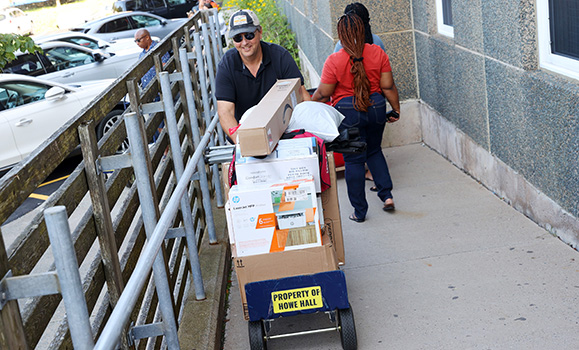 His dad, George, beamed a smile when considering his son's start at Dal this fall.
"We're really proud of him getting into Dal," he said. "I think he's ready for it. It's a natural progression for him to make his own decisions and be in control of his own destiny."