Laura Fisher is a PhD student in Sociology at Dalhousie University.

The Canadian government issued a one-time grocery rebate in July, targeted at low-income Canadians. While the rebate provided some relief to people struggling with soaring inflation, it is far from enough to address the depth of poverty and intensity of food insecurity faced by the lowest income Canadians.
During the most vulnerable time of life, mothers and infants living on welfare are experiencing food insecurity, which can have lifelong impacts. Governments need to make policy changes to better serve mothers and their children.
Infant food insecurity
Food insecurity is defined as having "inadequate or insecure access to food due to financial constraints." Maternal food insecurity can result in many health-damaging effects, ranging from adverse birth outcomes to mental health issues. Infant food insecurity can result in long-term developmental impacts, including effects on cognition and brain development.
Experts have outlined how food insecurity can impact a mother's ability or decision to breastfeed. Food-insecure mothers might cease breastfeeding much sooner because they feel they have inadequate breastmilk supply. In addition, they might struggle to afford infant formula.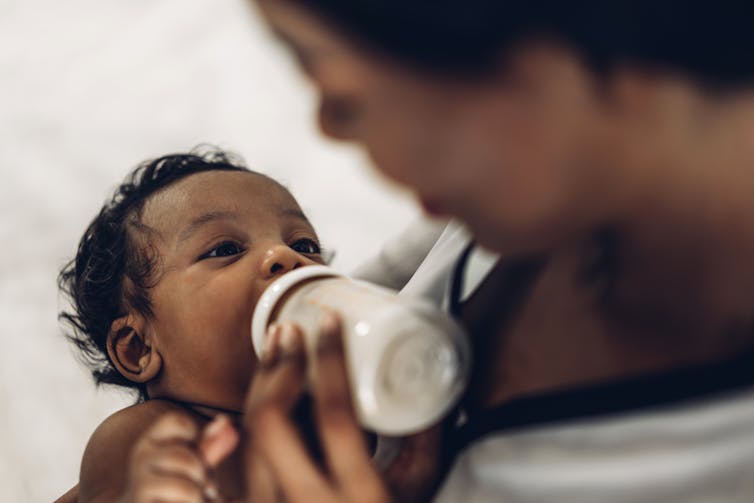 While food-insecure mothers initiate breastfeeding at the same rate as food-secure mothers, rates drop steeply within the first two months. Mothers who are undernourished themselves might perceive they have less than adequate milk supply and often stop breastfeeding for this reason, believing the baby will suffer because they have an inadequate diet.
For low-income mothers, breastfeeding might seem to be the most cost-effective way of feeding their infants. However, other research shows that both formula and breastfeeding are unaffordable to mothers who receive welfare.
Problems with the welfare system
Approximately four to six per cent of people in most provinces and territories receive welfare benefits. The number is slightly lower in the Yukon and Alberta and significantly higher in Nunavut where it is just under 28 per cent.
While some provinces and territories provide more financial resources to pregnant women and mothers than others, incomes remain low and inadequate to achieve food security.
For example, Nova Scotia welfare recipients receive a total of $51 per month in maternal nutrition allowance during pregnancy and up to 12 months after birth. However, this is often not enough support for low-income mothers to adequately feed their infants.
COVID-19 increased household food insecurity rates for households with children in both Canada and the United States
Allowances for pregnant women and mothers of infants receiving welfare are similarly low across Canada. These low rates create food insecurity for these vulnerable families and must be rectified via provincial, territorial and federal government policies.
Charity alone is not enough
Some might assume that charities and food banks will provide vital support for low-income families. A recent study found that during the peak of the COVID-19 pandemic, many community organizations answered the increased call for food.
While community organizations were critical in filling pandemic gaps, they alone cannot address the root cause of food insecurity: inadequate incomes. That problem continues, and the number of people relying on food banks has increased exponentially in the past couple of years.
Additionally, many food banks are struggling to provide enough food. The demand for food now far outstrips the donations most food banks receive. A sustainable solution to food insecurity is needed, particularly for pregnant women and mothers of infants.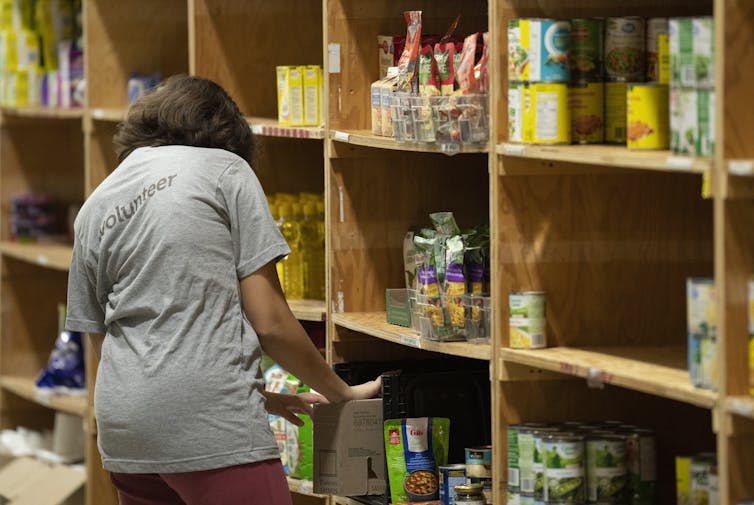 Child welfare laws
In addition, child welfare laws need to be changed to stop them from unfairly penalizing poorer parents. In Nova Scotia, the Children and Family Services Act stipulates that parents' failure to provide adequate nutrition is grounds for child apprehension.
The 2022 Report Card on Child and Family Poverty in Nova Scotia recommended removing this stipulation. Experts have highlighted the punitive nature of such requirements. These kinds of regulations punish mothers for their poverty and food insecurity, rather than increasing the financial support they receive.
Impact of inflation
There are also reforms that need to take place around welfare rates that would create a more liveable income source for mothers and infants in particular.
As the 2022 report card on poverty in Nova Scotia shows, welfare rates are not indexed to inflation in the province. This has resulted in benefits stagnating despite a few modest increases in the past several years. Only three provinces and territories index welfare rates to inflation: New Brunswick, Québec and the Yukon. In Québec, this has resulted in lower income inequality.
The province has also recently launched a basic income program and although the eligibility requirements exclude many, it does increase income recipients would otherwise receive from welfare benefits.
With inflation affecting the price of food, the depth of food insecurity for mothers receiving welfare payments will only grow. Welfare rates must reflect the income necessary to feed pregnant and new mothers and provide them the support they need to care for their children.

This article is republished from The Conversation under a Creative Commons license. Read the original article.