Dalhousie's 13th president will be familiar to many within the university — someone known for her inspiring approach to leadership, community building and positive change. 
This morning (Wednesday, July 19), the Dalhousie Board of Governors announced the appointment of the university's own Dr. Kim Brooks for a five-year term as president and vice-chancellor set to begin August 14. 
Dr. Brooks, who has been supporting the current leadership transition as acting provost and vice-president academic, has the rare distinction of having served as dean of two different Dalhousie faculties: the Schulich School of Law and the Faculty of Management. She is a 3M Teaching Fellow and an accomplished tax scholar and lawyer who has held research chairs at multiple top Canadian universities. Her extensive leadership and service reaches into the public sector and the local community with organizations such as Halifax Public Libraries, where she is the current Board Chair. 
"I am excited about the difference the Dalhousie community makes to the province, country, and world and I'm humbled by the opportunity to serve as president," says Dr. Brooks. "We've been deeply integrated into the fabric of Nova Scotia for over 200 years and yet it feels like we're entering a new era of possibilities and opportunities."
"I'm looking forward to connecting and re-connecting with all who support our vital work as we hold tight to our sense of purpose and possibility; grow a culture of inclusive excellence, curiosity and exploration; and strengthen Dalhousie's engagement with communities across Nova Scotia and around the world."
Video: Message from New President Kim Brooks
Dr. Brooks's appointment is on recommendation of a presidential search committee that included representatives from the Board, Senate, students and administration. Board Chair Cheryl Fraser, who chaired the search committee, says Dr. Brooks's impressive skills and qualifications distinguished her amongst an incredibly competitive field of candidates from across Canada and around the world. 
"We were seeking a president with the energy, passion, and commitment to capitalize on the tremendous opportunities ahead for our university," says Fraser.
"Anyone who has gotten to know Dr. Brooks during her 13 years at Dalhousie has been witness to her exceptional leadership that puts integrity and empathy first, with a steadfast commitment to inclusion and community. For Dr. Brooks to now bring that same leadership to the President's Office represents an incredible opportunity for Dalhousie, for Nova Scotia, and for fulfilling the potential and possibility at the heart of our Third Century Promise."
Fraser also notes that while Dalhousie has a proud history of accomplished leaders who have brought a variety of different backgrounds and experiences to bear in their work, Dr. Brooks is both the first woman and first openly queer person to be permanently appointed university president. "These are overdue milestones," she adds, "but ones worth recognizing."
Frank Harvey, currently serving as acting president, says he is thrilled by Dr. Brooks's appointment and excited about working with her and the rest of the senior leadership team as he returns to the Provost's Office.
"I have had the distinct pleasure of working with Kim for many years now and have witnessed and directly benefited from the many extraordinary results of her visionary, inspiring, transformative, and compassionate leadership," says Dr. Harvey. "I have never been more confident in Dalhousie's future or more optimistic about the prospects for fulfilling our third-century promises.
"Kim is exactly the kind of leader Dalhousie needs right now."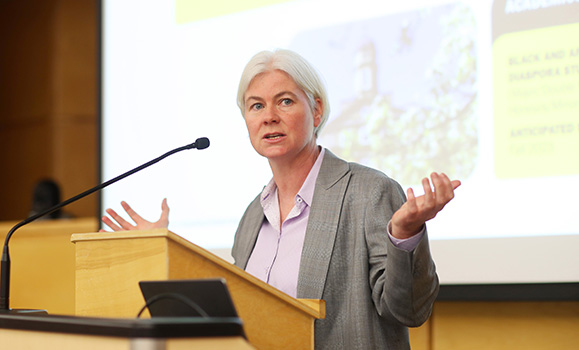 Dr. Brooks speaks at Dal's annual Progress Report update last month.
Being "the best versions of ourselves"

Dr. Brooks is an energetic conversationalist and devoted Bruce Springsteen fan who says she's up for trying almost anything at least once. In other words: she might not be the type of person you picture when you hear "tax law expert." That she has become so well known for supporting vital conversations around equity and inclusion — including as co-chair of the committee that produced Dalhousie's 2015 Belong report — may also be surprising in that context, but it makes plenty of sense to her. 
"Tax intersects in all kinds of equity-informing and inequity-creating ways that are fascinating," says Dr. Brooks. "And so, while I'm far from an expert on equity, diversity, inclusion, accessibility, and decolonization, those are commitments I hold close to my heart. I appreciate and am delighted to see the work so many people at Dalhousie have been doing to help us move more closely toward inclusive excellence in all that we do. I don't think there's a magic formula; ultimately, it takes attention, care, and thoughtfulness."
Following time as a practising lawyer and academic appointments at Queen's, UBC and McGill — where she was the H. Heward Stikeman Chair in the Law of Taxation at McGill University — Dr. Brooks first arrived at Dalhousie in 2010 to serve as dean of the Schulich School of Law. She helped lead the school through a noted period of evolution and impact under its new name and powered by a transformative investment from Seymour Schulich. She remained in Law following the completion of her term, serving as the Purdy Crawford Chair in Business Law, until 2020 when she crossed to the other side of University Avenue to serve as dean of the Faculty of Management. Her primary assignment: bring together a wide range of views, perspectives and interests to determine a new structure and strategy for the Faculty.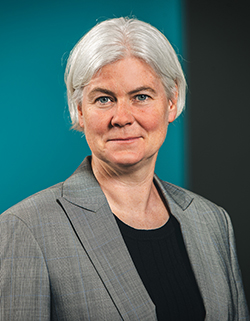 "The Faculty had broad agreement that they were due for change, but not a lot of consensus on the way forward," she explains. "And that's how I got to be part of one of the most amazing reform processes I've ever seen at a university."
It took two years of tough discussions — through a pandemic no less — but as the Management community worked through myriad wrinkles and challenges in considering its future, a direction began to crystalize, one powered by the willingness of colleagues to engage with one another and work collaboratively. The resulting plan has been embraced with incredible enthusiasm from all corners — a remarkable turn considering where the process started.  
"What I'm always most proud of is being able to work with people — not necessarily getting it right all the time but figuring out how we can be the best versions of ourselves under the circumstances and then taking action on bringing that vision to life," says Dr. Brooks.
A university that belongs to everyone

Dr. Brooks says she sees the president's role as holding tight to the "purpose, magic and possibility" of the university.
"To me, that means cultivating the value of learning and the acquisition, preservation, and production of new knowledge," she explains. "It means inspiring curiosity and exploration. It's enabling students to chart directions for their lives and promoting their personal and professional growth. It's supporting informed citizenry and effective democracy. It's accelerating innovation and responsiveness to society's challenges. And I think the president should be a relentless cheerleader for Dalhousie, our people and our communities — whether we're thinking in terms of Halifax or Truro, Nova Scotia or Mi'kma'ki." 
Those community connections have always been an essential part of Dr. Brooks's work as a teacher, researcher and administrator. She's served on key committees with the Canada Revenue Agency and the Tax Court of Canada and has chaired organizations like Halifax Public Libraries and the Canadian Centre for Legal Innovation in Sexual Assault Response. Now, as president, she's eager to see Dalhousie grow and strengthen partnerships with communities across Nova Scotia on everything from health-care solutions and inspiring future-ready leaders to playing a role in the province's ambitious growth strategy.  
"Dalhousie should feel like it belongs to all corners of our province," she says. "Truly extraordinary universities are understood as communally-owned institutions. That will happen when our students' families, alumni, donors, employer-partners, governments, Indigenous nations, private sector contributors, and community organizations see themselves as reflected in and responsible for Dal's success. These external stakeholders should be able to look to Dalhousie as a partner in generating new possibilities to address the challenges we collectively face."
As for Dal's students, faculty and staff, what can they expect when Dr. Brooks moves into the President's Office next month?
"We have a lot of good work to do to realize the potential of the Third Century Promise plan, so I expect my focus won't be all that different on August 14 than it is today: championing our work to progress our shared goals in the strategic plan," she says.
"But I also hope to connect with everyone across the university to start to better understand who we are. In my time at Dal, I've been able to work very closely with colleagues in the Schulich School of Law, Faculty of Management, and units within central administration, but I have a lot to learn about the challenges, aspirations, and dreams of folks in other parts of the university. So as a starting place, I am very much looking forward to developing a richer understanding of who we are and where we see ourselves headed, collectively. As a university we have an incredible amount to offer our province and I think we're just getting started."
"It's about finding that shared sense of purpose and meaning together."