The United Nations calls the ocean "the lungs of the planet." It absorbs 25 per cent of all carbon dioxide emissions and sequesters up to four times more carbon dioxide (CO2) from the atmosphere than terrestrial forests. But what if it could take an even deeper breath? What if we could leverage its natural capacity to sequester CO2 from the atmosphere?
The answer to this question has the potential to be game changing for humanity's fight against climate change, and Dalhousie has taken the global lead in pursuing it with nearly $15 million in support from the Carbon to Sea Initiative. Lead principal investigator Dr. Katja Fennel, chair of Dalhousie's Department of Oceanography, says the Ocean Alk-align research program, which includes researchers in North America, Europe, and Australia, will investigate how a human-induced increase in ocean alkalinity could enhance the ocean's ability to absorb and hold carbon.
An antacid for the ocean

The process of alkalinity enhancement is compared to adding an antacid to the ocean, the kind we take for heartburn or when our stomachs are upset. Over the past 200 years, the burning of fossil fuels has increased ocean acidification and reduced its ability to absorb CO2 from the atmosphere. Through targeted enhancement of ocean alkalinity, Dr. Fennel and her colleagues will study if they can reverse ocean acidification to make the ocean more receptive to CO2 absorption. 
"Currently, ocean alkalinity enhancement is not a mature technology and its environmental impacts have not been assessed in the field," says Dr. Fennel. "Our research consortium will tackle the three most pressing research issues: the efficiency and permanence of CO2 removal, its environmental risks and potential benefits, and the monitoring and verification of CO2 uptake."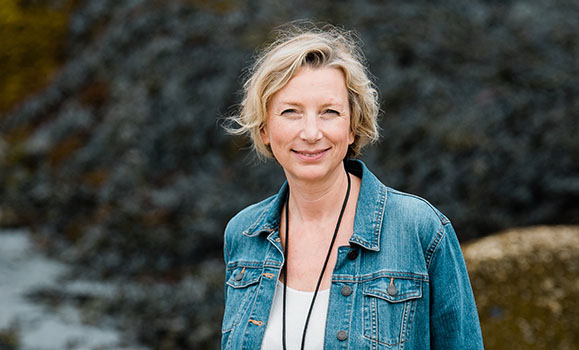 Dr. Katja Fennel. 
A 20 giga tonne problem

The need for the research is urgent says Dr. Fennel, who notes it is now widely accepted that global efforts to reduce CO2 emissions are not enough to veer us off a course toward catastrophic climate change. The United Nations' Intergovernmental Panel on Climate Change says to meet these targets, the world needs to remove 10 giga tonnes (equivalent to one billion tonnes) of CO2 from the atmosphere per year by the middle of the century, and 20 giga tonnes per year by the end of the century. Ocean carbon alkalinity enhancement could be a key to meeting these targets.  
The Dalhousie-led Alk-align project is supported by the Carbon to Sea Initiative, a non-profit program funded by philanthropic foundations in the United States, Canada, and Europe. Carbon to Sea seeks to assess the conditions under which ocean alkalinity enhancement can become a safe, cost-effective and scalable method for atmospheric CO2 removal. The $15-million CAD grant to Alk-align is the largest funding commitment of the initiative to date.
"If we're going to avoid the worst impacts of climate change, we need to aggressively reduce emissions and remove carbon from the atmosphere," said Mike Schroepfer, board chair of Carbon to Sea and co-founder of Additional Ventures, a purpose-driven organization that started and spun-out Carbon to Sea. "Scientists agree that OAE has enormous potential to permanently remove and store carbon and more funding for research is needed. We are here to respond to the call for research funding and answer basic scientific questions about the safety and efficacy of various approaches to OAE. If we find that OAE can be applied at scale, we can unlock one of the most efficient, cost-effective approaches to carbon dioxide removal for humanity. I'm grateful to the whole network of funders, researchers, partners, and the amazing team at Carbon to Sea for their bold commitment to pursue this work."
Global team for a global solution

As chief principal investigator, Dr. Fennel will facilitate collaborations between Dalhousie and a global team from some of the world's foremost centres of ocean research, including GEOMAR Helmholtz Center for Ocean Research Kiel and Hamburg University in Germany, and University of Tasmania and Southern Cross University in Australia. The group comprises seven principal investigators, three senior advisors and a large and growing number of postdoctoral researchers, research associates and graduate and undergraduate students. 
"As a global leader in ocean science, Dalhousie is perfectly positioned to take the lead in this emerging area in the fight against climate change," says Dr. Alice Aiken, Dalhousie's vice president research and innovation. "Under Dr. Katja Fennel's direction, this research program will play a key role in advancing the science of ocean-based carbon removal. It's a significant opportunity and it's our responsibility to the world."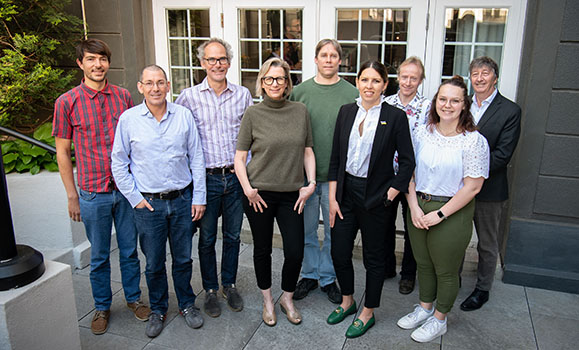 The Ocean Alk-align team includes researchers from North America, Europe, and Australia.
At the end of April, Dalhousie was also announced the recipient of a $154 million grant from the Government of Canada to help fund the Transforming Climate Action research program to study the ocean's central role in climate change. One of the three major themes of the program is focused on mitigation strategies and ocean-based CO2 removal in particular. Collaboration between the Ocean Alk-align and Transforming Climate Action research programs has the potential to enhance and substantiate global networks and data sharing with possibilities to significantly magnify impact.  

Recommended reading: Turning the tide on climate change
Expertise that's up to the challenge

"Our team covers a broad portfolio in terms of expertise, while each of us has deep specialized knowledge in our specific area," says Dr. Fennel. "We are jointly planning experiments in the lab, the field, and in mesocosms and this planning is informed by numerical model simulations that are being generated and specifically tailored to our research questions. It's an intense and interactive approach to collaboration. I anticipate that we will be making important discoveries together."
The global team Dalhousie has assembled includes geochemists, mineralogists, marine chemists, biogeochemists, marine ecologists, and biogeochemical modelers. This combined expertise will enable assessments of alkalinity enhancement-related changes in seawater chemistry and the potential impacts on ecosystem processes and biogeochemical cycles, as well as the development of technology for ongoing assessment and monitoring.
Solely if it's safe

"The beauty of this project is the establishment of an international collaboration across Canada, Germany, and Australia with small administrative hurdles and high flexibility in how we utilise the funding best," said supporting principal investigator, Dr. Lennart Bach, ARC Future Fellow for Climate Intervention at the University of Tasmania. "Within the five years of this project, we aim to provide crucial knowledge for societies to decide whether they want to move forward with ocean alkalinity enhancement or not."
Dr. Fennel says it's essential that researchers outside of the private sector play a central role in determining the future of ocean alkalinity enhancement, noting that an objective approach is required to ensure it is done correctly, if at all.
"It is of utmost importance that these issues are investigated by scientists who have no financial interests in the research outcomes and are driven solely by the desire to ensure safe implementation if, and only if, ocean alkalinity proves to be effective at removing CO2," said Dr. Fennel. "This must happen before it is implemented and scaled up."