Over the past several decades, Marie Jones has had plenty of reasons to visit the Rebecca Cohn Auditorium and other venues during Dalhousie's bustling Convocation season. She's attended 10 ceremonies for fellow family members alone, mostly for her six children.
The degrees received by the Jones family, including one by her since-departed husband, David I. Jones, run the gamut from law and medicine to public administration and arts.
This past Tuesday, Marie returned to the Cohn again at age 92 — only this time she was the one crossing the stage to pick up a parchment for her Master of Arts. Her achievement brings the family's total number of Dal degrees to 11.
Marie's big day at Dal happened Tuesday as part of the Faculty of Arts and Social Sciences spring ceremony and marked the culmination of an educational voyage that began more than a half century ago before being pushed aside in 1975 when one of her sons, David, fell ill.
Managing David's aplastic anemia — a condition that arises when your body fails to produce white blood cells — proved time consuming for Marie.
"It was quite a bit of work. And I had six kids at the time," she recalled this week following the ceremony during which she received a standing ovation that lasted close to a full minute.
She travelled with David to Toronto so he could receive a bone-marrow transplant, returning frequently for follow-up appointments and two further transplants. At one point, David spent more than 100 days in isolation as part of a procedure.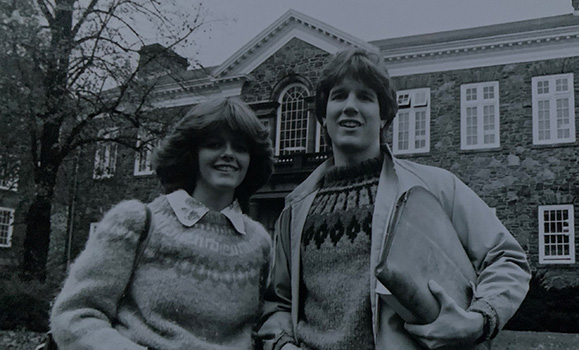 David at Dal after his first bone marrow transplant. His sister Teresa, also pictured, was his bone marrow donor when she was just a teenager. 
Marie, then in her forties and with several Mount Saint Vincent University degrees to her name already, decided to take a break from her studies at Dal despite being within a stone's throw of completing her degree.
Even her advisor, Dr. Sid Sodhi — who cherished his straight-A student and valued her research — said this week he agreed with her decision at the time that family should come first.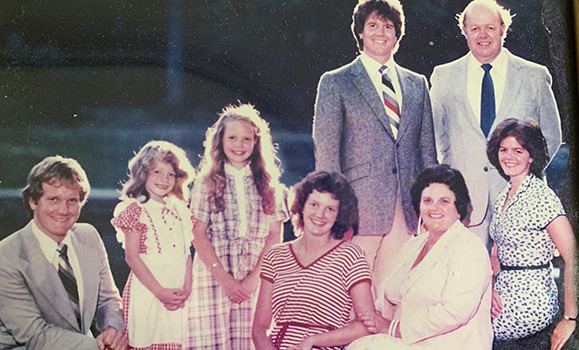 The Jones family.
From regret to recognition

David passed away in 1985 after getting sick again suddenly, just two months after completing his law degree from Dalhousie. "David was the valedictorian and spoke at his ceremony," recalled Marie.
Life remained busy, though, and Marie's own Dal degree receded from her mind. That is, until last fall when she was out for a Sunday drive with Martin, her other son, and divulged that not receiving her Dal degree was one of her regrets in life.
Martin, a lawyer by trade with a Bachelor of Arts and law degree from Dal, resolved to investigate. He started with a cold call to Dr. Sodhi, who confirmed that Marie had finished all her academic requirements and deserved her degree.
"This wasn't a gift," said Martin. "She had done all the coursework and she had submitted her draft thesis."
Armed with an effusive note of support from Dr. Sodhi and his other research, Martin penned a letter to Dalhousie formally asking if they would grant his mother her degree. Dal dug into Marie's old files and approved the request but had to adjust her degree to be a Master of Arts instead of a Master of Education as that program no longer exists at the university.
Marie had no idea any of this was in the works.
An emotional moment

Dal asked Martin early this year whether he wanted to have the degree presented to his mother at Convocation or at some other time. A day later, Marie fell ill with a serious case of COVID-19 followed by pneumonia. Martin worried whether his mom would survive and so decided to tell her about the degree over the phone.
Once his mom's health improved, Martin delivered the framed degree to her at home. They then made a plan to attend Spring Convocation to celebrate.

"Oh my gosh, Martin did a wonderful job," said Marie, of her son's surprise. "He's a very busy lawyer and he took the time out to do this."
Martin said he couldn't help getting a bit emotional here and there during the process as he recalled being a student at Dal at the same time as his brother. "When I went in to pick up mom's degree, it was study break. The place was empty. It was an emotional moment for me going through the Henry Hicks Building because in the 1970s I would have been opening the door for my brother coming to class with me."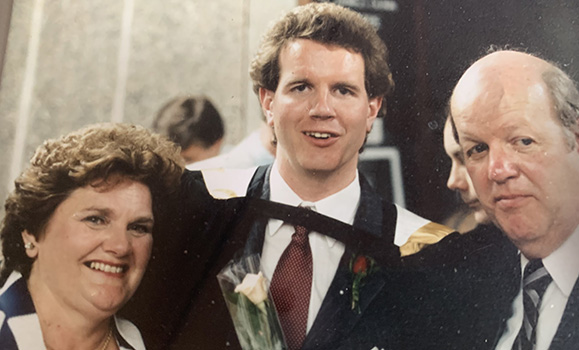 Marie, left, and her husband, David Sr., at her son David's Dal Convocation in 1985.
A celebration to remember

Marie, Martin, and the other members of the Jones family were given priority front-row seats at this week's Convocation ceremony.
They were joined by Dr. Sodhi, now 90, who remembers his former pupil as a "very bright, young mother" interested in special education for children. He said when Martin phoned him last fall to ask about his mother's academics, he recalled his even bigger ambitions for her at the time.
"He asked, 'What do you think of her?' I said I was very sorry she had to leave. She could have done her PhD with us."
Dal's Acting President Frank Harvey singled Marie out during his introductory remarks at the FASS ceremony, and when her name was called out later in the ceremony the swell of cheers from the standing crowd brought a beaming smile to the new grad's face.
"It's the best of the 11 degrees," said Martin, following the ceremony.
With his mother's wish fulfilled, Martin has already begun thinking about the next generation getting set to write their own Dal stories.
"Mom's granddaughter is starting at Dal this fall."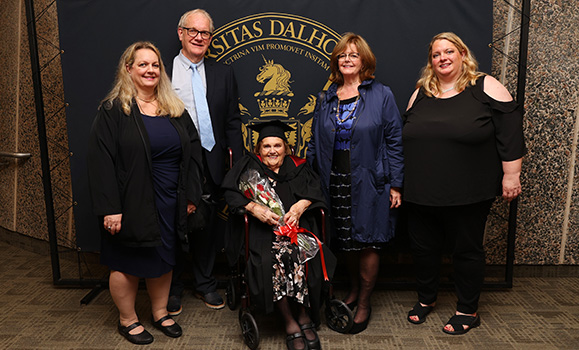 Marie, centre, poses with (l-r) Angela, Martin, Teresa, and Marie, after her Convocation ceremony this week. Marie's other daughter, Paula, died in 2008 at age 44.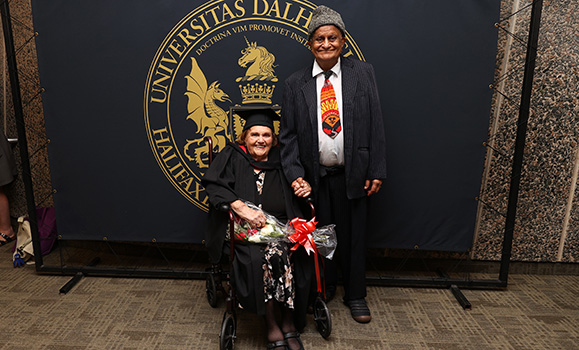 Marie and Dr. Sid Sodhi, reunited.