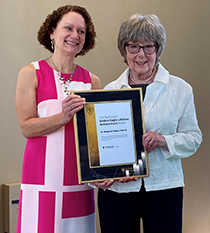 Dr. Margaret Oulton (PhD'75) — a professor and prenatal researcher who made a discovery that would eventually lead to the safe delivery of over 10,000 infants across our region — is the inaugural recipient of the Dalhousie Golden Eagle Lifetime Achievement Award. It recognizes remarkable and long-standing connection and commitment to the advancement of academic excellence at Dalhousie University.
Two fate-driven walks in the snow led Dr. Margaret Oulton (PhD'75) to make decisions that would forever impact her life and work. The first walk took place when she was a young university student. Engaging the advice of her brother, Dr. Oulton debated whether or not she should take a challenging course in physical chemistry, which would allow her to complete a Bachelor of Science in Chemistry, or drop the course, and finish with a Bachelor of Arts instead.
It was the early 1960s, and at the time, she didn't envision a future where she would need a science degree. The two walked along the Acadia University campus as snow gently fell from the sky. The decision was eventually a decisive "no," and she dropped physical chemistry and moved onto studying at Dalhousie to complete her final credits, transferring them back to Acadia, to finish with a degree in arts. 
"At the time, I didn't consider myself to be a great student," explains Dr. Oulton. "I enjoyed science, but school wasn't a big personal priority. I met my future husband when I began studying at Dalhousie, and in time, we got married and started a family."
Aside from being a wife and mother, Dr. Oulton began teaching grades seven through 12 at a junior and senior high school in Harvey Station, N.B.
An unexpected career in science leads to a 'eureka' moment

Flash forward several years, and Dr. Oulton took another life-altering walk in the snow. She was contemplating whether or not she should take that same course in physical chemistry she dropped at Acadia, only this time at Dalhousie. The course would allow her entrance into the Masters of Biochemistry program. Having already worked as a research lab tech in the department, Dr. Oulton had begun taking courses in biochemistry part time. She proved to have an aptitude for the program, earning top marks in her courses. Dr. Oulton's intellect caught the attention of the faculty, and they were eager to have her become a part of their team.
This time, Dr. Oulton engaged the advice of her husband, Ian, and they walked through a snowy Dalhousie campus, pondering whether they could manage her being in school as they raised their young family. This time, the answer was "yes", and Dr. Oulton embarked on what would prove to be an illustrious career. 
In 1975, Dr. Oulton earned a PhD in Biochemistry, something she said felt like vindication after what she deemed to be her less than stellar performance during her undergrad. No matter: Dr. Oulton had found her place as a mature student and now, as an esteemed scientist.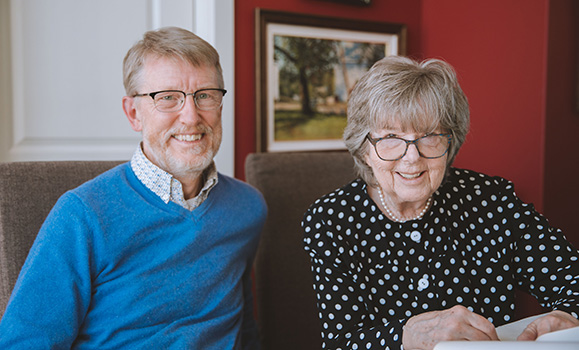 Dr. Oulton with Dr. Michiel Van den Hof, a professor in the Division of Maternal Fetal Medicine at Dalhousie.
For the next three decades, Dr. Oulton became a steadfast and valued member of the Dalhousie community, earning professorships in the departments of Physiology and Biophysics, and Obstetrics and Gynecology. Beyond these remarkable endeavours, Dr. Oulton was a champion for women, demonstrating this as a staff scientist at the IWK Health Centre and as a lead medical researcher at Dalhousie's Faculty of Medicine.
Much of Dr. Oulton's award-winning research focused on advancing health outcomes for infants who were at risk for serious breathing issues. In fact, while leading a team of researchers at Dalhousie's Faculty of Medicine, Dr. Oulton had what she called her "eureka" moment.
"It was an exciting discovery," says Dr. Oulton. "Using the process of centrifugation to separate the sediment portion of amniotic fluid and examining the sediment with very powerful electron microscopy, we discovered the presence of fetal lung surfactant in the form of discrete membranous structures called lancelllar bodies. This was our eureka moment!" In the simplest of terms, Dr. Oulton's team's analysis showed good correlation between the presence of this surfactant and fetal lung function, in a trial study with 91 patients. 
This discovery led to the development of an accurate and ground-breaking test to determine if an unborn infant's lungs had developed sufficiently for them to withstand induced premature birth. Over the course of twenty years, this test allowed for the safe delivery of over 10,000 infants in Atlantic Canada.
Finding solutions today and into the future

In 2020, the world was entrenched in a global health crisis created by the novel coronavirus, COVID-19.  Although retired for some time, Dr. Oulton's work would be used by many researchers in important COVID-19 research. In fact, her work helped to inform researchers that lung surfactant is destroyed by the coronavirus. Indeed, her published articles have been cited more than 450 times since her 'eureka' moment. 
Today, Dr. Oulton is still passionate about science. Her latest focus is on the environment and how we can positively impact climate action. 
"I see the great work Dalhousie is doing in climate action research and I get excited," she says. "It's time for us to stop focusing on what the problem is and to find solutions. I want a healthy planet for my children, grandchildren, and great grandchildren, so they too can take lifechanging walks in the snow and make decisions that will forever impact their lives. They deserve that. We all deserve that."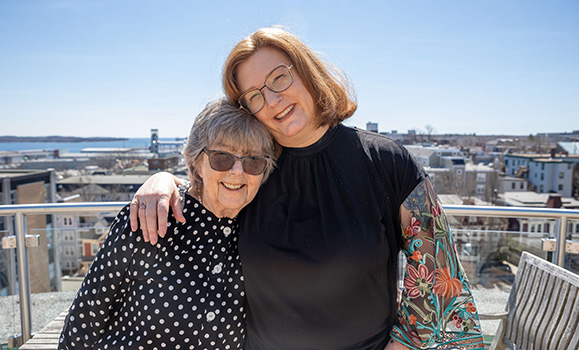 Dr. Oulton with her daughter, Krista Welsh.