Dal's annual Milestones Reception offers a chance to shine a light on those employees who've remained dedicated to the university for the long haul.
Dozens of individuals receive their long-service pin at the ceremony each year in recognition of reaching milestones of 25, 35, 45, and 50 years of service.
"These are remarkable milestones," said Kim Brooks, Dal's acting provost and vice-president academic at the latest milestones celebration earlier this month.
It was one of two such receptions to take place this spring at Dal. The first, held in March, was to celebrate employees who reached milestones in 2021 and the more recent was to mark those who hit anniversaries in 2022. Both ceremonies were postponed due to pandemic restrictions.
Find out who was being celebrated below.
2021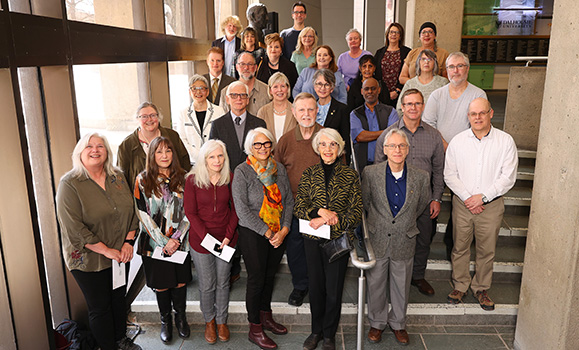 Faculty and staff who attended the 2021 Milestones ceremony. (Nick Pearce photo)
25 years

Philip Acott, Faculty of Medicine
Jill Baggs, Financial Services
Francoise Baylis, Faculty of Medicine
Stephen Bearne, Faculty of Medicine
Louise Carbert, Faculty of Arts & Social Sciences
Normand Carrey, Faculty of Medicine
Robert Chen, Faculty of Medicine
Jeff Dahn, Faculty of Science
Richard Davis, Faculty of Science
Eileen Denovan-Wright, Faculty of Medicine
Jocelyn Downie, Schulich School of Law
Rita Durnford, Registrar's Office
Michelle Francis, Killam Library
Wayne Garland, Faculty of Dentistry
Esmeret Gheabreab, University Libraries
Jennifer Hann, Faculty of Open Learning and Career Development
Alex Hay, Faculty of Science
Gabrielle Horne, Faculty of Medicine
Shawna Hoyte, Schulich School of Law
Tim Jordan, Faculty of Medicine
Debora Matthews, Faculty of Dentistry
Janet McLaughlin, Science, Information Technology, Engineering Co-op Education
Christopher McMaster, Faculty of Medicine
Raymond Mopoho, Faculty of Arts & Social Sciences
Susanna Morash-Kent, Faculty of Architecture and Planning
Joanne Murphy, Faculty of Health
Crystal Parsons, Financial Services
Anne Publicover, Faculty of Computer Science
James Rozee, Information Technology Services
Susan Stackhouse, Faculty of Arts & Social Sciences
Omer Suleman, Facilities Management
Juliette Thomas, Faculty of Dentistry
Simon Trussler, Faculty of Science
Robin West, Information Technology Services 
35 years

Ann Barrett, Kellogg Library
Sharon Bellefontaine, Faculty of Science
Tina Bowwdridge, Faculty of Medicine
Susan Brousseau, University Secretariat
Bruce Caddell, Information Technology Services
Poh Chua, Information Technology Services
Erin Gargan, Facilities Management
Horand Gassman, Faculty of Management
Pamela Goodwin, Registrar's Office
Robert Harrie, Information Technology Services
Jackie Hurst, Faculty of Science
Donna Laffin, Faculty of Engineering
Cathy Lunn, Information Technology Services
Duncan MacIntosh, Faculty of Arts & Social Sciences
Charles Maxner, Faculty of Medicine
Orla McDevitt, Human Resources
Shelley Phipps, Faculty of Science
Scott Rountree, Faculty of Medicine
Chris Rozee, Information Technology Services
Ernest Stacey, Faculty of Science
Karen Tarum, Schulich School of Law
Lynn Thomas, Faculty of Medicine
David VanderZwaag, Schulich School of Law
Carolyn Watters, Faculty of Computer Science
Hal Whitehead, Faculty of Science
Carolyn Young, Faculty of Science
45 years
None. 
50 years

Jean Hughes, Faculty of Health
2022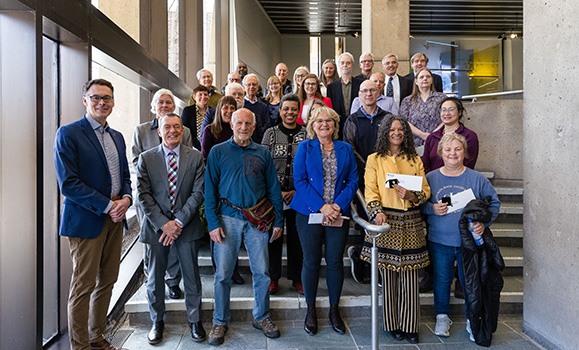 Faculty and staff who attended the 2022 Milestones ceremony. (Cody Turner photo)
25 years
 
Ardith Ambrose, Faculty of Medicine
Scott Anderson, Facilities Management
Lori Baker, Science, IT, Engineering Co-operative Education Office
Sandy Bennet, Faculty of Medicine
Jim Bentley, Faculty of Medicine
John Blake, Faculty of Engineering
Kim Blake, Faculty of Medicine
David Bundy, Ancillary Services
Carl Canning, Faculty of Dentistry
Joyce Chew, Faculty of Medicine
Wanda Danilchuk, Faculty of Medicine
Ben Davis, Faculty of Dentistry
John Dickinson, Faculty of Medicine
Barb Dunham, Advancement
Troy Farnell, Facilities Management
David Gardner, Faculty of Medicine
Gail Gillis, Faculty of Medicine                          
Ian Grant, Faculty of Medicine
Jacek Ilow, Faculty of Engineering
Lois Jackson, Faculty of Health
Jennifer Lambert, Killam Library    
Susan Laviolette, Faculty o Medicine                       
Lynn Lethbridge, Faculty of Medicine
Charlene Lucas, Ancillary Services
Jean Lynds, Faculty of Agriculture
Kelly Maher, Faculty of Medicine
Steven Mannell, Faculty of Architecture and Planning
Jean Marshall, Faculty of Medicine                           
Tracey Murdock, Faculty of Agriculture
Albert Murphy, Faculty of Engineering
Arlene Murphy, Facilities Management
Norma Ranieri, Faculty of Arts and Social Sciences
Johane Robitaille, Faculty of Medicine
Brenda Ross, Faculty of Medicine
Kelly Underwood, Faculty of Health
35 years

Theresa Blois, Faculty of Agriculture
Tom Boran, Faculty of Dentistry (achieved in 2019, but attended 2022 ceremony)
Daniel Chevalier, Faculty of Engineering        
John Cordy, Facilities Management
Robert Finbow, Faculty of Arts and Social Sciences
Alan Fine, Faculty of Medicine
Bruce Friis, Faculty of Dentistry
John Hanly, Faculty of Medicine
Heather Hillyard, Faculty of Engineering
Daniel Labrie, Faculty of Science
Charlene MacKinnon, Student Affairs
Steve Parcell, Faculty of Architecture and Planning
Liz Publicover, Human Resources
Katherine Robinson, Faculty of Medicine
Perry Sabean, Facilities Management
Mysore Satish, Faculty of Engineering
Cheryl Schnare, Financial Services
Melinda Shaw, Schulich School of Law
William Sheridan, Facilities Management
Barry Siddle, Facilieis Management
Kim Stewart, Faculty of Open Learning and Career Development
Alan Surovell, Faculty of Open Learning and Career Development
Gena Walsh, Faculty of Open Learning and Career Development 
45 years

Peter Havard, Faculty of Agriculture
Lars Osberg, Faculty of Science
50 years

Hans-Gunther Schwarz, Faculty of Arts & Social Sciences