Dalhousie kicked off a new era of ocean and climate research last Friday (May 12) at the official launch of Transforming Climate Action, a Dal-led research program that aims to make Canada a global leader in climate science, innovation, and solutions by taking an ocean-first approach to the fight against climate change.
The event, hosted at Dalhousie's Steele Ocean Science Building, gathered government partners, representatives from across the research program's three partners institutions — Université du Québec à Rimouski, Université Laval, and Memorial University — private- and public-sector collaborators, and researchers who comprise some of the more 170 scholars contributing to the historic undertaking.
In his opening remarks, Dr. Frank Harvey, Dalhousie's acting president and vice chancellor, expressed his admiration for the broad coalition of contributors who came together to make the research program a reality.

Frank Harvey.
"One of the most remarkable aspects of Transforming Climate Action is its collective approach, reaching across academic disciplines, provinces, institutions, and languages, and guided by Indigenous values and Traditional Knowledges," said Dr. Harvey.
"This project will solidify our nation as a leader in ocean carbon capture. It will benefit Canadians through knowledge mobilization, advancing public policy, collaboration, entrepreneurship, and the commercialization of research to support economic growth and social innovation."
Watch a recording of the event above. Remarks begin at 11:25.
Transforming Climate Action was made possible by a historic $154-million investment from the Canadian Government through the Canada First Research Excellence Fund (CFREF) – the largest research grant ever received by Dalhousie. This funding is part of a $1.4 billion investment in support of 11 large-scale research initiatives announced by the Honourable François-Philippe Champagne, Minister of Innovation, Science and Industry, on April 28. CFREF grants empower Canadian universities to leverage their research strengths and attract capital and world-class talent.
"The Government of Canada is proud to help postsecondary institutions and their researchers making breakthrough discoveries. The team here at Dalhousie is undertaking important work in our understanding of oceans and their role as carbon pumps. The results of this initiative will help inform Canada's climate action to build a cleaner and greener future," said Andy Fillmore, Member of Parliament for Halifax and Parliamentary Secretary to the Minister of Innovation, Science and Industry.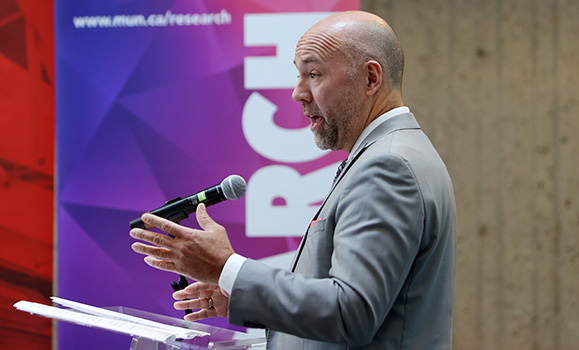 Andy Fillmore.
The event was emceed by Dr. Alice Aiken, Dalhousie's vice president research and innovation, who noted that Transforming Climate Action will link the partner institutions in an ambitious "effort to focus the world's attention and energies on the primary importance of the ocean in determining climate policy and solutions."
"Together," she said, "we will shift the global discourse and become leaders in the transformation of climate action."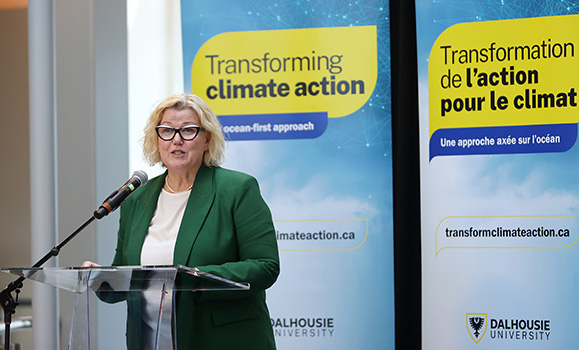 Alice Aiken.
In his remarks, the Honourable Sean Fraser, Minister of Immigration, Refugees and Citizenship and MP for Central Nova emphasized the urgency for the research program by highlighting recent climate-related emergencies experienced by Canada. He also made a connection between the need to act and economic benefits that will result from the innovations and technologies that spinout of Transforming Climate Action in collaboration with blue economy enterprises in Nova Scotia.
"The reality is that we won't just benefit from reducing the risks of climate change to our communities, it's going to create economic opportunities. We have companies in this province that are leading the world when it comes to emissions technology or carbon capture technology," he said."This is a moment to be proud as people who are part of a trend in the province of Nova Scotia who are embracing the economic opportunity presented by climate change."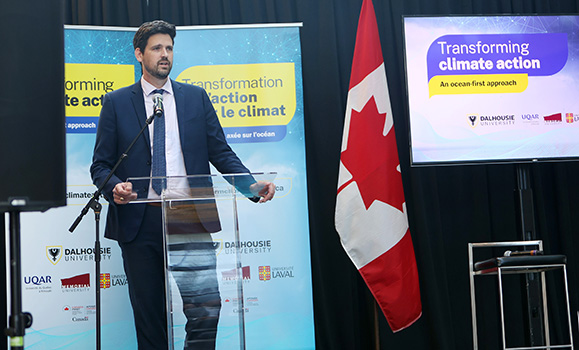 Sean Fraser.
To help illuminate the ambitions behind Transforming Climate Action, Dr. Anya Waite, scientific director of the research program, Dalhousie's associate vice president (ocean), and leader of Dalhousie's Ocean Frontier Institute (OFI) facilitated two expert panels.
The first focused on the potential for economic development. The second addressed the research to be pursued, touching on the program's key themes of reducing uncertainty around the ocean's central role in cooling the warming planet; mitigating climate change by enhancing the ocean's natural ability to remove carbon from the atmosphere; and building just and equitable adaption strategies through community engagement and education.
Dalhousie data scientist Dr. Mike Smit, who co-led the CFREF grant proposal with Dr. Waite in his capacity as deputy scientific director of OFI, joined the panel to discuss the research program's Transformation Accelerators. Dr. Smit, who is also acting dean of the Faculty of Management, described how the Accelerators are designed to ensure discoveries are translated into tangible benefits by offering researchers support and expertise in the fields of innovation and commercialization, policy, education and decolonization, and data management.Accelerators, Dr. Smit said, are the high-speed rail lines of the research program, adding "The work that's happening on the climate crisis doesn't have time to ripple gently outward, we need to put this on a high-speed train and send it right to where it needs to be, to have the right impact at the right time."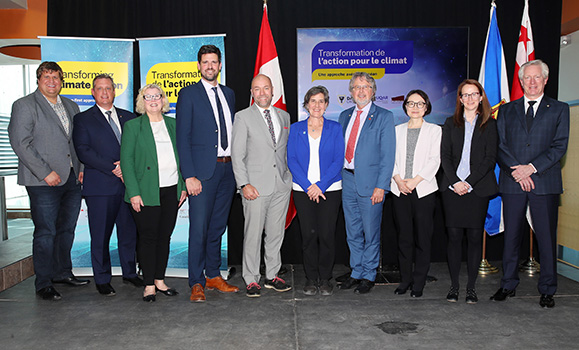 \