Ramadan marks the ninth month on the Islamic lunar calendar, and Muslims all over the world observe day-long fasting until the sunset during the month and break the daily fast with a meal called Iftar.
Dalhousie students observing fasting come together regularly during this time for Iftar offerings on campus. One such Iftar meal was held at the International Centre early last week (April 3).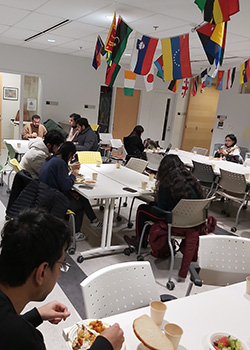 "So close to final exams and other academic commitments on my mind, it feels really good knowing I can come here and break my fast. I appreciate this gesture," said Rubina Parvin, a master's student at the Faculty of Management, who shared her thoughts as she was preparing to take her meal and glancing at the clock for the exact sunset time to break her fast.
The event, sponsored by the United Church Chaplaincy and organized in partnership with Dalhousie Multifaith Services (DMS), was also a welcome occurrence for engineering student Mufeez Zohair.  
"After the two challenging years of COVID, facilities like these make fasting routine easier for us after a day . . . of fasting to come and join friends from different faculties and backgrounds," said Zohair. "We get to know of each other and appreciate this type of activity."
A spirit of care

The Iftar meal on April 3 demonstrated the spirit of care for students observing fasting during the day. Students were offered a variety of food items including dates, sheesh-tawook (meat on skewers), mango-chicken that students enjoyed with smiles on their faces.
Rev. Robyn Brown-Hewitt, coordinator of the DMS spiritual support team and campus minister for The United Church of Canada, said her office organized a sunset service last year for the first time.
"It was well received, so we're doing it again tonight," she said at last week's Iftar.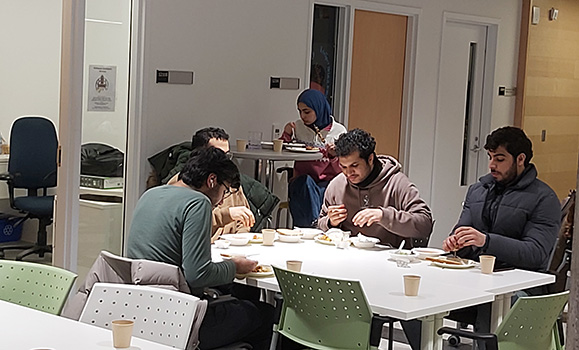 Iftars have been held on campus in previous years, including one in 2019 hosted by Dal Security Services, Human Rights and Equity Services, the International Centre, the Dalhousie Student Union, and the Dalhousie International Students' Association.
This Iftar fits into a regular Monday Night Meal funded by the United Church Chaplaincy and organized by Brown-Hewitt and her team during the fall and winter semesters. Robyn-Hewitt said the meal is a small, yet impactful, way of addressing growing student food insecurity as well.
"We have served 630 individual meals (eight Mondays) in the fall 2022 semester, and so far, 817 individual meals (ten Mondays) in the winter 2023 term," she said.
For Dal students seeking other Iftar meals, Nishat Shanjida, vice-president of the Dalhousie Muslim Student Association, says there are meals on Studley Campus on Tuesdays, Wednesdays and Fridays (sponsored by Sabeel Muslim Youth & Community Center and Ummah Masjid and Community Centre) and on Sexton Campus on Mondays and Fridays (sponsored by Ummah Masjid and Community Centre).