Throughout her career as a singer and music scholar, Dr. Nicole Jordan has often leaned into her performance and artistic work to express and uphold her values around diversity.

But it was a research project she took on while working in the Netherlands years ago that spurred her on a new path. The project's goal: create an action plan for increasing diversity at the Royal Conservatory at The Hague, the oldest music school in the country.

"I resisted this kind of work for quite a while because I was a performing artist. Anything that I wanted to say regarding diversity, I wanted to just come from my art," she says. "But the more research I did, the more I saw that this work was needed at the administrative level."

Dr. Jordan was recruited to undertake The Hague project after the conservatory's principal learned about her doctoral research at the University of Sheffield in the UK, which centred on questions of musical identity and how identities within social groups can shape people's choices for intended behaviours and their actual behaviours. It was a topic that arose from her own musical experiences as a Black woman and realizing how many stereotypes are associated with musical labels.

Now, Dr. Jordan is bringing her experience and expertise to the table to create better pathways for BIPOC (Black, Indigenous, People of Color) students at Dal as an assistant professor of music and the equity, diversity, inclusion and accessibility advisor in the Fountain School of Performing Arts. She joined Dal last August, committed to helping these students feel welcome and represented in performing arts education and to be prepared with the tools needed to navigate the challenges of the performing arts industry.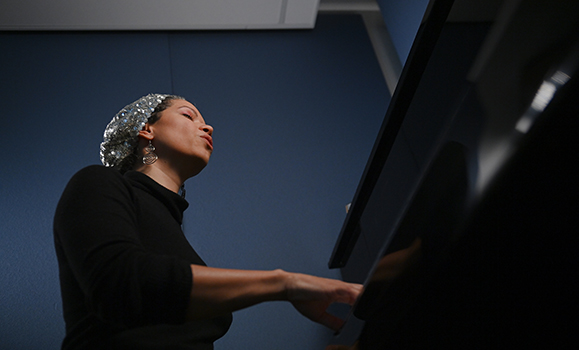 Dr. Jordan, who was born in Trinidad and grew up in Nova Scotia, is one of only a few Black artists currently teaching singing at the university level in Canada. Along with her education in music psychology, she brings her own experiences as a trained music performer in classical music, an industry where BIPOC people have historically been underrepresented, as well as her experiences with the challenges of trying to make a living in the performing arts to her role at Dal to help guide the work she does to support and advise students and colleagues.
Building on momentum

As co-chair of the Fountain School's EDIA committee, which was already established before she began at Dal, Dr. Jordan says it was great to jump into work already in motion and to continue to move it forward while building connections and conversations with fellow faculty members, staff, and students.
"Each person on the EDIA committee within the Fountain School brings their own angle on the topic, whether it's to do with culture, gender, diversity, accessibility, neurodivergence – there's all kinds of things that fall under the EDIA umbrella," she says. "I want to encourage everyone to keep doing the work that they find important, but as an institution or as a school, what are we? What do we want to focus on? What is our vision of diversity in the arts?"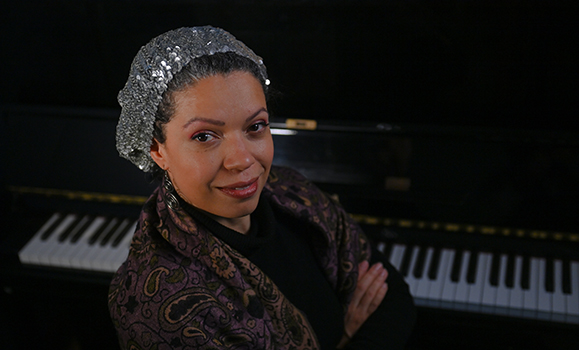 She adds that the fact that Dalhousie and the Fountain School of Performing Arts are located in Mi'kma'ki is a theme they are putting a lot of focus on with a plan to hold a retreat to have and build on those conversations.

Dr. Jordan said she's here for everyone in this multifaceted role; to help point people in the right direction and to find ways to provide opportunities and open doors for underrepresented people who might not have had that kind of access before.

"I don't know all the answers," she says. "And that's okay. I really see my role as bringing people together, encouraging people to have tough conversations and to be okay with each other. And to also increase numbers and support for students that are here from underrepresented groups. To let them know they have a place here, and that by being here, they add excellence and strength to the Fountain School."
Recommended reading: New Fountain School studio dedicated to local music‑scene legend