A small campus and close connections led new Killam Scholar, Brenden Wheeler, on a journey to helping solve some of the greatest issues facing the health care system in Nova Scotia.
Brenden, who grew in Valley, Nova Scotia, always knew he would pursue Engineering.
"As cliché as it sounds, I knew I wanted to pursue engineering after high school for all the reasons that don't need to be reiterated here; good at math, enjoyed science, and cared about how things worked," he explained.
A perfect fit

His commitment to a single university was also a given and he enrolled at the Faculty of Agriculture in Truro in 2016.
"I am a homebody by nature, and as a student I require environments where I can ask questions to succeed. Due to its proximity to my family and friends who had nothing but good things to say, and the small class sizes, the AC was a perfect fit for me."
Additionally, the smaller class sizes afforded a rare luxury as Brenden was able to find opportunities in the form of work or volunteering through relationships developed with professors and staff within the department.
"What made it a great place to study was when you are in a small class everyone knows everyone," he explained.  "You don't have to feel awkward about asking someone in the class if they understood an assignment or just for help. Everyone was in the same boat, and it formed a small community of people who all knew engineering was hard, and that sometimes you must pool resources to get it done."
Brenden worked with the Engineering Department on the Truro campus over three summers further deepening his understanding of engineering.  However, when it came time to selecting a discipline, it was a different story.
"I based my choice entirely on the fact that I enjoyed chemistry much more than many of the more traditional engineering courses like design or mechanics," he explained.  "I did come to find out there was very little chemistry in chemical engineering," he laughs.
Chemical engineering has a major focus on designing, improving, and running processes. Chemical engineers develop economical commercial processes to convert raw materials into useful products
While certain he didn't want to remain in chemical engineering, he loved to study the many aspects of the discipline.
It then became apparent that graduate school was in his future. Brenden spent some time investigating the fields where chemical engineering graduates tended to go outside traditional job routes. He learned many chemical engineers had success in the field of medicine, with many ending up as doctors or in other medical-based graduate degrees.
A Killam Scholar

After talking with some friends and professors, all roads seemed to converge toward biomedical engineering. This vast, seemingly all-encompassing field has something for everyone, and with the countless problems that need solving, engineers are in high demand.
Brenden received a Killam Scholarship, Dalhousie's most prestigious award for graduate students and postdoctoral researchers. These scholarships reduce barriers and give Dal's students and researchers the opportunity to focus on discoveries that help solve the world's problems.
"I never saw myself becoming a doctor, but I did want to see how my skillset, cultivated by my time at both Dal AC and Sexton Campus, could be of use to the field of medicine," he said.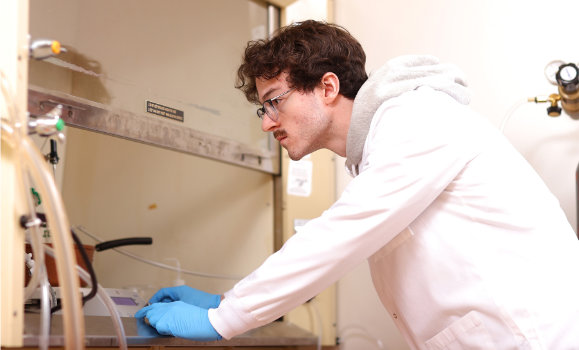 Under the supervision of Dr. Locke Davenport Huyer, Brenden looks to develop new materials for implantable medical devices that can impact the way immune cells behave, harnessing his chemical engineering foundations to improve outcomes for patients receiving devices.
"My hopes for my future in the biomedical field is to complete a PhD and translate some of the work I am doing (and will do) into devices that could be used in clinics to help patients," explained Brenden.  "As much as I love academia and research, I feel the best way I could make an impact on people's lives is to refine the amazing ideas identified in research for use by clinicians. At the end of the day, I am an engineer at heart, and solving problems is what we are trained to do."