Dr. H.P. Vasantha Rupasinghe, a professor in Dal's Faculty of Agriculture, has partnered with Schwabe Group and its Dartmouth-based Canadian subsidary Nature's Way Canada to develop scalable green processes to extract and evaluate active constituents from haskap berries grown in Canada.
"We have been investigating this small berry for the last 10 years and discovering the unique composition of the berry is providing outstanding results in our pre-clinical investigation," says Dr. Rupasinghe.
In this new investigation, Dr. Rupasinghe will use funds for a 28-month long project to develop the required tools for the industry to commercialize haskap bioactives as natural health products or phytomedicines.
Traditionally used in folk medicine in northern Russia, China and Japan, the edible berries of Lonicera caerulea L (also known as blue honeysuckle), are rich in dietary antioxidants and are considered to possess a range of health benefits.
Superfood superstar

Haskap production in Canada has expanded exponentially in the last decade as a "superfood" as a result of new varieties being developed and scientific evidence for therapeutic use in the prevention and treatment of various metabolic diseases.
"We see this partnership as a great example of what is possible for our industry in Nova Scotia," says Dan Hughes , vice-president of sales and marketing and general manager of Nature's Way Canada.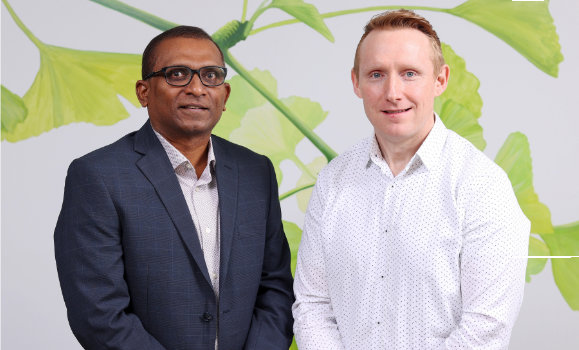 Dr. H.P. Vasantha Rupasinghe, left, and Daniel Hughes, vice president, sales and marketing, Nature's Way Canada.
"We have great academic partners such as Dr. Rupasinghe at Dalhousie, a very promising local crop that has exciting potential health benefits, and a business environment that supports growth for companies like Nature's Way. This is a meaningful investment in R&D for Nature's Way Canada and we look forward to supporting Dr. Rupasinghe's work on this project."
According to the World Health Organization, noncommunicable diseases kill 41 million people each year, equivalent to 71 per cent of deaths globally. Therefore, nutrient-balanced healthy food and food bioactive-inspired supplements are emerging as a solution for the current global rising prevalence of age-and lifestyle-associated metabolic and chronic diseases.
Recommended reading: Agriculture as the great innovator — a discussion
This is the first time the Phyto Innovation Challenge has been granted to a North American recipient.  
"This is a great example of industry-involved innovations to address the global issues of human health and well-being," says Lisa Doucette, assistant dean of advancement at Dalhousie.
Dr. Rupasinghe's research has been recognized previously with a Canada Research Chair and Killam Chair of functional foods and nutraceuticals.