It's not a leap year on the calendar, but Dal students and faculty members celebrating Lunar New Year are hopped up to share a piece of home with their peers in the coming days.
The Year of the Rabbit begins this Sunday (Jan. 22), with several student-led events planned on campus and in the community to create shared cultural celebrations for many. 
Lunar New Year is one of the world's most cherished annual holidays, particularly in southeast Asia. More than a billion people gather each year alongside family and loved ones to celebrate prosperity and wish each other luck for the year ahead.
And although many students may not be able to visit in person with family this year due to living abroad, they are hosting events here to share their culture with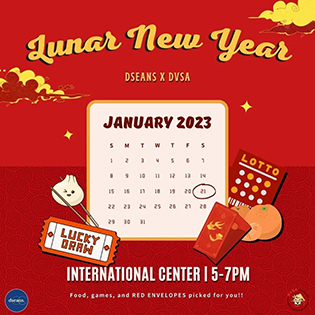 others and create a feeling of home on gold and black turf.
Diem Pham, a fourth-year Dal student from Vietnam who serves as event programming officer for the Dalhousie Southeast Asian Nations Society (DSEANS), says she's keen to share some of the holiday excitement.
"As international students in Canada, we are hoping to bring that festive spirit to the students here as well," she says.
DSEANS is hosting an event Saturday (5-7pm) at the International Student Centre on campus in collaboration with the Dalhousie Vietnamese Student Association to do just that.
Fresh food, fun traditions

The event will feature foods traditionally eaten during Lunar New Year celebrations, including Diem's favourite dish, Lo Hei — a raw fish-based salad with a name that means tossing up good fortune. Attendees will also have a chance to enjoy games commonly played during this time of year.
It will also incorporate another cherished Lunar New Year tradition where shiny red envelopes are given out to friends and family to spread good wishes and good luck for the year ahead. Diem says the plan is to host a draw on Saturday to give attendees a special touch of family feelings.
"We will have a lucky draw for the lucky money, which is a tradition during Lunar New Year to give back money to people in red envelopes," she says.
DSEANS member Justin Lee Wai Seng says he is thrilled to find a campus community that shares his cultural values.
"I arrived I Halifax in August, and I was looking to join a community," says Justin. "I realized DSEANS was a great society that had lots of events to connect students with each other."
Elsewhere at Dal

Other events are being held on campus by various societies, including a celebration this Sunday at Jenkins Dining Hall on Dal's campus in Truro hosted by The Global Student Community. Students and faculty members can pay a small fee to enjoy a night filled with prizes, entertainment, traditional Chinese food, and beautifully decorated ambiance.
The Melda Murray Student Centre on Sexton Campus downtown hosted a Veggie Dumpling Workshop on Wednesday evening where  attendees learned different ways to wrap, seal, and — of course — eat dumplings together.
When asked about what she looks forward to most each new year, Diem says family connection is what it's all about.
"It's always a great time of year to meet my relatives that I haven't met before, and reconnect with others," Diem says.