Supported by alumni, friends, faculty and staff, Dalhousie once again led post-secondary schools across Nova Scotia in addressing food security among students. The result was $200,000 raised through the province-wide Food Security Project campaign for Giving Tuesday 2022.
Now in its third year, the campaign helps ensure that students have access to the nutritious food they need to excel. It was inspired by a pledge from the J & W Murphy Foundation to match gifts from individuals up to $20,000 at Dalhousie and at other Nova Scotia postsecondary institutions.
At Dalhousie, the community and the foundation raised more than $70,000 of the provincial total together, which exceeded this year's original fundraising goal by approximately $10,000.
"When I think of the impact of something like Giving Tuesday and the Food Security Project, it's about meeting the basic needs of our students, which enables them to learn and engage in ways that have a transformational impact in our communities and our world," says Rick Ezekiel, Dalhousie's vice-provost, student affairs. "Thank you for helping give our students the foundational resources they need to make the difference they want to make in our world."
Rising rents, growing demand

Faced with rising rents, inflation and food costs, students at Dalhousie and other post-secondary schools are making hard choices about the food they can afford. This situation makes operations such as the Dalhousie Student Union (DSU) Food Bank and the Dalhousie Agricultural Campus Food Pantry vital in helping students with their nutritional needs.
Funds raised through the Food Security Project on Giving Tuesday play a vital role in keeping these operations running and in addressing a growing challenge for students. This year, more than 300 individual gifts were made in support of the DSU Food Bank and the Food Pantry.
Still want to contribute? Visit ProjectDal.ca

Several local businesses — many connected to the food industry — also stepped up to support the Food Security Project, including Aramark, Coburg Social, RCR Hospitality Group, Oceanstone Seaside Resort, Fo'c'sle Village Pub, Sunroom Inn & Restaurant, Budapest Bisztro, Salty's, Split Crow, Le Bistro by Liz and Sobeys Community Action Fund.
"We've all been impacted by the rising cost of living, but students — many of them far from home or working multiple jobs to make ends meet — are having an especially hard time," says Jan Wicha, owner of Budapest Bisztro. "[We] are happy to pitch in to keep shelves stocked at campus food banks for Giving Tuesday."
DSU President Aparna Mohan says it is the support of businesses, alumni, Dalhousie and the community that enable campus-based and student-led food security programs to continue serving students for another year in the face of rising food prices.
"Before Giving Tuesday, the Dalhousie Student Union Food Bank was at risk of significantly cutting back operations, but now we can go on to provide for students in need. The Agricultural Campus Food Pantry is deeply appreciative for this boost as well."
Making a real difference
In addition to Dalhousie, Université Sainte Anne, Nova Scotia Community College, Saint Mary's University, Mount Saint Vincent University, St. Francis Xavier University, Acadia University, Cape Breton University (CBU), NSCAD University and the University of King's College all participated in the Food Security Project campaign.
Lisa Murphy, co-director of the J & W Murphy Foundation first proposed the idea of taking the campaign provincewide to ensure that the nutritional needs of post-secondary students are well met.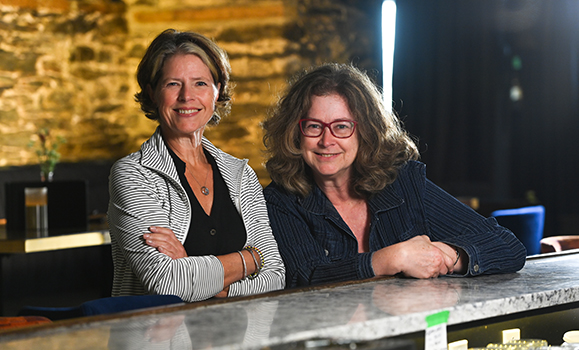 The Murphys. (Danny Abriel photo)
"It's heartening to see this initiative grow and grow each year, particularly as food security challenges only become more acute for students," says Murphy. "This is our collective responsibility, and it is one that makes a real, material difference at the individual level."
"We are so moved by our donors and the J & W Murphy Foundation, who generously give when it comes to food security for CBU students," said Sara Burke, vice-president of development, CBU. CBU raised over $18,600, not including matching funds. "The CBRM was devastated by Hurricane Fiona in September of this year. Extended power outages meant many lost all the food in their fridges, including students. Our donors gave then for food security, and they gave again for Giving Tuesday. For that, we are forever grateful."
Anyone wishing to support the campaign can make a donation to Dalhousie until the end of December 2022, at ProjectDal.ca.