Students and staff of St. Joseph's-Alexander MacKay elementary, or "SJAM", are looking forward to learning in their new school next year in Halifax's North End. New classrooms and a new playground are worth waiting for, though the logistics in the interim have been complicated.
The students, aged 5-12, have been bussing to their temporary classrooms on Walnut Street in the South End since September 2021. Their temporary school does not have a gymnasium and the playground on site is small with limited equipment. Travelling to and from the South End each day can be hard for younger children and their families.
Jalana Lewis, director of African Nova Scotian Community Engagement at Dalhousie, has been volunteering with SJAM for the past year. When the school moved to the neighbourhood near Dalhousie last year, she wanted to help them feel welcome in the community.
Soon, a partnership emerged with Dal Athletics that would ensure the kids could stay active during their school days.
"Athletics graciously arranged for teachers to be able to access Dal rec facilities when available so students could have access to a gymnasium," says Lewis.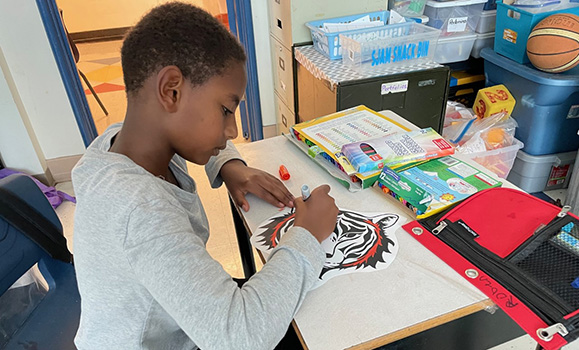 Lewis also began exploring other ways Dal could help the students feel welcome in the neighbourhood, working again with Athletics and other Dal partners — Food Services, the African Nova Scotian Strategy Advisory Council, and Communications, Marketing and Creative Services — to host a noon-time gathering last Thursday.
Dal athletes and staff handed out lunches to each student, played games outside, and supplied a Dal Tigers colouring activity to create a mural for each classroom.
"As the Director of African Nova Scotian Community Engagement, I was so excited to collaborate with various partners across campus for this event," says Lewis. "SJAM is a special school and is a place of learning for many African Nova Scotian students. The student body is vibrant and diverse. It's great that Dal staff, faculty and student athletes came together to welcome their temporary neighbours to the community."