For more than 40 years, Dalhousie University and the Dalhousie Medical Research Foundation (DMRF) have shared a vision for health research excellence in the Maritimes. 
To continue this work, and to better support research fundraising efforts at Dalhousie, Dal's Faculty of Medicine and DMRF will join forces. This partnership will see the two entities combine efforts to create an expert team with a vision of raising even more funds for research at Dalhousie for the benefit of the broader communities served. The parties are working towards the integration being completed by the end of September.
A history of philanthropic support

One contributing factor to Dal's growth and success in medical research is the longstanding tradition of funding and support for scientists and students that DMRF established over 40 years ago.  
When Dr. J Donald Hatcher was appointed Dean of Medicine at Dalhousie University in 1976, he immediately recognized that the lab equipment in the Sir Charles Tupper Medical Building (opened in 1967) was approaching the decade mark and was in desperate need of replacement. He was determined that something should be done. 
At the same time, philanthropist and prominent Halifax community member Nora Balders desired to make a substantial donation to medical research in Nova Scotia. Notably, Dalhousie was the only medical school in the country at the time that had not received provincial or regional funding for research.
Mrs. Balders explained to Mr. H. Reuben Cohen, chair of the Dalhousie University Investment Committee, that she would like to make this considerable donation, provided that a goal be set to reach an endowment of $10 million for local medical research, and provided that William (Bill) Sobey be involved in the initiative. After follow-up discussions with Dean Hatcher and Bill Sobey, Cohen later returned to visit Mrs. Balders with the news that a group led by Sobey was committed to achieving this ambitious goal, marking the beginning of an important journey. 
Dalhousie Medical Research Foundation was officially established in 1979, with Bill Sobey as the first elected chair and Nora Balders as vice-chair.
Operating as the only independent charitaible organization in Canada to provide services directly to a medical school, DMRF has been critical in advancing medical research into real life outcomes. In a time where the competition for public research dollars is challenging, resulting in many of our researchers devoting precious time to filling out grant applications that often don't come to fruition, the focused philanthropic approach this integration provides will be crucial for our continued success. 
"DMRF has a proud history that demonstrates the true spirit of this region: generosity, grit, and determination," says Janet MacMillan, DMRF Board Chair. "Thanks to our dedicated staff, steadfast volunteers, exceptional research talent, and committed donors, DMRF has helped position our region on the world health research stage. Moving forward, donors can look forward to many more successful years supporting this important work through Dalhousie University's Faculty of Medicine."
Moving forward together

With this new and exciting change, several members of the DMRF team will be bringing their expertise in fundraising, administration, and philanthropic communications and marketing to the Faculty of Medicine under the direction of Cathrine Yuill, executive director, advancement. This newly integrated team will be working to build strong relationships with both donors and researchers, helping to raise funding for important medical research that has the potential to transform lives.
"As we welcome DMRF to this full integration with Dalhousie, I look forward to seeing what new accomplishments will be possible through an even more united, collaborative approach to research excellence," says Dal President Deep Saini.
"I would like to express my gratitude to all current and past staff and board members, and numerous donors to DMRF, for their passion, leadership and generosity throughout the years. Their dedication has played a pivotal role in advancing scientific discoveries, attracting and retaining brilliant scientists, and improving the health outcomes of the people here in our community and around the world. I look forward to what can be accomplished at Dalhousie with our collaborative approach to research excellence."
With its fundraising focused soley on medical research at Dalhousie, DMRF and its donors have provided more than $70 million to Dal reserachers over the years. Fuelled by this incredible generosity, DMRF has raised more than $110 million and established an $85 million endowment, securing funds to bolster medical research at Dalhousie for many years to come.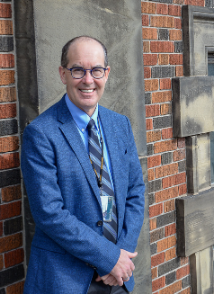 The amalgamated team will be looking at how to continue the positive momentum of successful DMRF fundraising initiatives like the Molly Appeal, which raised $470,000 in community donations for local health research in the last fiscal year, and more than $6 million total since 1980.
"I want to sincerely thank the DMRF donors who have played an essential role in growing the medical research portfolio here at Dalhousie University," says Dr. David Anderson, dean of the Faculty of Medicine (shown left). "We look forward to strengthening these important relationships as we welcome and celebrate this milestone integration."
Like Dr. Hatcher over 40 years ago, Dalhousie is marking the beginning of an important journey to grow the medical research portfolio at the university and is committed to achieving our ambitious goals. With better funding opportunities and support for faculty and students, and with focused and aligned strategic research priorities, the future is bright for the medical research community.