Researchers at Dal have discovered that balsam fir needles can kill blacklegged ticks during the winter, preventing them from surviving until spring. The finding offers hope that this natural resource could be used to reduce both the tick population and the spread of Lyme disease.
Shelley Adamo, a professor in the Department of Psychology and Neuroscience, outlined the findings in a new paper she co-authored with colleagues at both Dalhousie and Acadia University.
The team determined that both balsam fir needles and the essential oil extracted from the needles can work as a natural acaricide, or substance that can kill ticks and mites. The members did that by placing ticks in tubes in the field and in incubators that simulated winter temperatures. They then added balsam fir essential oil or one of the main components of balsam fir essential oil to each tube, finding that both substances killed the overwintering ticks.

"Few natural products are as effective as balsam fir.  It killed almost 100 per cent of overwintering ticks," says Dr. Adamo.
Seasonal tick control

She added that the whole balsam fir needles required several weeks to kill overwintering ticks, while the essential oil was lethal within days at low temperatures. Room temperature (20 °C) reduced the tick-killing effectiveness of the essential oil by 50 per cent.
The fact that low temperatures may promote the effectiveness of the natural product suggests that more could be done in the winter months to control the population and people's exposure to the insects in the warmer months.  
"Winter is an overlooked season for tick control and should be explored as a possible time for the application of low toxicity products for successful tick management," states the paper, published recently in Scientific Reports.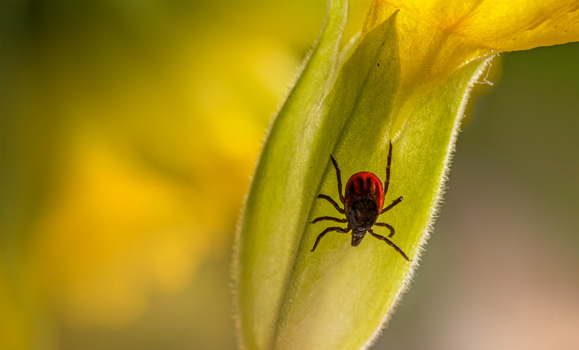 A blacklegged tick. (Erik Karits photo/Unsplash)
The finding could also address concerns that synthetic pesticides aimed at killing ticks can adversely affect beneficial insects, like pollinators. Plant-based pest control agents such as essential oils could provide a more environmentally benign alternative, the researchers suggest.
Related reading: Why dental professionals should know about the signs and symptoms of Lyme disease
From field tests to real-world application

Other studies have shown that applications of acaricides prior to spring can significantly reduce the numbers of early season ticks, suggesting that reducing overwintering survival will reduce numbers in the spring.

"In this paper, we demonstrate that it may be possible to boost the effectiveness of essential oils by applying them during the winter season when temperatures are low," it states.
Dr. Adamo says a single patch of balsam fir needles was able to kill ticks in the open tube field tests despite winter rain and periodic snow melts. She says the next step will be to demonstrate whether balsam fir needles can kill overwintering ticks under real-world conditions.
The blacklegged tick carries Borrelia burgdorferi, a bacterium that causes Lyme disease, which can result in fever, headache, fatigue and a skin rash. If left untreated, infection can spread to the joints, heart and nervous system.