This article originally appeared in the Summer 2022 issue of VoxMeDal. Read the full issue.  
Dr. Saud Alshanafey (PGM '04) remembers trembling when he received the go-ahead to start a fetal diagnostic and therapy program at the King Faisal Specialist Hospital and Research Centre in Riyadh, Saudi Arabia.
It was 2006, a little over a year since he had first heard about fetal interventions during a Canadian Association of Pediatric Surgeons Conference in Niagara-on-the-Lake, Ontario. It was a relatively new field, with few templates to follow. Dr. Alshanafey's program would be the first of its kind in the Middle East. Nervous about the scope of such an undertaking, he knew that he was going to have to draw on his Dalhousie training to see it through as director of the fledgling program. 
"It felt a bit daring to attempt something like that," recalls Dr. Alshanafey, who trained in general surgery and pediatric general surgery at Dalhousie Medical School from 1996 through 2004. "It was almost like proposing to visit Mercury without NASA or rockets to make it happen."

In some ways, Dr. Alshanafey, who also serves as the Riyadh hospital's chief of education and executive director of academic and training, had been preparing for this moment all his life. As a child, he played doctor to his two younger brothers; his armamentarium was a toy stethoscope and needle and he advised them on how to manage the various imagined ailments they presented with. But it was academic excellence that inspired Dr. Alshanafey to turn that childhood interest into a career path. "I was taken by the challenge that medicine posed," he explains. "It's something in my personality. I've never chosen the easy way forward; I've always chosen the difficult one. Being a surgeon was another way to challenge myself."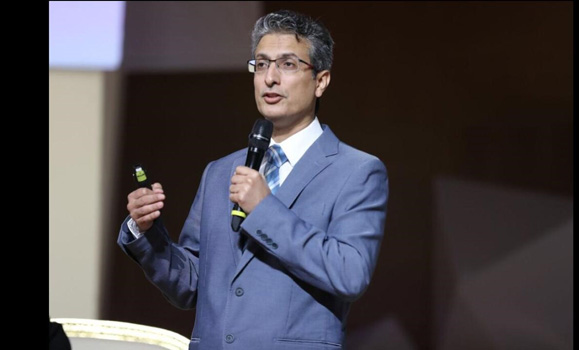 The Dal difference

During his first post-internship in Saudi Arabia, Dr. Alshanafey worked with one of the country's leading pediatric surgeons — an experience that convinced him he was on the right path. The surgeon arranged a one-month observership at the IWK Health Centre in 1995, which convinced Dr. Alshanafey to continue his studies in Canada. Although he was accepted at an Ontario university, he opted for Dalhousie because he felt Dalhousie was best equipped to enhance his surgical, research and clinical skills. 
"The training at Dalhousie wasn't just 'do this!' It was a comprehensive learning experience," he says. "The level of responsibility was very high and that required me to constantly check that I was making the right decisions. I also benefited from Dalhousie's affiliation with community hospitals in the region. I was able to experience medicine at all levels and that impacted my approach to health administration." 
Dalhousie also gave Dr. Alshanafey the opportunity to attain a masters degree in community health and epidemiology, which he says has shaped his career as a clinician and researcher with a wider view of health.
Navigating a new field

Dr. Alshanafey's training proved invaluable in developing King Faisal Specialist Hospital's fetal diagnostic and therapy program. This new field addresses a wide spectrum of fetal abnormalities that are targeted with diagnostic and therapeutic procedures. Unable to find any suitable fetal surgical training programs, Dr. Alshanafey took it upon himself to adapt the skills he had learned at Dalhousie to performing fetal interventions and built a team of specialists who were able to identify and treat fetal diseases and congenital defects. 
"Some therapeutic procedures are well developed and some are in progress," says Dr. Alshanafey, "with a lot of ethical issues to be taken into account every time such cases are managed."
Fetal interventions are particularly unique and only performed in a few centres around the globe. These interventions include procedures performed with needles, endoscopes (fetoscopy), or open surgeries. 
To launch the program at King Faisal Specialists Hospital, Dr. Alshanafey engaged a nurse coordinator to reach out to patients for preliminary consultations. They encountered hurdles along the way, including peer and societal concerns that the womb was a sacred place no surgeon should enter. But Dr. Alshanafey was undeterred: "I worked to ensure that I had all the necessary evidence to demonstrate that this was safe to do and that it would help babies and their families."
'This is good'

After two years of preparations, Dr. Alshanafey performed his first fetal procedure in February 2008. 
"It was a fetoscopic laser photocoagulation performed at 18 weeks of pregnancy to resolve twin-twin transfusion syndrome," recounts Dr. Alshanafey, explaining that this is when one fetus steals blood from the other via abnormal communicating placental vessels. "It causes death for both fetuses in almost 100 per cent of the cases. In this case, both babies survived and were born healthy." 
From those humble beginnings, the program has grown exponentially and made a significant impact: 15,402 patients assessed, 8,704 diagnostic and 2,150 therapeutic procedures performed, and more than 2,000 babies' lives saved.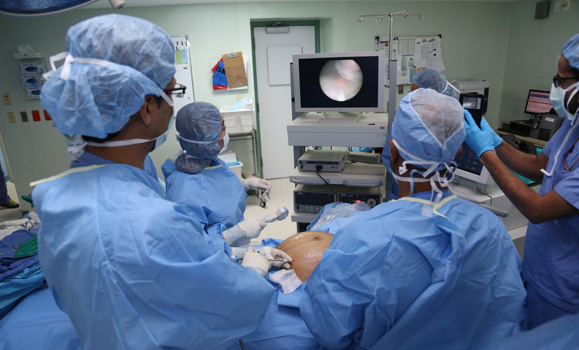 Beyond statistics, it is the individual success stories that resonate most with Dr. Alshanafey. "There is one patient who used to give me a kiss every time he came to my clinic," he says. "To see the parents on the other side of the procedure smiling and full of life, I think, 'God, this is good.' It really makes me happy that I was able to help."
Dr. Alshanafey is looking for new ways to help. His goals for the program are to enhance fetal diagnoses to enable earlier interventions, and to increase the number of consultations in order to save more lives. He is helping develop a new training academy for the hospital that will offer five curriculum tracks to sustain a stream of talents in various health-care disciplines. And, he wishes to study psychology one day. He believes this will enhance his ability to manage sick children and their families' concerns, as well as to address long-standing issues related to leadership in health care. "I am really happy with what I've done, but I am always creating new goals, new difficult things to manage, rather than just resting on my achievements," he says. "I want to be remembered as someone who helped make a difference."