When Dalhousie graduate student Christine Barnes agreed to share her perspective as part of an annual memorial tribute honouring those who have donated their bodies to science through Dal's Human Body Donation Program, she didn't realize how deeply it would affect her.

"Writing the eulogy was more emotional than I thought it was going to be," says Christine, who recently completed her first year of the MSc in Physiotherapy (MScPT) program at Dal. "It was really incredible. And surreal, the selflessness of the individuals who have chosen to donate their bodies for the purposes of our studies."
Christine was one of many individuals — including Dr. David Anderson, dean of the Faculty of Medicine, program manager Rob Sandeski, and others — to participate in this year's service, which was presented virtually as a video recording in June.

The Human Body Donation Program is used by undergraduate and graduate learners alike across various disciplines at Dal, including aspiring doctors, dentists, physiotherapists, occupational therapists and nurses.

Though the program is based in the Department of Medical Neuroscience in Halifax, donations are accepted from across Nova Scotia, New Brunswick, and Prince Edward Island. Practicing clinicians benefit as well through the Clinical Cadaver Program.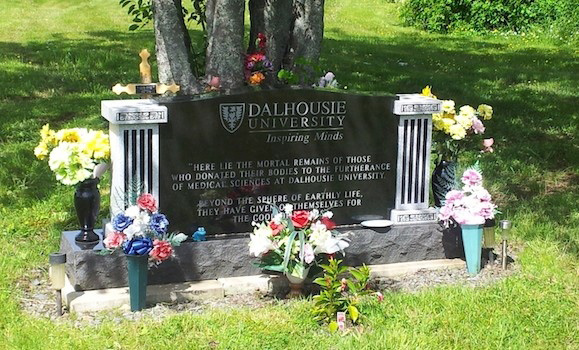 The memorial site that honours donors.  
The 'first patient'
 
For many students, the donation program provides a gateway into an important aspect of learning in the medical sciences: encountering death.

"This very well could be for some students the first experience a cadaver or even with death," explains Sandeski, the program's manager. "Their presence in the anatomy lab helps teach things that are difficult to formally instruct in academia. It is this relationship with the donor and the donors' families that provide core principles. The student's first patient is the cadaver."
Physiotherapy students like Christine typically have an opportunity to work with the donated bodies during a course on anatomy in their first year of the MScPT program.

"This course includes laboratory elements where student will study from and work with dissections, and prosections (previously dissected tissue) as they learn cardiovascular, pulmonary, neural and musculoskeletal anatomy and function," explains Derek Rutherford, interim director in the School of Physiotherapy.
Related reading: Human Body Donation Program contributes to airway training

The number of annual donations has varied over the years and the program continues to require the support of the public it serves.

"It's really important for students in physio and all of the medical fields to learn from real bodies that have lived lives," says Christine. "Being able to provide that to the future generations of healthcare professionals and health workers in general, it's so important."

Visit the Human Body Donation Program website for more information if you are interested in becoming a donor or learning more about the program.

Watch the full video memorial tribute below: