Dalhousie fired up its revamped biomass plant in Truro for the first time a few years ago touting a lofty goal for a 30 per cent jump in energy efficiency. Turns out, the facility's planners could've been even more ambitious when setting their targets.
"On average, we are producing energy somewhere between 10-15 per cent above what was expected in our business case," says Darrell Boutilier, director of operations with Facilities Management at Dal and a key planner on the project.
That's enough power to satisfy nearly 75 per cent of all the Truro campus' electricity needs, an achievement that recently landed Dalhousie and its consulting partner FVB Energy a coveted global award for innovation from the International District Energy Association (IDEA).
"This has not been shown before on this kind of scale," said Bob Smith, chairman for the IDEA Innovation Award committee, in a statement recognizing the accomplishment in June.  
Dal's facility does not directly power the campus. Instead, the electricity generated by the plant feeds into the province's power grid, which Dal then buys back at a lower rate as part of an agreement with the province.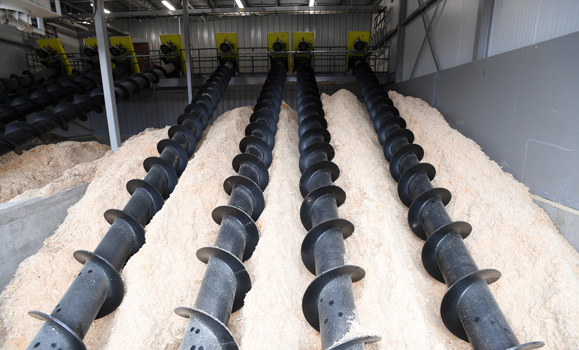 Fuel feed bins at Dal's Biomass Energy Plant in Truro.  
A leap forward

While the Truro campus first embraced its role using biomass more than 30 years ago (when it was still known as the Nova Scotia Agricultural College), the new system represents a significant leap forward for alternative energy at Dal.
At the heart of this success lies a sophisticated bit of technology called an organic rankine cycle turbine. Dal adopted the new system on FVB Energy's recommendation, becoming the first university in North America to deploy such technology.
When coupled with other plant upgrades, the new system provides other advantages as well.
For starters, the university now supplies all its campus heating needs in Truro using residual heat generated from the plant's electricity production — an accomplishment made possible through replacing an aging steam-powered network with more efficient water-based heating.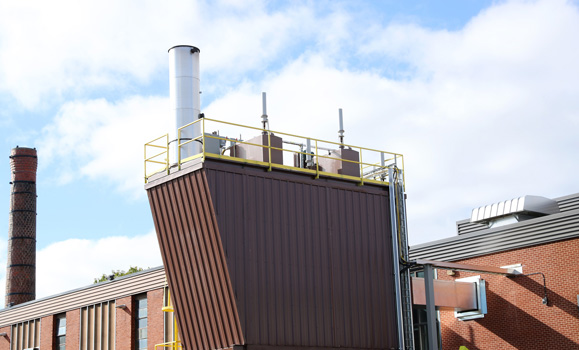 The renewed facility also produces far fewer emissions now with enhanced air-quality technology, and the ash produced from the fuel — combusting waste sawmill residue — during operation finds new life as fertilizer delivered to nearby farms.
Dal's retrofit of the biomass facility began around 2015 after the university was accepted into Nova Scotia's COMFIT program, which is designed to boost the proportion of the province's energy production coming from renewable sources. District energy providers — large facilities like universities that sell power supply back to surrounding communities — receive special rates as part of the program.
"This project supports many objectives," says Boutilier. "One, from an alternative energy standpoint, but also from a financial sustainability standpoint."
All this made the facility a great candidate for the Innovation Award, which recognizes projects that showcase technology, engineering and operational innovation within the district energy sector — weighing their ingenuity, measurable success over time, replicable design that can be applied elsewhere, and economic and environmental benefits.
Powering up performance

Kevin Craig, chief engineer at the biomass facility for Facilities Management and a 30-year veteran of the plant, says the renewed system offers a lot more technical control over energy production.
He has worked closely with plant operators over the past few years to help tweak the system to squeeze even better performance out of it.
"I've always believed in the idea of never be satisfied with your level of output," he says. "You'll never reach perfection, but you're always trying to improve things."
Craig joined other Dalhousie team members and staff of the FVB Energy team to accept the Innovation award at the IDEA conference in Toronto in June.
"I was caught off guard a little bit," he says when he learned of the award. "As I kept telling people during the conference, it's a team effort. We all work together."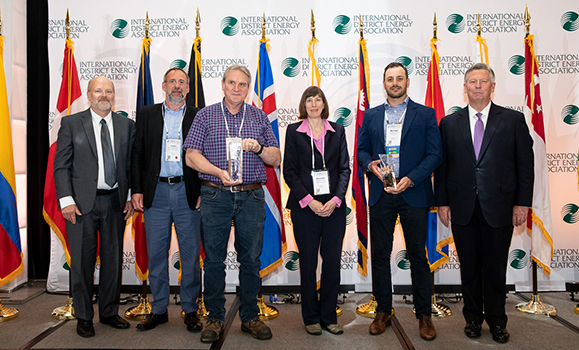 Members of the Dalhousie and FVB Energy teams accept the Innovation award at the IDEA conference in Toronto in June.