A third-year Health Sciences student at Dalhousie has received one of the top university awards in Canada.
Mohamed Nashnoush has been named one of the prestigious 2022 3M National Student Fellows, awarded by the Society for Teaching and Learning in Higher Education (STLHE). He also received the Agmen Scholarship, which provides undergraduate research opportunities at 24 host institutions.
The 3M Fellowship honours students who have demonstrated outstanding leadership in their lives and at their post-secondary institution. As a 3M Fellow, he will develop and complete a funded project on teaching and learning. Each cohort will have up to $25,000 for their project. 
"It is an incredible honour, and I am humbled to be one of the Fellows. I am also glad to see more Atlantic Canadians represented this year. It is truly a testament to the ingenuity and unparalleled talent present in the Maritimes," Mohamed says. "It will be exciting to connect with like-minded peers as part of the STLHE network and work on a funded project to improve the accessibility, inclusivity, and equity of post-secondary education."
An exceptional student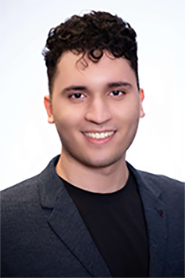 Ultrasound technologists are at the front lines of the health care system, often playing a detective's role in investigating the root causes of patients' symptoms. That's what initially drew Mohamed to the field. He is currently involved in multiple research projects that revolve around the biogenetics of anti-freeze proteins, bioethics, machine learning, and diagnostic imaging.

Mohamed founded RadScholars to help thousands of students overcome entry barriers into research. RadScholars raised more than $15,000 to facilitate and coordinate student-led scholarly contributions, partnering with Harvard Medical School, the International Myeloma Foundation, and the Canadian Medical Association.
"Mohamed is an exceptional student. His involvement in research and not-for-profit organizations demonstrates his commitment to making a positive impact on his local, national and global communities. He stands out for his leadership abilities and his innovative thinking. We are so thrilled that he has been recognized in this way," says Sherry Chauder, an adjunct lecturer in the School of Health Sciences at Dal.
Mohamed is certainly no stranger to success. He is the president of the STEM Fellowship, which organizes scholarly workshops, networking events, and big data youth challenges to empower STEM students throughout the Maritimes. In 2020 as an undergraduate, he led a research project that was published in the Cambridge Medicine Journal.
Shining a spotlight on sonographers

Mohamed says although sonographers are a quiet minority in the healthcare system, they play a vital role in ensuring patients receive an accurate diagnosis through non-invasive, cutting-edge technology.
Mohamed's recent success as a 3M National Student Fellow and Agmen Scholar shines a light on his accomplishments and those of the profession.
"Ultrasound incorporates the perfect mix of cutting-edge technology, cross-sectional anatomy, and pathophysiology. You need to examine the patient's history, lab tests, medical imaging, and symptoms to develop a cohesive list of differential diagnoses. I think it's one of many professions in the healthcare system that don't get the attention they deserve from the general populace. Part of the issue stems from mainstream social media that seldom recognizes sonographers or diagnostic medical technologists for their work," he says. 
"Although sonographers are a quiet minority in the healthcare system, we play a vital role in ensuring patients receive an accurate diagnosis through non-invasive cutting-edge technology. 
Receiving this award certainly sheds light on sonographers and allied health practitioners. It allows us to have a seat on the table, so to speak, while getting some much-needed recognition."
Further reading: Sibling success: Dal brother‑sister duo win top spot in global innovation competition
What's next?

Mohamed is doing machine learning research in Toronto as part of the Amgen Scholars Program and will be spearheading a project focusing on MSK ultrasound and knee synovium hypertrophy. In mid-July, he will travel to Los Angeles to present his research at the Amgen Scholars North America Symposium at UCLA. 
The accomplished student will also continue his research work with Drs. Tahani and Mata-Mbemba at the IWK focusing on detecting neurodevelopmental impairments in pre-term newborns. In the fall, he will start working as a generalist sonographer at the Nova Scotia Health while finishing his last year of study.