HER BACKSTORY: Marriam Abou-El-Haj is a registered psychologist and is part of Dalhousie's Student Health and Wellness Centre team. She often works in tandem with St. John Ambulance-certified therapy dog and very good boy, Oscar. Dr. Abou-El-Haj started one of the first university therapy dog programs in Nova Scotia while at Mount St. Vincent University before making the move the Dal.
"It's amazing to see the leaps and bounds in students' progress and insight. I feel fortunate to be part of their journey."
HIGHLIGHTS: Now, every Thursday she runs Puppy Power Hour in the Student Union Building. Students (and faculty and staff) can come, interact with Oscar and get their puppy fix. Dr. Abou-El-Haj says she enjoys getting out from behind the closed doors of the office to interact with students in a different setting. She says Puppy Power Hour is a great way to destigmatize counselling services. "Twenty years ago, if I had a booth at an event that said 'counselling services,' people would walk past and look away. Now they flock to it."
Apart from the time she takes Oscar out to meet his adoring fans, Dr. Abou-El-Haj also sees about five individual clients a day as part of an interdisciplinary team of doctors, nurses, social workers, psychologists and counsellors, all working to support students through the major life transition that is attending university and, often, living away from home for the first time. "University is such an amazing time, there's so much growth. But there's a lot of pressure as well," says Dr. Abou-El-Haj.
Despite being on a busy campus, connecting with others can be a challenge when work piles up. Dr. Abou-El-Haj notes that our attachment to technology can further that sense of isolation. The past two years of pandemic have also created additional strains on people'smental health. For many, the idea of seeing a counsellor can be intimidating, but when Dr. Abou-El-Haj and Oscar are on duty, they make it easier and more organic for students to connect and to learn about the services available to them if they're struggling.
WHY I DO IT: For those on campus, taking time out of their hectic day to interact with a dog can be an instant destressor. As Dr. Abou-El-Haj puts it, "Sometimes students ask, 'So, what does Oscar do?' and I say, 'How do you feel?' Then they say, 'I feel good!' and I say, 'That's what he does.'"
And the research backs it up. It's well established that pets can reduce blood pressure, alleviate stress, depression and anxiety, and encourage mindfulness. Dr. Abou-El-Haj says Oscar is a pro at getting people to stop and give him pets—sometimes up to 20 people will be gathered around him,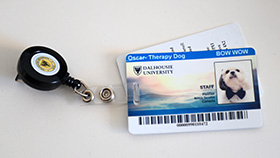 some of whom come week after week.
"I love to see people's smiling faces or see them relax and giggle when Oscar comes anywhere near them. There's just an instant decompression that happens when students, faculty or staff get to be around him. You can't buy that!"
This story appeared in the DAL Magazine Spring 2022 issue. Flip through the rest of the Spring 2022 issue using the links below.