While there may be a family history of attending the Agricultural Campus (AC) in the Bent household, Class of '22 graduate Adrian Bent has certainly left his own mark there over the past four years.
Adrian, of Lawrencetown, N.S., was a dual athlete in badminton and soccer, earning a National Scholar Award.
The Canadian Collegiate Athletic Association National Scholar Award recognizes the outstanding academic accomplishments of student-athletes. To be recognized, a student-athlete must achieve honors standing.
"Balancing two sports and academic studies can sometimes be challenging," said Adrian. "Especially during times such as midterms or having a big project due, it can be tough to keep everything balanced. I try to be as focused as I can when I'm working so I have time to play sports and not feel stressed," he explained. 
"Part of the responsibility of being a varsity athlete is balancing your schoolwork with your athletics," he added.
Dedication on campus and in the community

This responsibility has also earned Adrian the title of Academic All-Canadian as well as a trip to participate on the national stage for badminton and a spot on the second team as an all-conference recipient for soccer.
"Adrian is an exceptional athlete who is the most coachable individual I have personally had the opportunity to work with," said Andrew Harding, athletic director on the Ag campus. 
"Defeating Alberta's top Men's Doubles Team in Edmonton at CCAA Nationals was the most impressive badminton feat by a Dal AC athlete to-date," he added.  "And to qualify as an Academic All-Canadian in badminton and soccer, which is hard enough to do in one sport, let alone two proves Adrian is truly an all-around talent that will be sorely missed at Dal AC next season."
This Male Athlete of the Year for 2022 has also had some impressive accomplishments in the classroom and on campus.  Adrian was the recipient of the Paul C Eaton Memorial Scholarship (2019, 2020, 2021), the Alumni Family Bursary (2018, 2019, 2020, 2021), the Nova Scotia Federation of Agriculture Scholarship and Nova Scotia Federation of Agriculture 100th Anniversary Scholarship (2021), and the Howard W Roper Memorial Bursary (2021).
Adrian also received the Outstanding AC Student Contribution award for his passion and dedication to the campus and surrounding community, attending events, lending a helping hand, and contributing to the overall success of campus.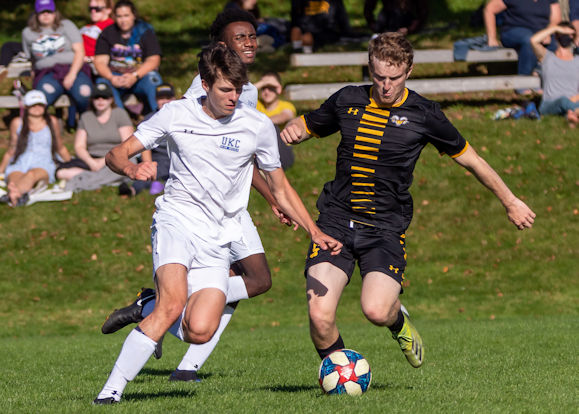 "I've had the opportunity to play two sports while at the AC for all four of my years and I highly recommend playing sports at the school for anyone who is interested," he said.  "Both have given me great opportunities such as being captain of my soccer team for three years and participating in nationals in badminton this past year."
Adrian studied Environmental Sciences and is considering returning for his master's degree.
"One of the most special attributes of the AC is the community of people," said Adrian.  "Since it is a smaller school, you get the opportunity to meet a lot of people. You develop connections in the agriculture community that you do not lose as well as meeting friends you are going to have for the rest of your life. I am thankful for all the people I got to meet here through classes, the sports I played, and other avenues here at the AC."
Some final words from his soccer coach says it all.
"His positive attitude and role as best friend to everyone on the soccer team is something you can't recruit every year," explained Coach Craig MacEachern. "While we hope it isn't the case, I think it will be a long time before we see another player like this on the Dal AC pitch."