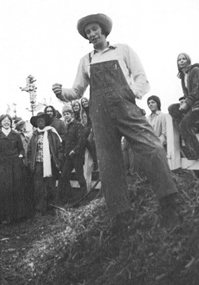 Brookes Diamond (BA'70) describes himself as a "farmboy" who stumbled into promoting live music. "I didn't know there was such a thing as the music industry," Diamond says. "I was at Dal and got tagged to run the Winter Carnival, which was a huge deal at the time, and met some people in the music industry."
Diamond at the Winter Carnival, shown right.
By the time he graduated later that year, he'd started his career as a promotor, and was working with artists such as Stompin' Tom Connors, Bruce Cockburn, and Murray Mclauchlan and a popular band living here on the east coast, Ryan's Fancy.
The start of everything

Four years into promoting bands, he met his future wife and business partner, Fiona Diamond, who was programming director for the student union. Brookes pitched Ryan's Fancy to her on a weeknight at the student union." I said, 'No, they were too expensive. He went around me and got one of the student societies to book them," says Fiona, "And because my job was to oversee all the entertainment, I had to work the event anyway."
They then went on to become partners in both their professional and personal lives (with Brookes respecting Fiona's decisions going forward).

Brookes and Fiona started promoting musicians together at an exciting time in Atlantic Canada's music industry.
"There really wasn't an actual music industry here at the time, it was mostly based in Toronto, and all the radio stations were mostly playing American music," explains Fiona, "That changed when federal policy dictated that all commercial radio stations play approximately a third of Canadian music. That created the Canadian music industry, and Brookes was the first person to bring big-name artists to venues here." As the music industry grew, Brookes and Fiona — as Brookes Diamond Productions — were perfectly poised to lift the profile of the music scene in Nova Scotia and create opportunities for the incredible pool of homegrown talent here.

In a career spanning half a century, the couple has produced more epic shows than they can count, and started and ran the Atlantic Folk Festival (1975-1981 in Hardwoodlands, NS).  Artists that they've represented over the course of their long career include Rita MacNeil, Sharon, Lois and Bram, the Rankin Family and Bruce Guthro. Fiona says that they've produced at least one show a year at the Rebecca Cohen Auditorium since it was built in 1971, "but really many more than that."
It's fitting that Brookes Diamond Productions was chosen to create the show that will open the revitalized Dalhousie Arts Centre. This event, titled Resounding: a celebration of the arts, on May 27, has a rich and diverse line-up.
A showcase of incredible talent

Resounding features Kiefer Sutherland, in his first public Atlantic Canadian performance, many other performers are alumni or current Dalhousie students. The audience will be treated to the haunting music of Polaris Prize winner Jeremy Dutcher, Ashley MacIsaac, Hillsburn, Reeny Smith, guitar virtuoso Roland Grant, and a range of other dance and musical performers running from Celtic and opera to pop and classical genres. Tickets are available at the Dalhousie Arts Centre Box Office.

From the moment the show opens, the audience is going to be treated to unforgettable artistic works. "The land acknowledgement piece is a dance performance," Fiona says, "that feels like a prayer." It's being performed by Sarah Prosper. "We expect that the audience will be on their feet cheering at all these amazing performers."

Brookes and Fiona are thrilled to create this event that celebrates renovations that are going to mean so much to the arts community at Dalhousie. "For for the first time in its 40-plus year history, the Costume Studies program will be under the same roof as the rest of the Theatre Department," Fiona says. The couple says that they feel "honoured" to be connected to this event celebrating the history and future of the Dalhousie Arts Centre.
Tickets for Resounding: a celebration of the arts can be purchased through the Dalhousie Arts Centre Box Office.