Halifax high-school student Zainab Abdalmajid has been named the first Shad-Imhotep's Legacy Academy (ILA) scholarship recipient, granting her a full scholarship to attend the Shad program this July.
Shad Canada and ILA — a Dal-led university-community partnership — partnered to help remove barriers in the STEM pathway for students of African heritage who are traditionally underrepresented in STEM.
We caught up with Zainab to learn more about her experiences, her goal of becoming the first Sudanese woman in space and what she is looking forward to the most at Shad this summer.
Q: Tell us a bit about yourself: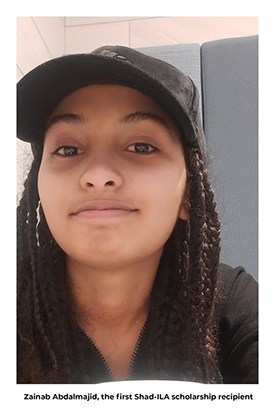 My name is Zainab Abdalmajid. I am 17 years old and I recently moved to Canada. I go to Halifax West High School and I think I am doing well in school. In order to pursue the career I'm interested in – becoming an astronaut – I'm mostly focused on science courses.
Q: What is your involvement with ILA?
I've been with ILA since last semester. The tutors are really good at teaching within the sciences and helping me with any questions I may have.
Q: How has ILA inspired your interest in STEM? 
ILA has made learning and understanding my STEM courses easier for me and because of this, I am motivated to continue to improve in STEM subjects. I feel more confident and know that I can accomplish any STEM-related homework with the help of the tutors.
Q: How did you feel when you received the Shad-ILA Scholarship and what do you hope to get out of the Shad experience this summer?
I felt so happy and excited! This opportunity means a lot to me. My future goals will require a lot of hard work and I hope that this opportunity will help me achieve my dreams. This is a big step in my journey to becoming an astronaut!
Q: What will you do between now and Shad2022? 
First, I am going to continue to improve my English. I feel comfortable with my abilities but I think I need to reach an advanced level to be successful in a STEM field.
Q: What does your ideal future look like – for your life, and for the world? 
I can't imagine how it will be. I can't imagine the feeling that I am going to have, but I know I am going to have an illustrious career. I might be the first Sudanese woman to go to space!